Do you want to stimulate Business Growth on a small budget?
Yes, take a leap of faith and automate your marketing strategies today. By automating repetitive marketing operations, you can save marketing teams time that they can utilize to create better marketing strategies for business growth.
According to an Automation in the Workplace report, 60% of workers have reported saving six hours or a full day in a week by automating repetitive tasks.
So, if you wish to accelerate your digital marketing efforts, first get the right marketing tools to automate your business operations.
This post will help you find the best business marketing tools to drive maximum results from your paid and organic marketing strategies. So, let's get started.
30+ Best Business Marketing Tools
Digital marketing is a big umbrella term under which numerous marketing streams reside, such as social media marketing, email marketing, and many more.
Thus, you have to get a variety of marketing tools to automate your different digital marketing campaigns. Below, we have listed the best business marketing tools in 8 marketing streams to instantly grow your brand.
Website and Landing Page Builder Tools
If you want visitors to take action on your website or landing pages, first optimize web pages based on the users' preferences. To do so, you need to get hold of website and landing page designing tools to create professional yet creative websites.
Elementor is a pixel-perfect marketing tool to create professional-looking and high-converting landing pages and websites. You can choose from a mammoth collection of ready-to-use templates or customize your own landing pages.
Basically, Elementor is a WordPress plugin that can design an entire website. But it can also help you build forms and engaging popups to generate traffic and leads. It can seamlessly work with almost every WordPress plugin or theme.
Additionally, an easy drag and drop interface allows marketers to customize landing pages and websites using the buyer's intent data.
Wix is a free website builder to design a professional and attractive website. Wix offers a few different ways to build your site: Wix Code, Wix Editor, and Wix Artificial Design Intelligence.
Using Wix ADI builds, designers can create professional texts, images, and other visual elements. Wix Editor can help you design stunning websites with advanced features and an easy drag-and-drop interface. There's also a Wix Code to create best-in-class websites and apps.
Duda is a leading website design and development platform for professionals and agencies. This web design tool comes with built-in team collaboration and client management features.
This platform enables you to build feature-rich websites that can suit all screen sizes, including desktop, mobile, and tablet. The best thing about Duda is that it is partnered with popular brands like 1&1, UOL, Publicar, Hibu, Sensis, and many others.
MyWebsite is a powerful tool to create a successful online presence. You can use a comprehensive website builder to create innovative and technical websites within a minute.
With this tool, you will get a complete website package, including a domain and SSL certificate. Additionally, you can book a personal consultant to answer all your questions and get professional tips to build your website.
Social Media Marketing Tools
Social media is the best place to generate, capture and nurture leads today. But constantly posting, interacting, and monitoring business growth on different social networks can burn you out.
But thankfully, using these social media marketing tools, you can schedule automatic posts, analyze engagement and do so much more:
Sender is a powerful omnichannel marketing automation platform for email and SMS marketing. Sender automates several marketing tasks and makes it easy for you to plan and execute marketing campaigns while getting better results.
Sender's behavioral marketing features and smart segmentation helps deliver personalized messages to the right audience at the right time.
Use Sender to create automated campaigns leveraging automation builder for abandoned cart recovery, follow-up, winback, upsell, and cross-selling campaigns. The high-converting popup builder enables you to capture emails and grow your audience.
If you are targeting high-growth omnichannel campaigns with detailed analytics, Sender should be your first choice. The forever-free plan allows you to take advantage of almost all premium features subscribers, making it a really affordable solution for any business. The paid plans are also way cheaper than other marketing automation platforms. What's not to like?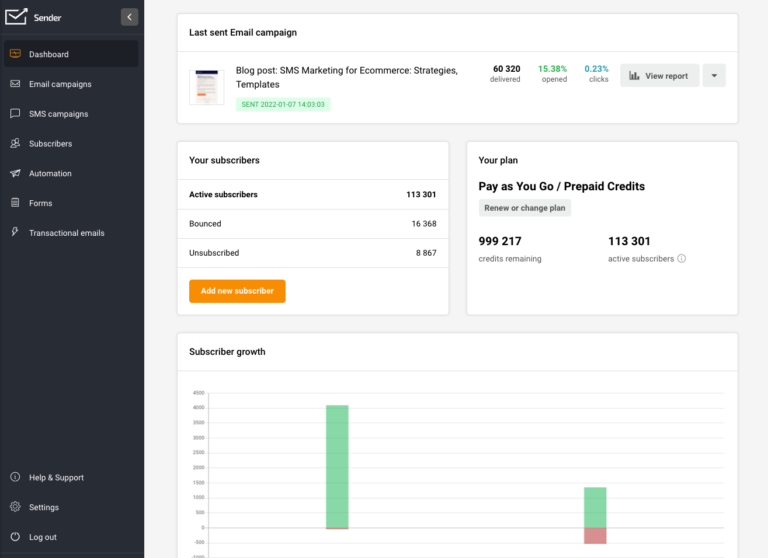 Social Sprout is a complete social media management toolkit for businesses. It can help marketers to schedule engaging content, analyze performance metrics and build a cordial relationship with customers through a dashboard.
This marketing tool is used by over 30,000 brands to create their unique social identity and provide personalized services to their customers like Shopify, UNICEF, and many more. If you plan to deploy an account-based marketing approach on your individual social media followers, this tool has a stunning analytical dashboard to easily understand your audience.
Sixads is the best marketing tool to reach millions of shoppers who are interested in your products and services. This tool will manage your Facebook, Instagram, and Twitter ads to accelerate your sales in no time.
You can automatically upload photos, generate headlines and content for your multiple products with Sixads. Once your display ad is ready, simply sit back and allow Sixads to manipulate the Facebook algorithm to drive maximum leads.
It is a 100% free and safe platform to manage your multiple ad campaigns and regulate your budget to boost ROI. All in all, this marketing tool will make a social media ad manager's life super easy.
This social media analytics dashboard is for marketing teams who wish to monitor their social media campaigns in real-time. This tool can generate social media reports in a minute to provide constant feedback to clients and other stakeholders.
Social Status can consolidate all paid and organic social media reports for you. It has an awesome Profile Analytics feature that can track the performance of all your business pages on Facebook, Instagram, Twitter, and others.
You can better segment the audience by getting reports based on Interactions, Page and Follower Growth, Demographics, Link clicks, and several other analytics.
If you want to amplify your Instagram marketing efforts, Social Tradia is a must-have marketing tool. This is a platform to buy and sell high-converting Instagram accounts at affordable rates. You can find relevant Instagram accounts in your niche to reach your targeted audience within seconds.
Social Tradia is a transparent platform where you can put an offer on any Instagram account, interact with vendors and negotiate a deal. Additionally, Social Tradia offers a 30-day money-back guarantee so you can test the Instagram account and if it's not generating adequate results for you, simply return it.
It is a simple and legitimate platform to buy/sell Instagram accounts to grow your business.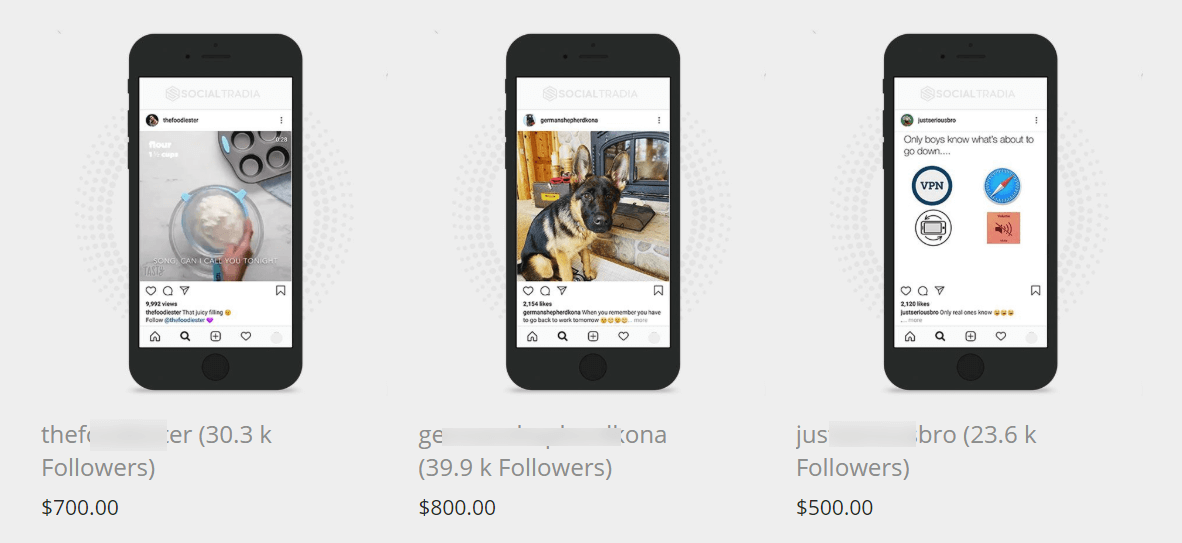 Buffer is the most intuitive and easy-to-use platform to connect with potential leads on social networks. This social media marketing tool has a platter full of marketing tools to analyze, publish, engage and connect with your audience.
Buffer is a highly popular social media management platform trusted by over 75,000 global brands and businesses. This is a great tool to build a smooth workflow between your sales and marketing teams.
You can run multiple account marketing on social media platforms by understanding your potential customers' intent using this tool. This tool is also amazing for scheduling social media posts to maintain consistency.
Lead Generation Tools
Do you want to convert your website visitors into your paying customers? Then, you need to get lead generation marketing tools that can help to analyze every lead and convert it into loyal customers using personalized marketing strategies.
Here are the best lead generation and data analytic tools for marketers:
Salespanel is the ultimate tool to automate your marketing and sales operations. This tool allows businesses to understand their leads, customers, and website visitors with a deep analytical report. This, in return, helps marketers to identify qualified leads and run personalized marketing campaigns to convert them.
You can nurture individual buyers' journeys with this tool. Further, you can integrate Salespanel with different forms, CRM software, and other business automation tools to centralize all your leads. Salespanel can fully automate a lead acquisition system without relying on any product's ecosystem.
Unbounce showed that growing a business online doesn't have to be hard. The tool offers a smart marketing platform to optimize landing pages, pair campaign ideas with machine learning, and instantly boost conversion rates.
Whether you want to generate engaging content or landing pages, Unbounce can easily help to achieve all your objectives. Also, Unbounce Conversion Intelligence is the fastest and robust technology to get a competitive edge.
Unbounce comes with various landing page templates that you can personalize to accelerate your account-based marketing campaigns. Further, Unbounce can integrate with all the popular business automation tools such as Automate.io, AWeber, Constant Contact, and many more.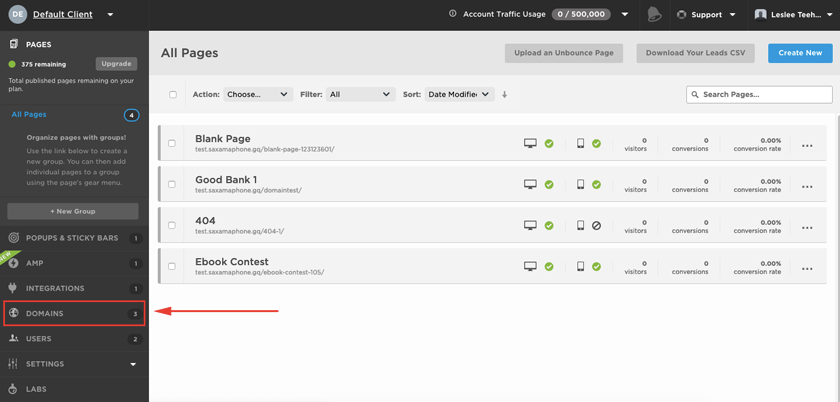 CloudTalk is a modern calling system to build better customer relationships. It is a smart call center software that can help salespeople to target international phone numbers and run a virtual call center remotely.
The software can be integrated with the most intuitive Helpdesks, CRMs, and Business automation tools, including Pipedrive, Salesforce, and more. You can allow CloudTalk to collect phone call details from your CRM software to make efficient sales calls.
It is an analytics call center that allows virtual teams to measure and personalize communication with the customers and potential sales leads. The software can be operated from desktop and mobile apps to support remote teams. All in all, this is a perfect marketing tool to connect with your customers over a call.
Want one tool to improve lead acquisition, conversion, and operations? Clearbit is the perfect marketing data platform for progressive B2B companies. It is a 360-degree platform to understand your visitors, contacts, and business profiles.
Using this software, you can target the precise B2B audience, track outcomes without annoying cookies, and reduce customer acquisition costs. Clearbit will shorten the buyer's journey and convert high-value visitors with personalized marketing solutions.
Also, it can enrich your CRM, ABM, and MAP system with real-time power segmentation. There's no better tool than Clearbit to streamline business data.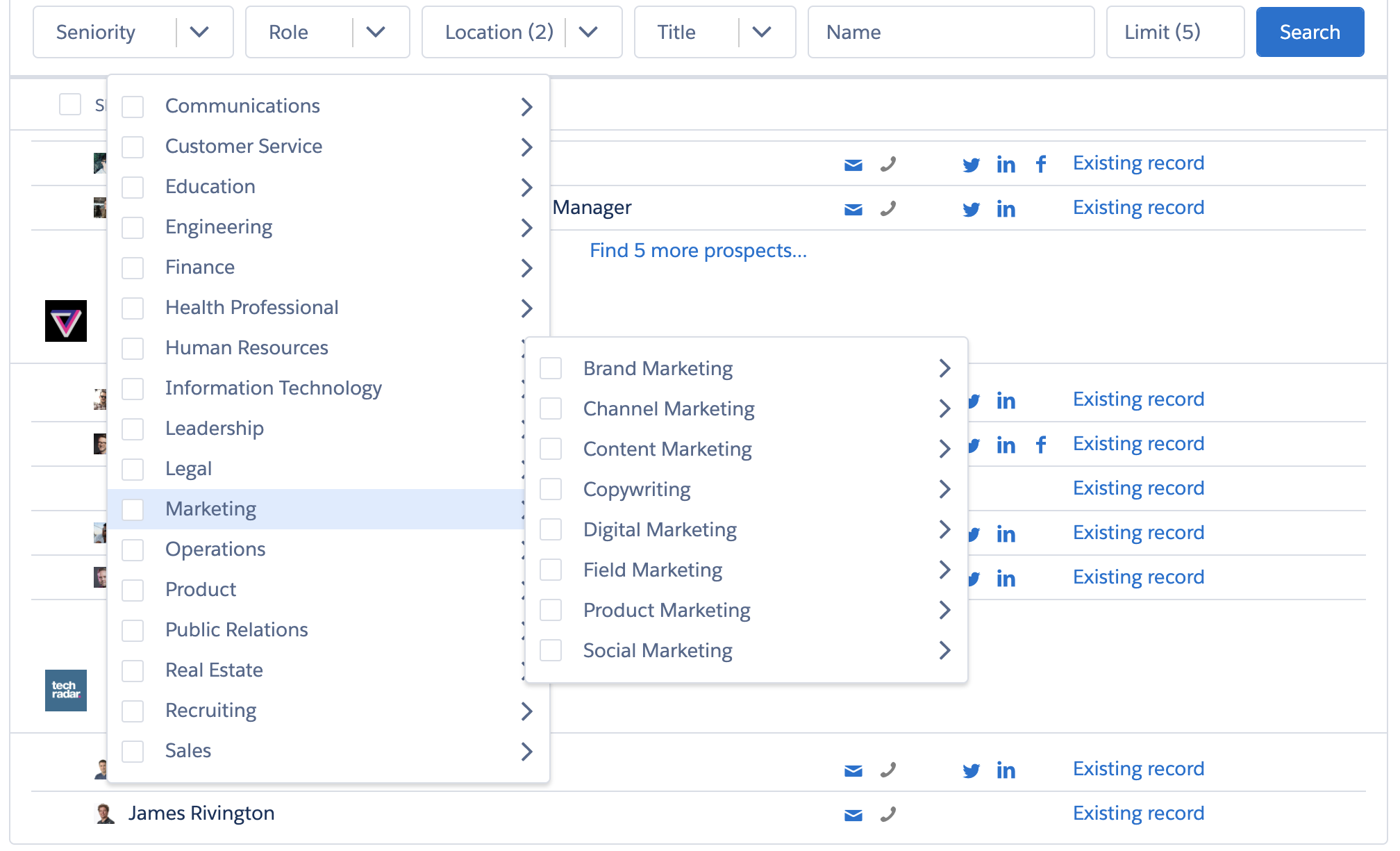 Datanyze is basically a Google Chrome extension to keep the sales pipeline always buzzing with fresh prospects. The software helps to collect, verify and secure high-quality business data to take effective marketing actions.
Datanyze follows CCPA and GDPR compliance while collecting the leads data. Thus, you don't have to worry about getting into any legal trouble with this tool.
When you simply want to collect high-sales data and chase qualified leads, Datanyze is the best marketing tool.
With Outfunnel you can connect your apps from different platforms, experience high quality email marketing features, web track and make use of lead scoring capabilities.
The app connector allows you to connect data from a wide range of marketing apps like MailChimp, HubSpot, ActiveCampaign, Pipedrive, and many more. The email marketing features syncs with your CRM, making email engagement simple.
Keep up with who visits your site with web tracking and monitoring, enhancing your marketing and sales efforts. Last but not least, Outfunnel's lead scoring automatically calculates which leads have higher or lower engagement and organizes your data accordingly.
The platform can be supported by most devices.
Data Reporting and Analytics Tools
Usually, all marketing tools allow users to generate performance reports and analyze the campaign's performance. But if you want a more holistic look at your marketing ecosystem, there are specific data reporting and management tools available at your service:
Google Analytics is a free web analytics service by Google. This marketing tool can allow users to track and report traffic on websites. The program can track a series of web activities, including session duration, bounce rate, etc.
It can be integrated with Google Ads to analyze online campaigns to better optimize landing pages. Google Analytics shows data on a simple dashboard for casual users. But if you want more in-depth data, it can also be generated.
Whether you have a simple blog site or complex eCommerce store, Google Analytics is the must-have marketing tool to track sales and performance data.
Google Search Console is another web analytics service by Google that allows webmasters to crawl and index your website. Once you submit a site on Google Search Console, it will show crawl rate, time, and particular problems that occurred during search engine crawling.
It will also list down all the links that Googlebot had difficulty in crawling. You can see which keywords helped to list your site in the SERP along with the total clicks, impressions, and CTR (click-through rate) of listed items.
Google Search Console is the best marketing tool to rank on Google, and better SEO optimize your website.
Project Management Tools
If you have a large team or run multiple marketing projects simultaneously, getting a project management tool can instantly improve your performance, revenue, and efficiency. Here are a few top project management tools:
Smartsheet is a business empowerment tool. This online work execution platform can help business organizations to plan, automate and report on work.
Almost 80,000 global brands trust Smartsheet to manage marketing and sales projects because of its intuitive user interface, real-time Gantt charts, and attractive dashboard. Overall, for marketing automation, Smartsheet is a decent data reporting and analytic tool.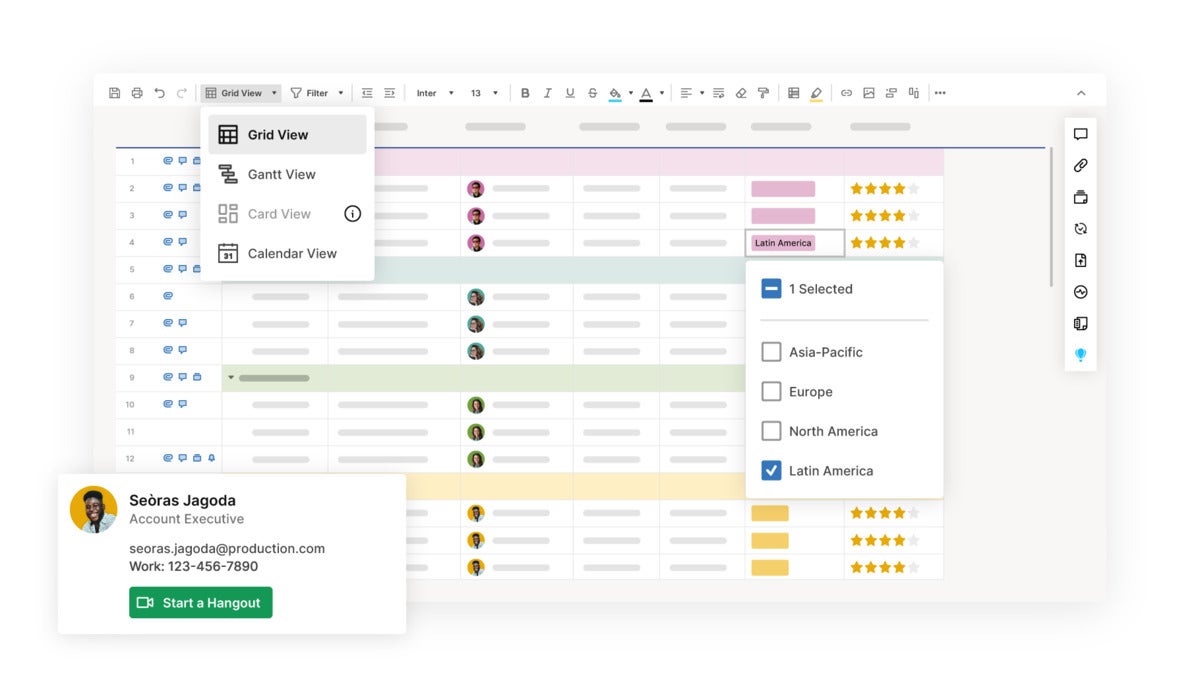 ClickUp is a top-rated project management software for 2022. It is an all-in-one software that can help you schedule, custom view, manage your team and monitor each project.
For large businesses, this is a perfect management tool to align marketing and sales operations. Today, 100,000+ teams in organizations like Airbnb, Uber, and Google are managing their operations with this tool.
ProofHub is project management and team collaboration software to manage marketing projects and teams. It has all the essential management features, including planning, collaborating, organizing, and delivering projects on time.
ProofHub has a Kanban board that will let you track the real-time progress of individual tasks. Additionally, you can attach files and add comments for your team. There's also a chat tool to smoothly conduct conversations between teammates over text messages.
If you prefer to deliver your projects on time, the Todoist app is right for the job. It helps you design interactive to-do lists that can track all your tasks. Also, you can prioritize and organize tasks with Todoist to keep your team on the right track.
Moreover, it is extremely simple to add details to a task such as subtasks, the due date to complete, additional comments, and more. This project management tool can help you complete a project on time, whether it is a small or big project.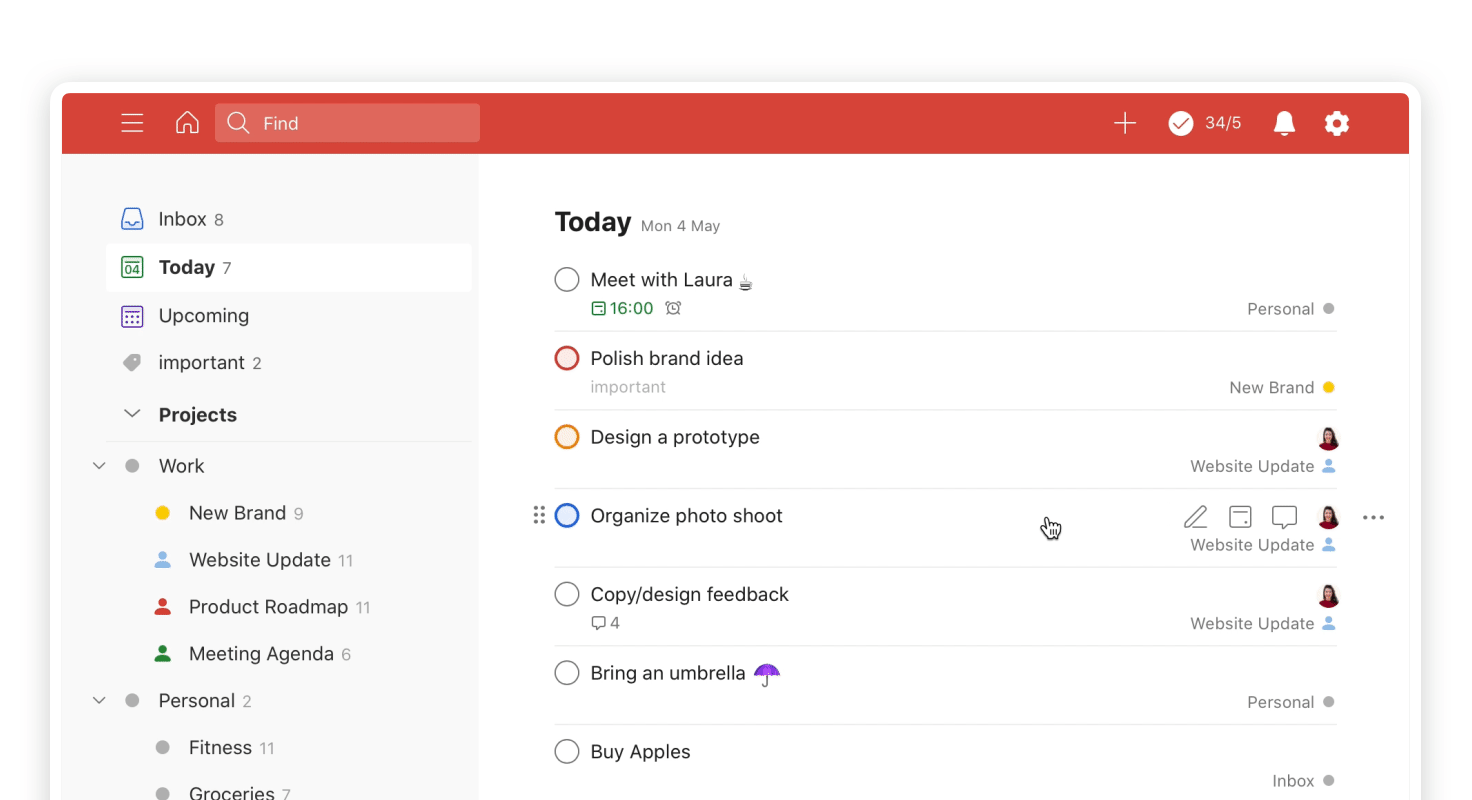 23.Avoma
Avoma is an all-in-one meeting assistant that ensures your meetings are as professional and productive as possible. It is trusted by hundreds of growth organizations worldwide and has all the features you need under one roof.
There are different options to help you run a productive meeting, some top features include: meeting management, meeting assistant, meeting collaboration, and meeting intelligence. These helpful additions take away the need for detailed notes and data entries, it's all done for you.
Use the variety of integrations available, like Google Calendar, Zoom, Outlook, and more to simplify and organize your information. This feature-rich tool is available on most platforms with a range of subscription options.
Trello has proved that task management can be done better without lengthy excel sheets. The software has given a new dimension to team collaboration with fun and simple task boards.
A transparent workflow between sales and marketing teams can be established with Trello. It can automate repetitive operations and make it easy to create or edit a task. No matter how big or small the marketing team you have, Trello boards can easily align all tasks for you.
Search Engine Optimization Tools
Be it keyword research, content optimization, or improving web page ranking, every marketer needs an SEO marketing tool. Some of the best SEO tools of all time are:
Semrush is a complete platform to improve your business's online visibility. It is a software-as-a-service platform with over 50 tools, products, and add-ons to accelerate your online visibility.
On Semrush, you will find tools for content management, search, social media research, and more. The tool is integrated with Google products and task management platforms to help you fully streamline marketing operations. Further, Semrush collects data from 140+ countries that will provide analytical insight to grow your online presence.
SE Ranking is a cloud-based SEO platform for marketing professionals. The software comes with an array of marketing tools, including comprehensive website audit, keywords suggestions, backlink monitoring, website ranking, automatic reporting, and much more.
Apart from the standard SEO tools, this marketing tool offers advanced features to professionals such as white labeling, planning, and analyzing. For professional digital marketing agencies, SE Ranking is the must-try tool.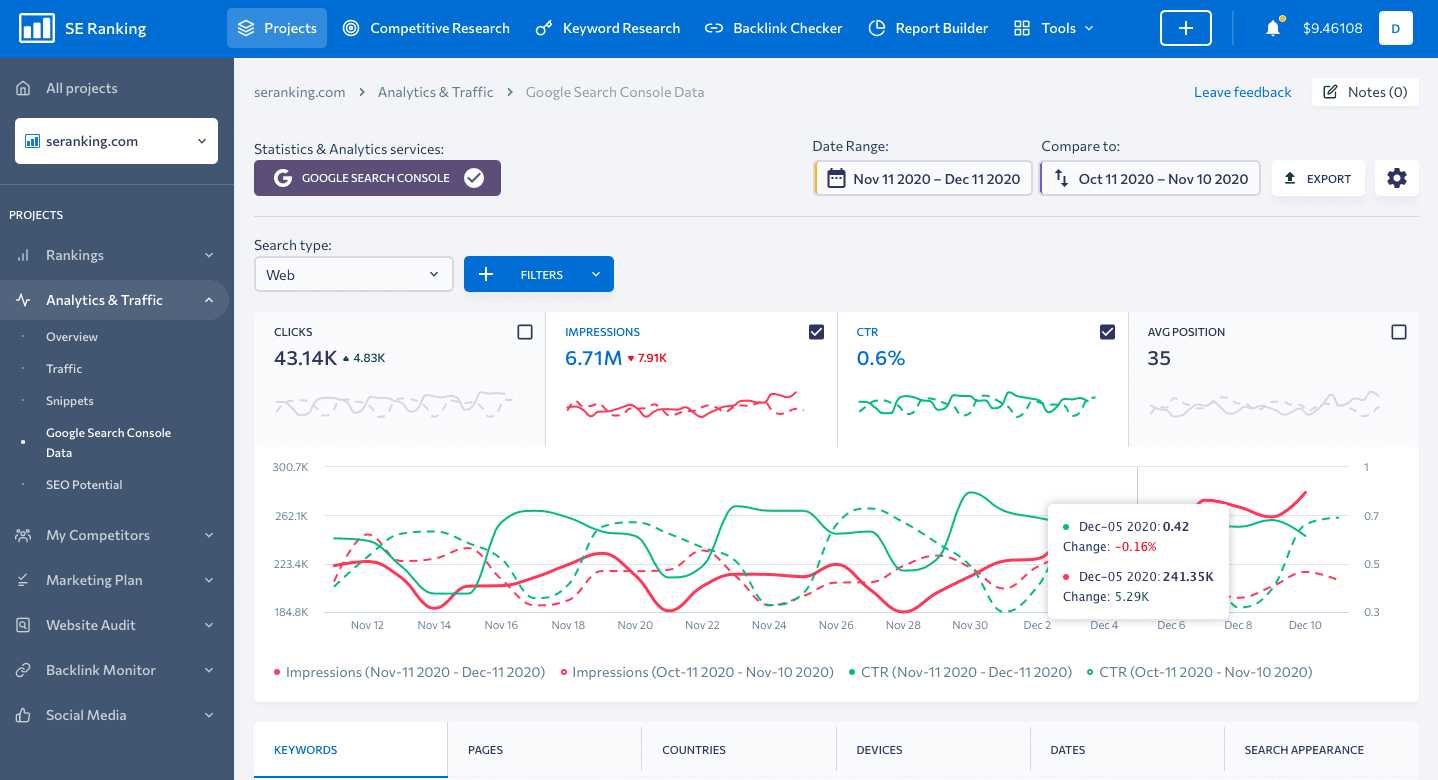 If you want to monitor the SEO data across your industry, there's no better tool than Ahrefs for the job. Ahrefs crawls hundreds of websites and captures tons of data to improve your SEO ranking.
This marketing tool can generate data to improve keyword research, link quality, enhance content marketing, run deep website audits, competitive research, rank tracking, and more. Overall, to boost organic search traffic on a website, Ahrefs is the best software.
Email Marketing Tools
Automation and Email Marketing have transformed the way lead generation is carried out.  Whether you want to segment email subscribers or create attractive emails, a perfect email marketing tool can amplify email reach and revenue. There are many amazing email marketing tools available in the market, but the best ones are:
Mailchimp is a full-fledged marketing platform that helps small and medium-sized businesses to grow faster. Mailchimp is an AI-powered tool that allows businesses to build stronger customer relationships.
Brands can send automated messages using this tool, create account-based ad campaigns, send postcards, and build dynamic landing pages. The software also facilitates marketers to report and analyze email campaigns to better sell online. All in all, this software offers a sophisticated email marketing interface to SMBs.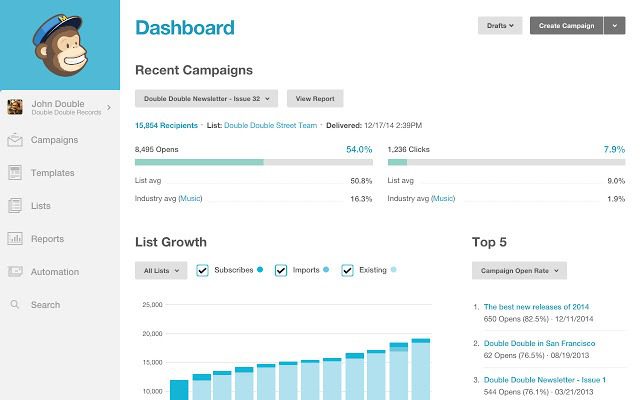 Be it collecting leads, connecting to users, or keeping customers happy, Constant Contact can help out professional marketers with everything. It is a 360-degree marketing automation solution for scaling companies. The tool is powerful yet simple to use for email marketing purposes.
Constant Contact can send a simple welcoming email to a series of emails to nurture the targeted leads. Businesses can build email lists based on the subscriber's intent data and send personalized messages to improve the conversion rate.
If you plan to target specific leads and quickly turn them into your customers, Constant Contact is a perfect email marketing tool for the job.
ActiveCampaign offers a powerful email marketing and contact management dashboard to build personal connections with customers. The tool is perfect for sending newsletters, triggered campaigns, and personalized messages based on the individual contact's interest.
ActiveCampaign has a stunning campaign builder that can let you design beautiful emails using a vast template gallery. Further, the interface is simple and intuitive and can be used by anyone.
Customer Relationship Management Tools
The final business marketing tool category that we will explore today is customer relationship management. CRM tools are the backbone of personalized marketing systems. It allows marketers and salespeople to stay connected with customers and follow the leads on time.
These are the top-rated CRM tools:
Whether you have a small marketing team or a sophisticated sales force of 1,000+ people, HubSpot offers a scalable solution that can grow with you. HubSpot customer relationship management software is built for digital teams who want seamless collaboration.
This CRM solution can keep all the contacts in one centralized location for sales and marketing teams. Business executives can keep all their leads in one place and monitor progress in real-time. This software can collaborate your sales and marketing so you can build stronger connections with your customers.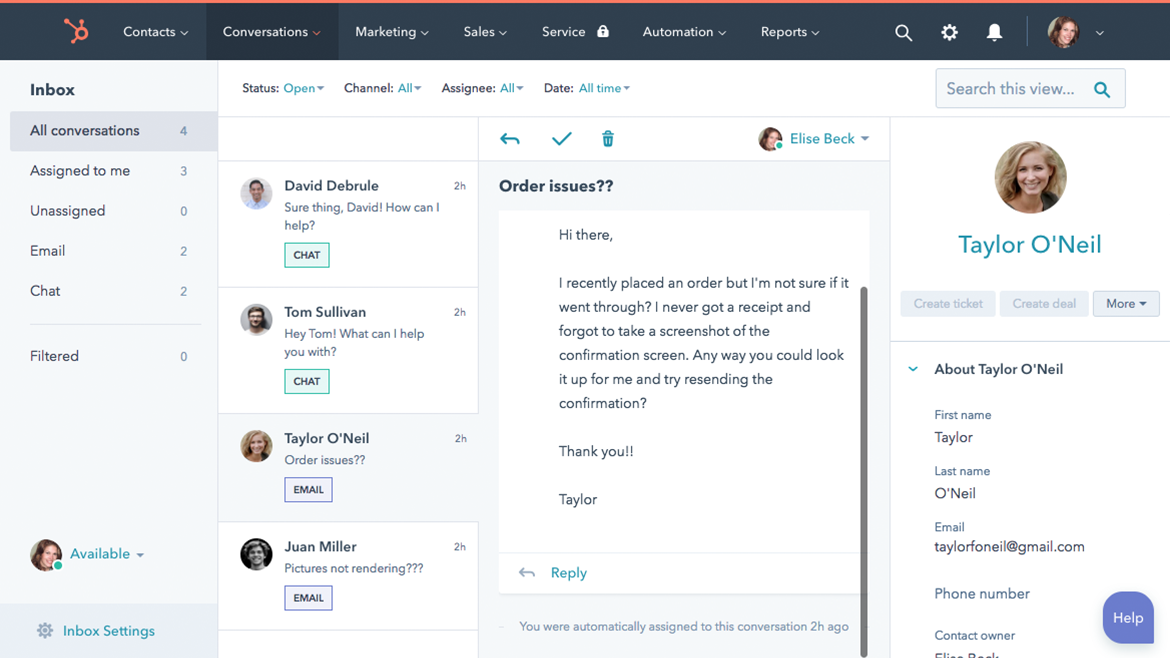 Zoho CRM is a stunning CRM solution for SMBs and big enterprises with 360-degree customer relationship lifecycle management. This CRM software has numerous features to enhance customers' experience, including contact management, workflow automation, task management, AI-powered conversational assistant, sales forecasting, and many more.
Zoho is a highly integrated program that can connect with over 500+ popular business automation solutions. You can run your entire empire within a single Zoho dashboard.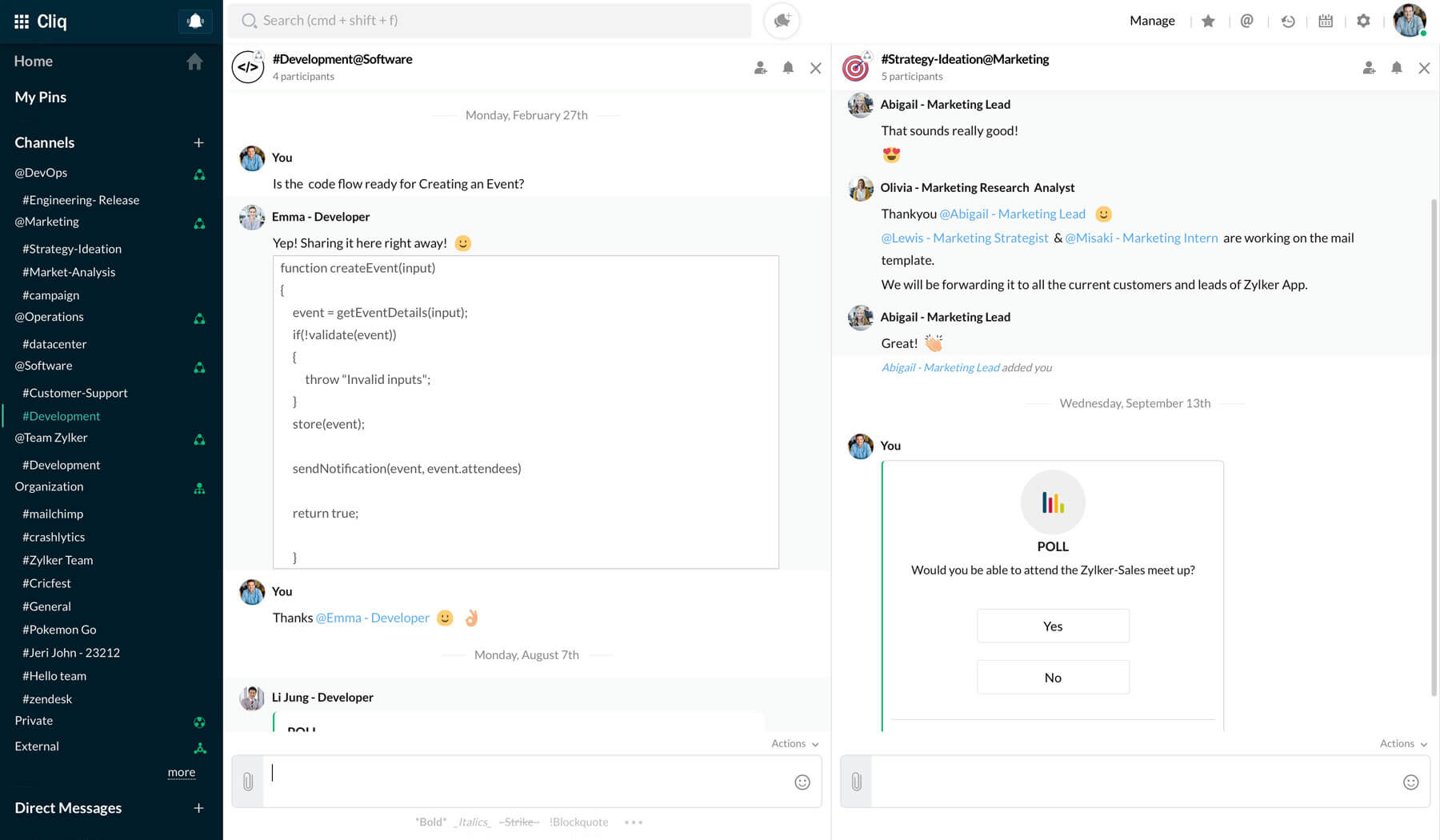 Pipedrive has simplified the process of tracking leads and streamlining the sales pipeline. It is an agile lead management software that can shorten the buyer's journey. The software has a simple and intuitive interface.
Pipedrive is integrated with hundreds of lead generation apps and business automation solutions. In addition, this CRM provides mobile support to manage and convert prospects faster. Overall, it is a good software to generate leads and transform them into paying customers.
Select a Marketing Tool & Grow Beyond Limits!
Whether you have a small or large business, digital marketing is a must to make your brand visible online. But without the right tools, marketing is not possible.
A correct marketing tool can help personalize campaigns, build strong relationships with customers, shorten the lead's journey and streamline marketing operations.
In short, marketing tools are required to grow your business beyond limits.
We have already discussed the best marketing tools with you. So, now go and select the right marketing tools to automate your workflow in no time.
Author Bio
Name: Sumeet Anand
Sumeet Anand is a B2B Marketing Expert skilled in SEO, Social Media Marketing, and Content Marketing. He helps brands and businesses out there generate leads with his top-notch content strategies and is featured on various major media publications across the globe. You can connect with him on LinkedIn.