Is your recycling bin loaded with old glass bottles and jars? You will be surprised to know that glass bottles are the most versatile objects when it comes to making the best out of the waste.
Turning empty bottles into fused glass materials, light fixtures, picture frames, and useful household items is a smart move.
Herein, we are suggesting 5 great ideas to repurpose your glass jars and bottles in simple but amazing ways:
1. Decorative storage for jewelry
Rather than crowding your dressing table, it's better to use a glass bottle or a jar for storing jewelry items such as a set of rings, earrings, and bracelets.
Mount the jar under your vanity table to free up more counter space.  Glass jars will make your space look clutter-free. Moreover, style up by decorating the glass jars to match the existing décor of your space. A great way to decorate the glass jars is to pour in craft materials such as glitter or faux pearl beads or printing on glass bottle. This also makes a great gift idea!
2. Create a herb garden
Do you like the freshest herbs but lack a green thumb? With a little elbow grease, you can have your own personal indoor herb garden. Grow your very own parsley, cilantro, and thyme using a glass jar.
All you need to do is just add 1-2 inches of rocks or gravels to your glass jar. Fill the jar with potting mix and add herb seeds of your choice. Lightly water the top of the soil. To make it look more alluring, decorate the bottles with vines, paint, or whatever you fancy.
3. Lightning lamps for party
Looking for a unique idea to add more sparkle to your evening party?  A bottle or a glass jar filled with string lights creates a spectacular display of lights.  For outdoor events, put candles in a jar filled with pebbles to enjoy elegant lighting.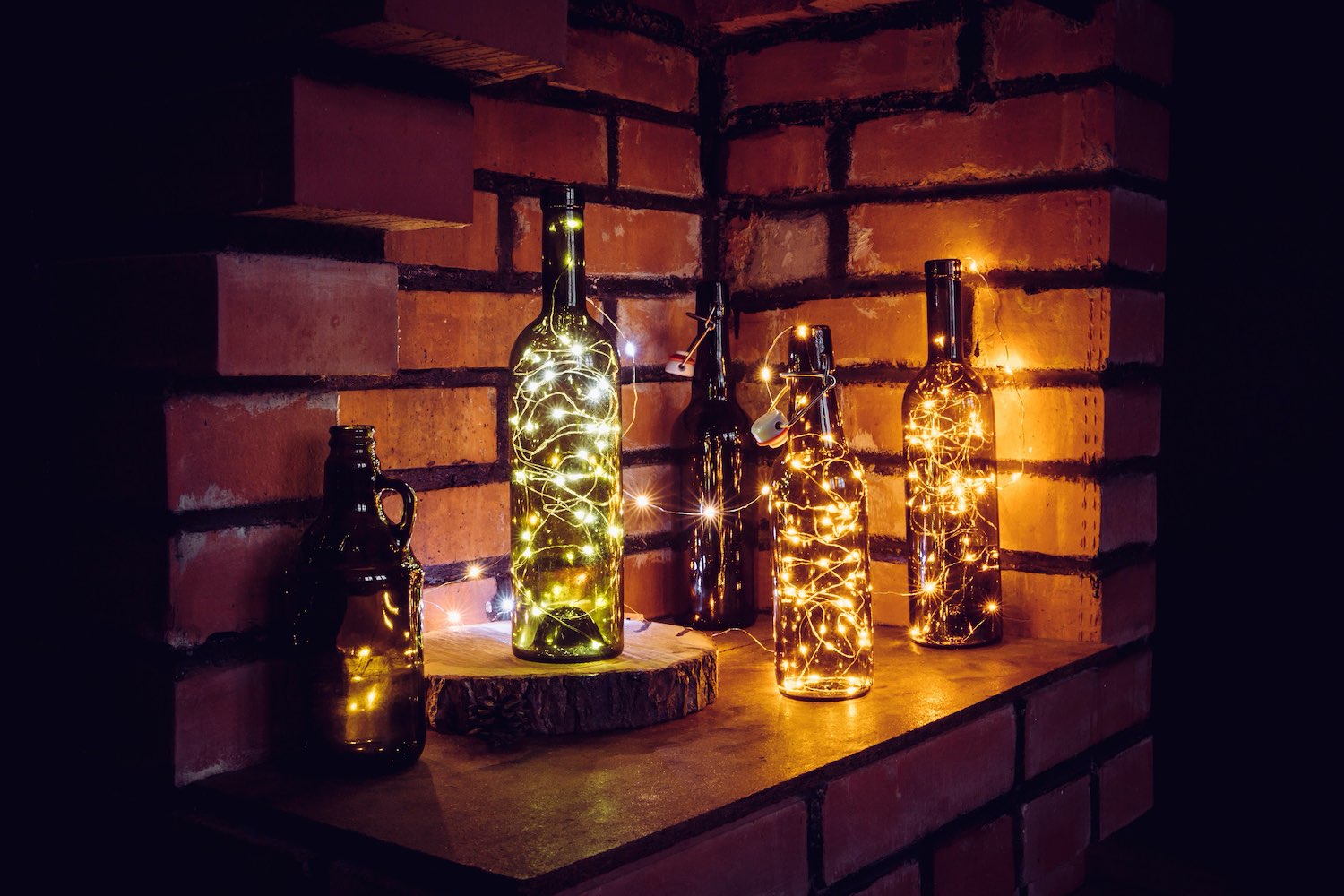 Another way is to wrap bottles with strings of fairy lights to create the perfect ambiance. By using painted glass jars, you can also create attractive chandeliers and unique lighting displays.
This look would be a great addition to any party.
4. A perfect picture frame
Craft lovers can create the best out of anything. Transforming a glass bottle in a unique picture frame is the best way to showcase your skills. Clean some glass bottles and fill the bottom with stones or shells. Take your favorite photograph, roll it up, and slide it into the bottle. Use the pencil eraser to push it down and open it a little
To add some character to the piece, wrap it with decorative strings, jewelry beads, or anything personal.
5. Use as a spray bottle
The sky's a limit when it comes to customizing the glass jars. Luckily, glass bottles can be used to spray water or any other chemical on your plants. Spray bottles can also be used for cleaning, making perfumes, and so much more.
Glass spray bottles are better than plastic as they do not let harmful chemicals drip into the liquid stored in the bottle.
Choose a small mouth bottle and fix a spray nozzle onto the lid of your bottle. Wash the bottle both inside and outside. It's ready to use!
In the end…
There are many ideas that you can experiment with an old bottle or glass jar other than the list above. It's time to rethink and put your creative hat on to transform your empty bottles into little masterpieces.
Go ahead and have fun!