An Egyptian guy was caught selling a Geely Coupe as Ferrari online. That is the best scam we saw in years.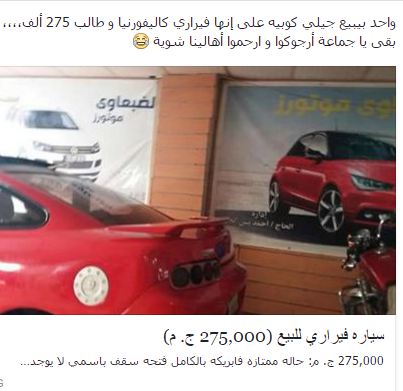 Guy caught selling a Geely Coupe as Ferrari
The OLX website had an Egyptian citizen who posted on the sale of goods consumed on the Internet "or LX" type of car, "Ferrari" the famous Italian, at a price of 275 thousand pounds, but in fact it is a Geely old model "Coupe" that had been on sale in the Egyptian market for Years.
After he changed the original "Geely" Chinese car markers, and then put the other signs, he claimed the prestigious Italian company's production.
Not only he did that, but he said in announced the Ferrari Model as "California" manufactured in 2010, which is not unrelated to reality. He confirmed it with all the luxuries (full option).That enraged social media sites to hammer the guy.
Only an Egyptian would do it!