Isuzu D-Max 2 Door was picked up globally and recognized in over 100 countries and way more compelling to the Indian and Indonesian buyers. The new version of the BS6 D-Max now comes with higher payload options, along with powerful engine, extra additional features and durable aggregates. The Isuzu D-Max 2 Door by Autofun competes in some of the highest competitive segments these days and can be placed right against Tata Yodha and Bolero Pickup. For covering all the niche applications, this Isuzu D-Max 2 Door is one option for most people to look for.
This particular model comes handy with the regular 1240kg of payload along with the all-new higher payload of around 1710kg. So, this Isuzu D-Max 2 Door is meant to be highly suitable for various cargo applications. Make sure to find out more about the major USPs of this promising pick-up car. Even if you compare this vehicle with other ones, it surely has a major upper hand for sure.
More to learn about this vehicle:
Manufactured by the Japanese house of PEM Isuzu Motors, this Isuzu D-Max 2 Door is one compelling vehicle, which is now noted in so many countries globally. This company launched the very new range of the BS6 pick-up range in October last year and with a more strong and durable powertrain. It comes handy with higher payload and some new features.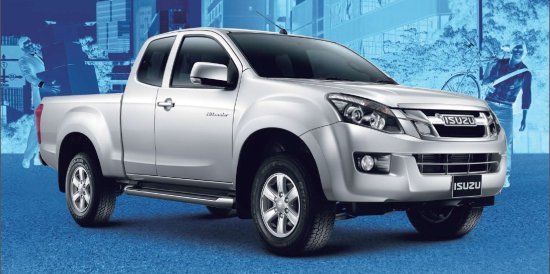 The new D-Max is now available in two different variants. One is the D-Max 1240kg and another one is the D-Max Super Strong 1710kg. Now, you must be wondering if D-max has what it takes to stand out in this highly competitive market. Learning about its features a bit more will let you know why more people are moving towards this pick-up truck more.
The most powerful engine:
For ensuring a well-grounded performance for some of the most challenging conditions, this vehicle is noted for its well-known 4 cylinders and reliable common rail. On the other hand, you have the much-needed CGT intercooled diesel engine, which helps in producing 78hp of the peak power at around 176 Nm of torque at around 1500-2400 rpm range.
The engine has the combination of performance efficiency and high end power, which will help in fast delivery.
The 2-wheel drive pick-up will get around a 5-speed manual gearbox, which is tuned well to provide that smooth driving and greater fuel-mileage.
With so many models sold already, you can clearly understand the reliability associated with this vehicle. The powerful engine is one of the reasons why.
Durable and heavy-duty aggregates:
Apart from the stronger engine and powerful engine, D-Max is also known for promising aggregates. The suspension in front is always a double wishbone, semi-elliptic and coiled spring. The rear end will have leaf springs.
Then you have the hydraulic brakes which come handy with a large booster with a load sensing proportional valve.
This form of intelligent braking mechanism will correspond well with the load and will react well to prevent wheel skidding.
Then you have the front brake, where you have a ventilated disc with twin pot calipers and the rear is the drum type.
The brake of Isuzu D-Max 2 Door has its own high-end efficiency with brake booster.
So, if you want, you can drive the pick-up in an effortless manner with hydraulic type tilt adjustment steering.
For ensuring added safety, this Isuzu D-Max 2 Door has a steering column, which remains collapsible in nature. So, you can always expect the best option from this source now.
Easy and comforting handling:
Isuzu D-Max 2 Door is not just noted for its strong body and modern exterior, but the interior is equally comfortable. The entire handling is pretty easy with various technologies and features. The pick-up is well-equipped with the gearshift indicators, which will help the driver to maintain right gear at various driving conditions. In case you are looking for greater visibility during day and night drive, the stylish instrument cluster will get higher contrast. So, there is a parking brake sensor associated with easy parking now.
With so many interesting features and premium interior look, you don't have to look for any other option, when you have Isuzu D-Max 2 Door by your side!