Ready to hit the open road?
There are so many amazing places to explore in our vast country, and the best way to do it is with an RV. Traveling via RV provides you with the comforts and consistency of home, while also letting you experience new, beautiful places every day, every week, or every month. It's far more affordable than staying in hotels, and it's far more comfortable than camping in a tent.
If you are ready to buy an RV, the first question you'll need to answer is if you should buy a new or used RV. Both have their merits, but the price tag on each is very different.
Keep reading our RV buying guide below to see if you are willing to buy a used vehicle for RV travel, or if a new RV is the better option for you.
Modern vs Outdated Styling
One of the biggest differences between new and used RVs is the styling and decor you're going to experience. Modern RVs, built after 2020, are finally starting to look a little nicer on the inside.
They are ditching the browns and greens and are starting to embrace neutral colors. With a new RV, you're going to get something that is far more hip, and way less tacky.
Used RVs, particularly those manufactured before about 2016, is going to feel outdated. RV manufacturers used the same outdated styles, colors, and decor that they've been using for decades.
If you don't mind feeling like you're staying in your grandmother's old cabin, a used RV isn't a bad option. Or, if you plan to make some upgrades yourself, by painting and reupholstering, then a used RV gives you the option of customizing the RV to your tastes.
With a new RV, you're going to get modern styling right off the bat. Since everything is brand new, it wouldn't make sense to make any upgrades or changes, as doing so might actually decrease its value.
Weight Considerations
Another benefit of newer RVs is that they are getting lighter and lighter. With advances in technology and manufacturing processes, full-sized RVs are becoming much lighter in weight, meaning that more people are able to drive or pull them with their vehicles.
Older RVs, that used older materials, are typically heavier. If you are looking to get a fifth wheel or travel trailer, you may need to buy a new vehicle just to be able to tow it.
But with a new RV, you can find an option light enough for your current truck or SUV to pull.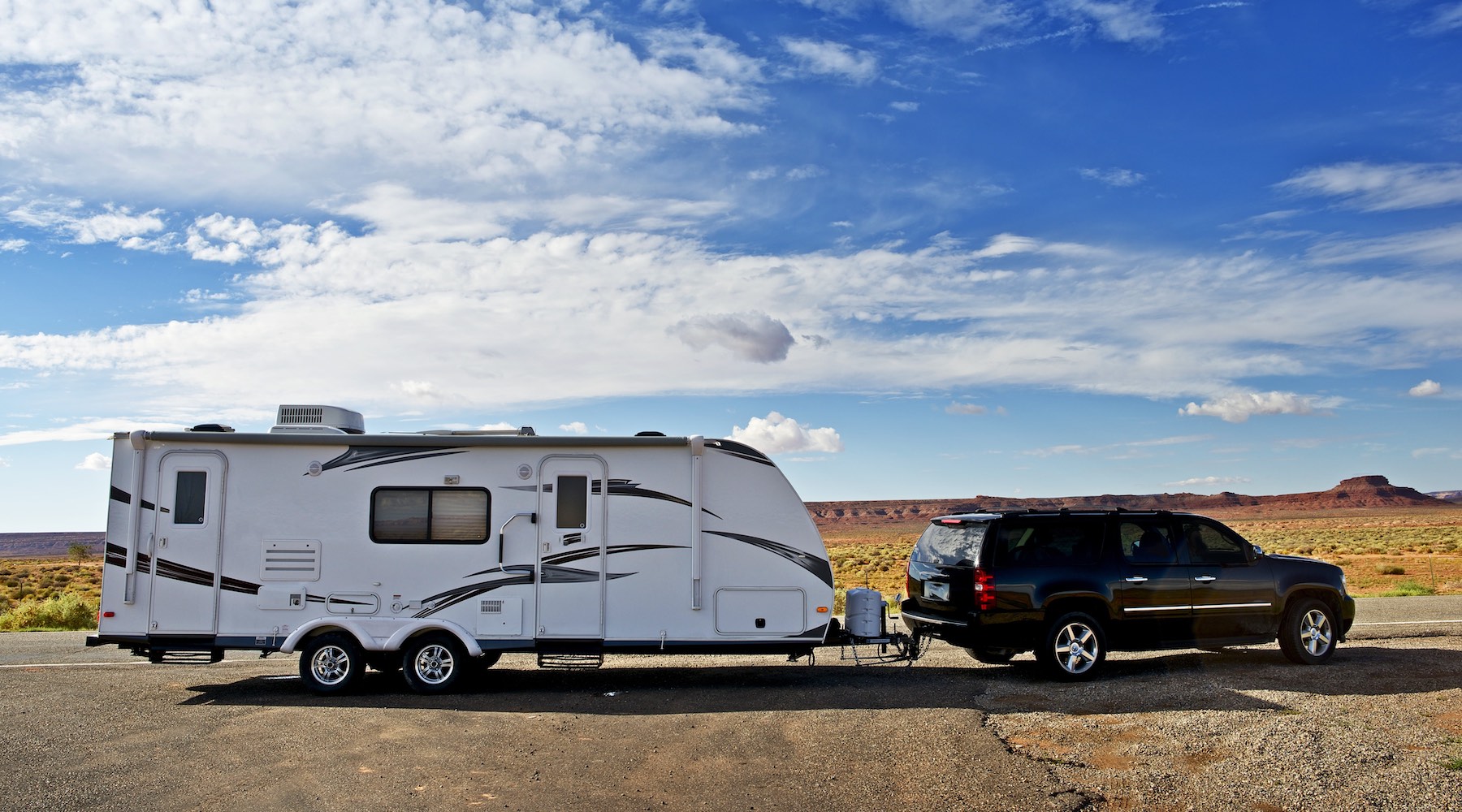 Longevity
It's easy enough to browse your local listings, finding used RVs from the 90s, and early to mid-2000s. However, consider how long you plan to keep your RV.
If you were to buy a used RV that was manufactured in 2005, for example, it's already 16 or so years old. If you want something that you can hold onto for another 20 years, you're probably going to have quite a few problems with an RV that' already 16 years old.
You'll likely need to replace appliances, reseal your roof, windows, and doors frequently, and perform many other maintenance tasks.
But with a new RV, you're getting something that can easily withstand the elements for the next 20 years and longer. There will be far less maintenance you need to do, and you likely won't need to replace or repair anything for a long time.
Part-Time Travel or Full-Time Living?
Another big consideration is how often you plan on using your RV. Most people purchase them as recreational vehicles. That means they use them on the weekend, or during their vacation time for one or two weeks out of the year.
This means that the RV itself is going to sit in the driveway, or on a storage lot most of the time. In that case, a used RV might be the better option.
However, there's a growing number of people looking to live in their RVs full time or travel for a few months out of every year, since they can work remotely.
In this case, it can make more sense to purchase a new RV that is more comfortable and more enjoyable to spend excess time inside. Since it's going to be your home for a portion of the year, you can justify the extra money that goes with a new RV.
Preserve Your Budget with a Used RV
Depending on what you are looking for in an RV, a new vehicle can run you anywhere between $30,000, to well over $100,000. That's a lot of money, especially considering that it's going to sit idle most of the year.
Even if you finance our new RV, you're likely going to need to put down a huge down payment, often tens of thousands of dollars. And as soon as you drive it off the lot, it's going to drop in value.
And one of the biggest problems is that it will be difficult to sell it if you find out that it's not the ideal model for you, since you may be upside down on your loan.
Dropping that much cash on your RV also means you'll have very little budget left over to buy some of the other things that can make your travels better. This can include outdoor camp gear like comfortable chairs. It can also include toys like-new mountain bikes or kayaks.
If you'd like to save tons and tons of money, go with a used RV. That way, you'll have plenty of money left over to purchase the other things that make camping a blast.
And the best preowned RVs can be had for as little as $15,000 from your local RV dealer. The benefit of buying from a dealer is that they will have refurbished the RV, making all the repairs necessary so that you can start camping right away.
Don't Rush a Major Purchase
When it comes to selecting a new or used RV, there's isn't a right or wrong answer. Everyone's situation is unique. Your needs, your budget, and your goals will determine which is the better path to fun, comfortable, and fulfilling outdoor travel.
The best thing to do is not rush the decision. Take the time to consider all the variables. Just make sure you eventually do make a decision and get an RV. The sooner you do, the sooner you can enjoy all that the great outdoors has to offer.
Looking for more tips like this? You can find other helpful articles on our blog today.