For the fourth year, GANT embarks on a historic partnership with the iconic 24 Hours of Le Mans. This iconic collection was adored by everyone here at ELMENS when we covered it last year.
GANT teamed up with French driver Thomas Laurent and Danish driver Christina Nielsen to present a collection that reflects the innovation and heritage of both organizations, featuring graphic prints and preppy details.
With graphic prints and elegant details, this collection captures the spirit of innovation shared by GANT and Le Mans. Whether you are a driver, an engineer, a spectator or a fan, there is a preppy style for each of you.
Check out our curated collections for Men and Women from the new line for GANT UK.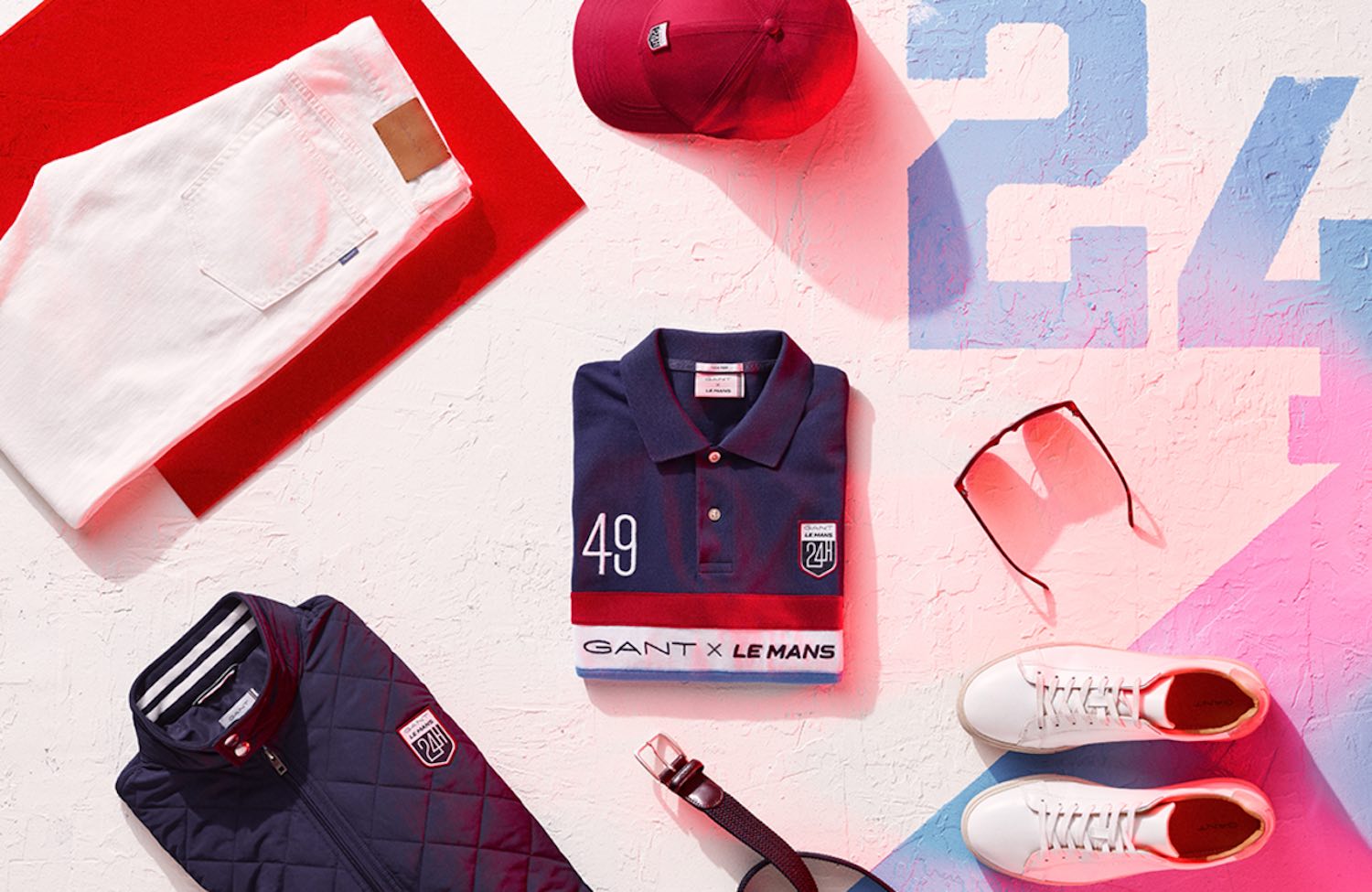 Men's Curated Collection
GANT Le Mans Poster Print T-Shirt
The Le Mans Poster Print T-Shirt, crafted in 100% cotton, sports our future vision of a modern car, flying rather than driving on the ground. Online Price £45.00
GANT Le Mans Block Piqué Rugger
This Le Mans Block Piqué Rugger adds even more sport to the iconic GANT piqué polo shirt, with race-day flourishes like a bold chest stripe, a Le Mans x GANT badge, and the number 49 at the chest as a tribute to our beginnings in 1949. Online Price £100.00
GANT Le Mans Graphic Crew Sweatshirt
The Le Mans Graphic Crew Sweatshirt, in a soft, sporty cotton blend, features a large-scale GANT x Le Mans shield in relief on the chest, as well as a classic crew neck and ribbing at the hems. Online Price £100.00
GANT Regular Fit Tech Prep™ Le Mans Oxford Shirt
This Regular Fit Tech Prep™ Le Mans Oxford Shirt harnessed the wicking, breathable powers of Tech Prep™, while featuring our signature GANT x Le Mans badge at the chest, a button-down collar, and our iconic locker loop at the back. Online Price £110.00
GANT Le Mans Piqué Rugger
The Le Mans Piqué Rugger is a classic piqué polo shirt with added features, such as the GANT x Le Mans badge on the chest. Online Price £85.00
Women's Curated Collection
GANT Le Mans Piqué Rugger
The Le Mans Piqué Rugger is a classic piqué polo shirt with added features, such as the GANT x Le Mans badge on the chest. Online Price £85.00
GANT Le Mans Graphic T-Shirt
The Le Mans Graphic T-Shirt, in 100% cotton, features a large-scale GANT x Le Mans shield printed on the chest, as well as a classic crew neck and short sleeves. Online Price £35.00
GANT Le Mans Fil Coupé Shirt
The Le Mans Fil Coupé Shirt features a small-scale Le Mans flag motif and a flattering regular fit with a classic point collar and adjustable cuffs for a sporty, preppy shirt you'll wear all season long. Online Price £110.00
GANT Le Mans Piqué Rugger Dress
Effortlessly preppy in soft 100% cotton, this Piqué Rugger Dress features our GANT x Le Mans badge and a sporty border along the sleeve hems. Pair with white sneakers and a tote bag for a cool summer look. Online Price £125.00
GANT Le Mans Graphic T-Shirt
The Le Mans Graphic T-Shirt, in 100% cotton, features a large-scale GANT x Le Mans shield printed on the chest, as well as a classic crew neck and short sleeves. Online Price £35.00