When traveling overseas, your friends and family will want to check-in to be sure you're safe.  And they'll want to know all about your trip and you might have some work to do!
Cell Phone Service & Data
You can contact your mobile provider to find out about international calls and data.  Here are the service providers roaming services:

However, fees and packages can change, so it's best to call your wireless company to see what options are currently available and their latest offers!
SIM Cards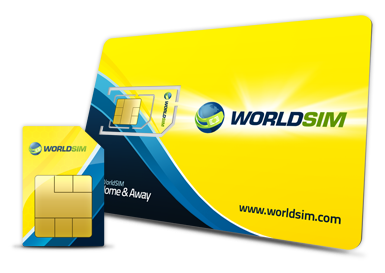 International wireless plans still tend to be pricey or have spotty service.  So another option is purchasing a SIM card at your destination.  Keep in mind, you should have your phone unlocked if you plan on using SIM cards overseas.
Buying a SIM Card at your destination can be a convenient and inexpensive way to use your phone abroad.
In certain locations, you can purchase a SIM card in the airport or at local convenience stores.  But they aren't always easy to get, especially in countries where not many folks speak English.
That also enabled the use of GPS for directions, look up restaurant reviews, and call hotels to make last-minute bookings while on the go.
Tethering
If you have access to a cellular network, whether through your phone company back home or a SIM card you purchased abroad, you may be able to tether your computer to your phone so you can use the internet.
Tethering Allows You to Connect Your Computer to the Cellular Network.
This is very useful when you don't have access to a Wi-Fi signal!  But certain plans may not allow you to use your phone as a hotspot, so check with your wireless company.
How to Get Free Wi-Fi!
Fortunately, many hotels, airports, and public places now provide free Wi-Fi to travelers.
Airports
You can access free Wi-Fi throughout many airports.  Some airports don't have free internet, but offer paid access as through Boingo.
However, you can access foursquare at airport and you'll find tips and passwords from fellow travelers.
Hotels
Here are some hotels that now provide internet for free:
Best Western – All guests (no booking or membership requirements)
Fairmont – For Fairmont Club members only (it's free to join!)
Hilton – Starting August 2015, all Hilton HHonors members will get free standard Wi-Fi when booking directly with Hilton.
Hyatt – All guests (no booking or membership requirements)
IHG – As long as you're an IHG Rewards member, you don't even have to stay at the hotel
Marriott – Must be a free Marriott member and book directly with the hotel. So  you can NOT book through a discount site like Expedia.
Ritz-Carlton – All Ritz-Carlton members who book their stays through Marriott or Ritz-Carlton (but some hotels do not participate)
Starwood – When you book through the Starwood website, a Starwood hotel website (such as Sheraton), or the mobile app.
Public Places
Not staying at a hotel that provides free internet access?  You can likely get online for free at some public parks, libraries, and restaurants.
Wi-Fi Free Spot compiles a list of places around the world where you can get online for free.  But I don't know how accurate or up to date it is.
Many restaurants in popular tourist destinations provide free internet to give folks a reason to walk in and stay awhile.
Look for Signs Displayed in the Window! Or better get this app that tells you where to find free Wi-fi!
Phone Home…Free!
If you need to call home, consider using internet-based tools to save money like FaceTime, Tango, Skype, Viber, and WhatsApp.
With an international wireless plan or by purchasing SIM card at your destination you can use your cell phone when traveling abroad.
And there are many places with free Wi-Fi including hotels, airports, and public places.  This will help you to stay in-touch with friends and family and explore your destination.
Do you have other tips to share? Leave them in the comment section below….