With the prices of traveling rising with the inflation hitting hard the economy and the upcoming vacations. Everyone will be vacationing in Gouna or Ain Sokhna for the long weekend. Visit Egyptian-history.com to know more about egypt. However, not everyone knows of a few hidden Egyptian jewels for travelers and vacationers that offer amazing scenes and cheap prices.
Here are a few hidden Egyptian jewel hotels for the adventurous travelers:
Aqua Blu, Sharm El Sheikh
Offering a 450 m promenade with cafés and shops, this all-inclusive hotel is part of Aqua Park City. It has 8 swimming pools, 3 children's pool and 64 different water slides. Aqua Blu has full-service spa and private beach access.
Lazib Inn Resort & Spa
Lazib Inn Resort & Spa is an authentic Egyptian escape, located in Tunis village, in the heart of the magical oasis of Fayoum. This lush retreat represents a new standard of luxury; defined by hospitable service, international gastronomic cuisine,and perfected spa facilities.
The Oberoi, Sahl Hasheesh
Reminiscent of traditional Arabic style, the hotel's spacious accommodations and restaurants feature classical, domed ceilings and long corridors, illuminated with traditional lamps and framed by elegant columns decorated with the traditional Islamic eight point star.
The Oberoi, Sahl Hasheesh is the ultimate escape for honeymooners, couples, families and friends.
Anakato Nubian Houses, Aswan
  An oasis of color in the Egyptian desert: The psychedelic Nubian guest house along the Nile that looks like a fantasy come true.
Movenpick, El Sokhna

The Mövenpick Resort El Sokhna is surrounded by the Attaka mountains and the Red Sea. It is the nearest resort from Cairo International Airport, taking 1.5 hours to reach on the newest motorway.
The hotel resembles a green oasis with colourful gardens and a private island connected by a bridge. It is also an ideal place to enjoy the sandy beach or see dolphins swimming in the Red Sea. With well-equipped meeting facilities you can ideally combine fruitful business with a peaceful retreat.
Marina Lodge At Port Ghalib, Marsa Alaam
  A 4-star Nubian style hotel featuring a PADI 5-star diving school, making the place a true paradise for divers and travellers in search of unique sea adventures.
Cave Beach Resort, Hurghada
The Hotel exterior design is in a unique and wonderful Stone-Rock – Mountain Style same the Landscape and pool areas with integrated lights and plants around the pool and in all public areas. All the Rooms are also fully cave-style in a high quality finish and made in wood and rock.
Achti Luxor Resort

On the banks of the River Nile, this luxury resort has 2 outdoor pools, and tennis courts. It features spacious bedrooms with balconies and views of the river and the countryside.
Adrere Amellal, Siwa Oasis

Adrere Amellal is an ecolodge in the Siwa Oasis, one of Egypt's most secluded settlements. Due to its isolated location, the Siwa Oasis has developed a culture of its own, with characteristic pottery and wedding jewelry. Reaching the hotel is no easy feat, but those who make the journey are able to enjoy the oasis in peace.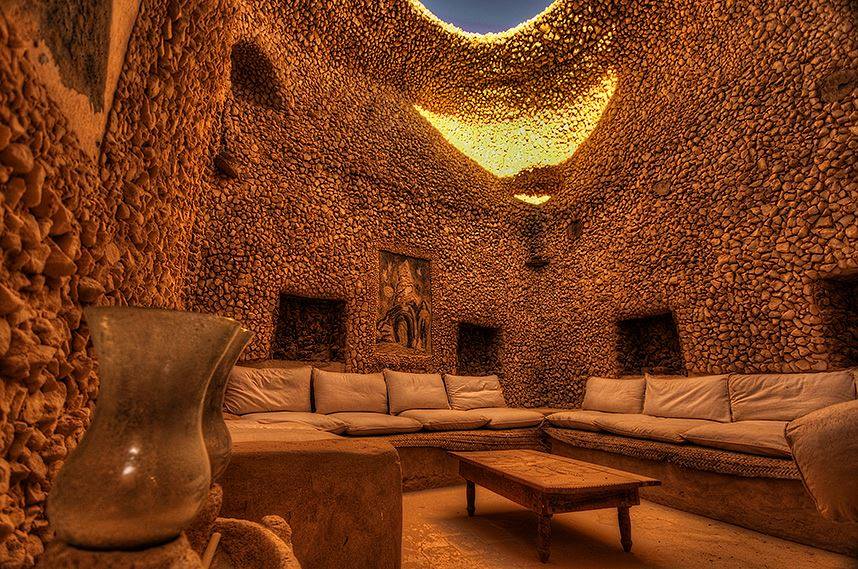 Nestled in a desert oasis, this tranquil, Berber-style hotel is 1 km from the ancient Gebel al-Mawta tombs and 3 km from the Temple of the Oracle of Amun. Hand-built rooms without electricity feature local furnishings and decor, as well as sitting areas and en-suite bathrooms, and room service is available.
There's an outdoor pool, and a simple restaurant with regional fare offers poolside lunch service and dinner. Guided desert excursions and cultural tours are also available.
Four Seasons Hotel Alexandria at San Stefano
In a glamorous Alexandria luxury hotel retreat set against the Mediterranean shoreline, 19 floors of classic European-inspired luxury accommodations in San Stefano's stately Grand Plaza are graced by open-air restaurants, world-class service and a European-style spa in Egypt.
Panorama Bungalows Resort, El Gouna

Offering a private beach on the Red Sea, this 4-star resort offers air-conditioned accommodation with a terrace. Its outdoor pool is surrounded by landscaped gardens, and there is a health club.
Rixos Alamein, North Coast
Rixos Alamein is a 5-star hotel on the North Coast of Egypt. In a beachfront location along the famous North Coast, Rixos Alamein features first-class spa facilities and 4 swimming pools.
Have a few suggestion of your own for Egyptian hidden gems for travelers? Write them down in the comment section below…