Hair transplants are an effective technique that have taken on special relevance in the male population that suffers from alopecia. It is an expensive treatment, but if it is performed in Mexico it is much cheaper, which is why Tijuana has become the favourite destination for those who are looking for a good and safe procedure at a low cost.
Hair loss or alopecia is a natural condition that can appear in any person for various reasons, mainly in mature men with a genetic tendency to suffer from it. However, it can also occur in young men and even in a small proportion of women.
One of the most effective treatments to reverse the process and recover a healthy and lush head of hair is through the application of hair grafting, which is carried out in clinics specialized in this area. The bad news is that it is usually an expensive procedure that not everyone can afford.
Luckily, there is an excellent option in a wonderful country where these treatments are much cheaper. This is Mexico, which has become a Mecca for many medical services offered at very low costs, including hair transplantation.
Hair transplantation in mexico has become very popular, mainly in the town of Tijuana, where there are exceptional health centres dedicated to perform this type of hair surgery, with highly recognized professionals and with the most advanced techniques and equipment specially developed to perform them.
Tijuana is currently the main centre in Latin America for hair transplants, due to the high quality standards applied in each centre, its low costs and for being a city with many tourist attractions, which is used by patients to take a walk with their families or couples while they undergo the corresponding treatments.
How much does a hair transplant cost in Mexico?
The costs of a hair transplant surgery vary according to the characteristics of the treatment and the area to be covered, but in general the hair transplant price in Mexico is much cheaper than in any other part of the world.
The cost of a hair transplant in Mexico can range from $2,000 and upwards, depending on several factors, including the size of the area to be covered, the number of areas to be treated, the hair graft technique to be used, the experience of the medical team, the location of the clinic, transport costs, etc.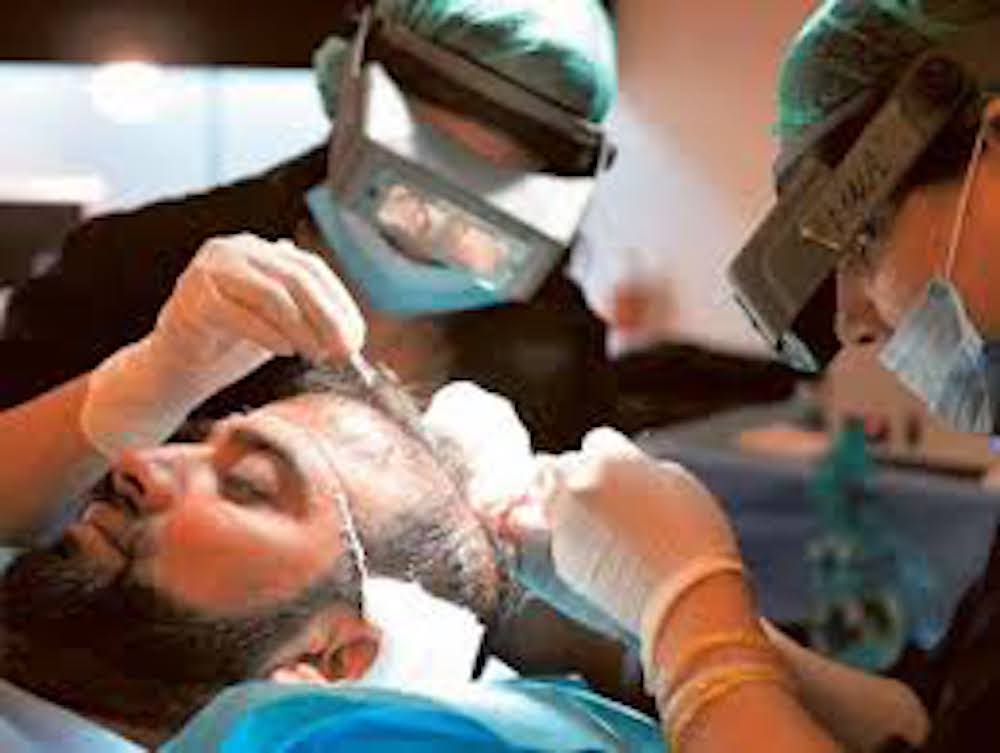 The payment methods used in these specialized health centres are also diverse. Cash, electronic transfers, credit or debit card payments, and Docpay are the main forms of payment accepted.
How to choose the best clinic?
A hair transplant can change anyone's life for the better, it has the potential to restore confidence and self-esteem to a person who has lost them as a result of the grief that baldness can cause. For this reason, the place where such a delicate treatment is to be carried out must be chosen very carefully, and the following considerations must be taken into account:
Specialization of the clinic: it is very important to verify that it is indeed a hair clinic, which is exclusively dedicated to the application of treatments for the recovery of hair. Otherwise, you run the risk of being the victim of a bad intervention or even putting your health at risk.
Experience of the doctors: It is also essential to check the professional experience of the medical staff who will perform the hair surgery. There may be centres that use technicians with hair grafting courses who may not be qualified to perform this type of surgery. It is recommended that you check that the person who is going to perform the treatment is a certified doctor with specialization in this area.
Personalized attention: you should make sure that the patient is treated in a friendly manner and that there is truly meticulous attention, and that those who attend to you answer all doubts and concerns in a timely and direct manner.
With these data and recommendations, you can go to Tijuana and take advantage of their excellent services and advantageous prices so that you can get that longed-for hair graft and get your life back. Do it without thinking too much.