There are a lot of reasons as to why an Air Track Mat is such an integral part of many of workout or yoga sessions. The reason that it helps to have more than one mat to use is because they can offer different benefits when used together. It can help to keep you more comfortable during the workout session.
The main thing to remember is that the Air Track Mat is something that can enhance your workout and keep you more comfortable, especially for beginners.
The Air Track Mat has amazing benefits and features which will explain in this article for fitness and exercise enthusiasts.
Why do you need a Air Track Mat?
The Air Track Mat can be used for lots of exercises and fitness performance as Yoga, Gymnastics or even Marshall arts for all ages. It can be used for fun at the beach or elsewhere.
The air track mat, has a sufficient amount of padding will prevent you from ending up with sore muscles and joints and eventually Arthritis. This is especially useful to those whose wrists, knees, or even hips are sensitive to hard surfaces and heavy loads.
Also, some people mind getting a little dirty while they workout, but if you'd prefer to keep a layer of protection between you and the ground, an air track mat might be right for you. Of course, you need to clean it off after use.
Moreover, to avoid sliding. Your hands can get really sweaty when exercising or practicing poses, and they could slide on the floor and cause you to trip over. The floor underneath you may be very smooth and slippery, and again cause you to fall. Your feet can slide off the floor and you could fall. The right type of mat will ensure that your body stays put, no matter what position you're in.
Lastly, it also provides a sort of insulation between the human body and the ground. This prevents any loss of heat, charge or energy from the body to the ground.
Types of Workouts for the Air Track Mat
Air Track Mats are necessary in many situations as
Floor Work
Air Track Mats are useful when a substantial portion of the workout is performed from the floor. This is common with core workouts where athletes are often required to lay on their backs or place their forearms on the floor. If you're going to work your core or you anticipate the need for modifications, consider purchasing an air track  mat for general fitness activities.
Yoga
While types of yoga classes vary from workouts that involve constant movement to deep stretches that call for stillness, your standard yoga flow needs a mat with a firm grip and stable surface.
Others
Air track mats can help provide comfort and safety when doing demanding or risky physical activities. They're quite necessary in cheer leading, martial arts, acrobatics, gymnastics, wrestling, and other similar sports due to their benefits.
What are Air Track Mats Made of?
Mats are usually created using a man-made material that makes really durable products. The thing about PVC mats are cheap and lightweight, which means they are much better suited for beginners who have yet to identify what type of mat best suits them.
Air Track Mats are made of High-quality materials include double-walled fabrics and commercial-grade PVC tarpaulin. Good materials can make the tracks last longer. They have Velcro along the edges that can help secure the mat or allow you to connect more than one.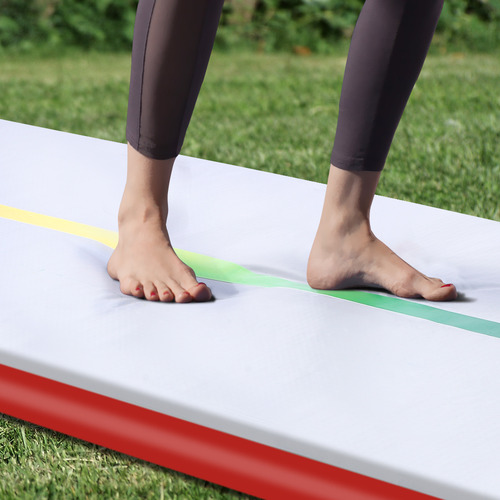 The way you choose to position your mat is very important. Some people like to sit on their mat, some like to lay down, and some like to lie down while working out and that is why you need Alignment Guides.
Why are Alignment Guides important?
Alignment guide lines are the specific lines on a mat that help you position your body correctly. Alignment guides should be a fundamental consideration you make, along with things like mat thickness, material, size of mat and price when buying an Air Track Mat.
1. They help you avoid injuries
2. They help correct poses
3. They assist yoga and fitness instructors
4. They boost physical wellness
5. They make gymnastics and fitness more accessible
Yoga can be a scary thing to begin with. There are a lot of fundamental poses to learn and routines to understand, and it can leave you feeling frustrated and doubtful about your abilities.
For beginner yogis who may start building up their practice at home before joining a studio space, alignment guides are a great way to support a practice while offering at-home assistance. The Air Track Mat wil surely do the job.
Conclusion
Air track from Kameymall is an excellent investment, so better do your research before purchasing one. You have to clearly understand what your needs are in terms of size, thickness, and price, then narrow the range of choices and buy the most suitable product for you.