Egypt is the first nation in the entire 40-year history of the iconic Professional Squash Association (PSA) Men's World Championship to have six players in the quarter-final stage.
The finals have concluded with Ramy Ashour, Fares Dessouky and Tarek Momen all winning to bring the third round action to a close at the Wadi Degla Club in Cairo.
Egyptians making Squash history
Coming just a day after Egyptian trio Mohamed ElShorbagy, Karim Abdel Gawad and Ali Farag booked their quarter-finals, Ashour led the charge as he won England's Daryl Selby by an 11-6, 8-11, 11-5, 11-6 margin.
 Fares Dessouky, meanwhile, came through an awesome five-game battle with Malaysia's Nafiizwan Adnan to seal his place in the last eight for the first time in his career.
The match was highly-competitive and swayed between moments of free-flowing squash and periods of futile play, with a number of decisions being made in an encounter punctuated with lets and strokes.
With the scores tied at two-games apiece, Dessouky held everybody's nerves to close out a 13-11, 6-11, 11-6, 10-12, 11-6 victory and seal a last eight berth.
"It was hard for me play the fifth game and be focused from the beginning because of the last two decisions of the fourth game," explained Dessouky, who will meet Ashour in the next round.
"The crowd was incredible, it reminds me of the El Gouna tournament where they did the same thing to me. They stayed behind me and kept pushing me forward to win the matches and win the semi-finals there. It's something good for me and it's incredible."
Momen was also forced to battle through a five-game encounter after he dispatched World No.7 Marwan ElShorbagy, the younger brother of World No.1 Mohamed.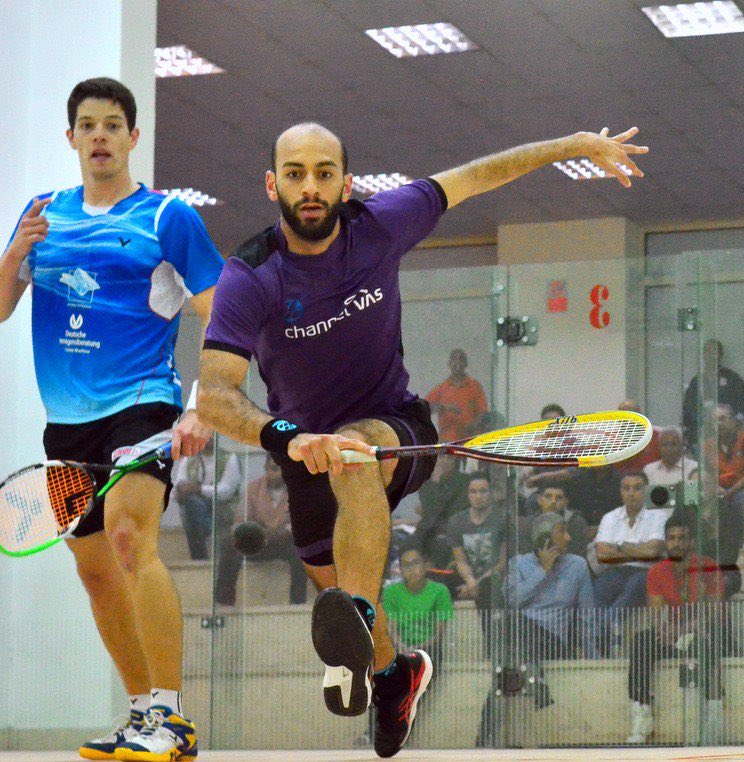 Momen twice took a one-game lead, only to see a dogged ElShorbagy come back both times to restore parity. It was the latter who would eventually triumph in the decider though, bringing the curtain down on a 78-minute encounter by a 11-9, 9-11, 11-8, 9-11, 11-3 margin to set up a next round meeting with defending champion Gregory Gaultier.
Here is a round up of the matches:
Results – Third Round (Bottom Half): 2016 PSA Men's World Squash Championship
[15] Fares Dessouky (EGY) bt Nafiizwan Adnan (MAS) 3-2: 13-11, 6-11, 11-6, 10-12, 11-6 (99m)
[5] Ramy Ashour (EGY) bt Daryl Selby (ENG) 3-1: 11-6, 8-11, 11-5, 11-6 (66m)
[11] Tarek Momen (EGY) bt [7] Marwan ElShorbagy (EGY) 3-2: 11-9, 9-11, 11-8, 9-11, 11-3 (78m)
[2] Gregory Gaultier (FRA) bt Tsz Fung Yip (HKG) 3-0: 11-8, 11-2, 11-6 (31m)
Draw – Quarter-Final
[1] Mohamed ElShorbagy (EGY) v [10] Ali Farag (EGY)
[6] Karim Abdel Gawad (EGY) v [4] Nick Matthew (ENG)
[15] Fares Dessouky (EGY) v [5] Ramy Ashour (EGY)
[11] Tarek Momen (EGY) v [2] Gregory Gaultier (FRA)
Some great news 🙂