Some half-million kids get serious injuries on their heads, arms and legs due to riding over bicycles cause not wearing safety gears and the helmet is one of them.
That's why it is important for us to give our kids instructions to wear helmets while riding a bicycle. But the question here is how to choose a smart bicycle helmet for kids.
When you are going to select a smart bicycle helmet for your kids then you must have to know what aspects are necessary for choosing a helmet.
In Western countries like America, kids love to ride over the bicycle and spent a lot of time riding. Unfortunately, in most cases, parents neglect the safety features of the helmet and they pay more attention to the color, design, and style of the helmet.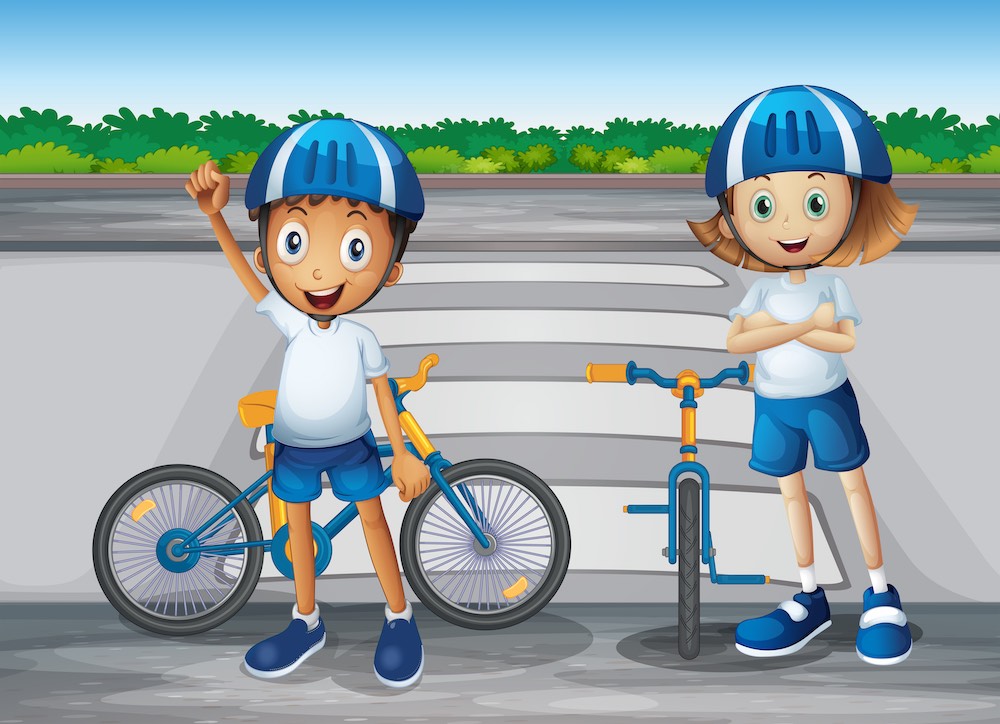 There are some important facts that one just has to know about the selection of a smart bicycle helmet for your kids. These aspects are explained below:
Certification and use:
The use and certification of the helmet are very important for choosing a smart bicycle helmet. This aspect is important because for selecting a helmet for kids, it should also be in your mind that the helmet is of a certified company and also you just need to know that how it is used.
If you know the use of helmet than you'll be able to let your kids learn how they use their smart bicycle helmet.
Size of the helmet:
This is another very important factor on which the selection of the helmet depends. If the helmet is not fixed properly on the head of the user than, it is of no use.
The helmet is not proved to be helpful in its purpose to use if it is not of an appropriate size for the kid. Certainly, when the kids came across some mishap regarding their ride on a bicycle, then the helmet would not help them to protect them from any causality.
The choice for a smart bicycle helmet must contain this feature in your mind.
Construction:
The manufacturing of the smart bicycle helmet is worth provoking. If the helmet is made up of those materials which have resistive effects than it is the perfect one to buy for your kid.
If a smart bicycle helmet is made up of fiberglass, carbon fiber and rubber of good quality than the helmet is reliable and you will prefer that type of helmet more than any other helmet.
Visors:
The visors protect you from sunlight and then ultimately it saves kids from the harmful effects of ultraviolet rays. You must need to select that type of smart bicycle helmet for your kid which has visors.
The point is that the helmet which has visors is very effective for kids to use it. The kids are careless and they just want to have a fun time on the ride. But the story behind this is that if kids are getting their ride with such a smart bicycle helmet than they are protected from many harmful things of the surrounding atmosphere.
The air has dust, polluted particles, and ultraviolet radiation, which all are harmful as the kids are very sensitive. When the kids are wearing a smart bicycle helmet than the possibility of getting affected from such effects are prevented.
Multi-Directional Impact Protection System (MIPS):
This is an additional safety element that is provided by high-end helmets like a smart bicycle helmet. This is consisting of a small internal plastic cage and the researches have been shown that the MIPS has reduced the brain injuries by up to 30%.
The smart bicycle helmet is proved to be a very good element for enhancing the safety level of the helmets. MIPS has also made the parents less fearful about their young ones.
So, you also have to keep in mind this factor before the final selection of helmet for your kids.
Adjustability:
Some types of helmets offer a very low-safety level to the child's head. Also, this is a very important factor for the selection of the smart bicycle helmet for your kids because, if the kid is wearing such helmet which is not properly adjusted on his/her head from its upper and lower ends than it is of no use to wear.
Smart bicycle helmet must have the best adjustability providing factor to the young one's head so that they will be safe and secure during the ride.
The adjustability factor is important for choosing a helmet because if the helmet is not adjustable from its extreme ends than the kid will not be safe riding.
When the kid met some unfortunate incident like an accident or some other mishap than his/her head will collapse because a helmet is not fixed on the head.
So, keep in mind that this feature is to be included in the list of selection aspects for the smart bicycle helmet.
Just helmet is the wonderful spot for you to choose a perfect smart bicycle helmet for your kids. Because it has a lot of good aspects regarding the selection of helmets, which all are very important for buying a helmet for your kids.
This brings more reliability in the thoughts of parents for buying a smart bicycle helmet for their kids. So, you must have to try this at least once for your kids.