According to Water UK, 85% of the public are worried about the impact of plastic pollution. In the UK 7.7 billion plastic water bottles and 2.5 billion single-use cups are used each year. Many are discarded and end up polluting our rivers and seas. Staggeringly if just 1 in 10 Brits Refilled just once a week, we'd save around 340 million plastic bottles a year.
Preparing our own drinks at home and carrying them in reusable cups and bottles, can save money, costing up to 3 times less per drink, not to mention save on unnecessary plastic waste. Besides, it can also be fun, healthy and easy to make our own blends and recipes with Alice Blender Town products. These Quiet Mark awarded appliances, enable you to prepare everything from Teas to Coffees and Soups to Smoothies and because they carry the Quiet Mark, you know they're the quietest available on the market, giving you a healthy and gentler start to the day!
Melitta Barista TS Smart Coffee Machine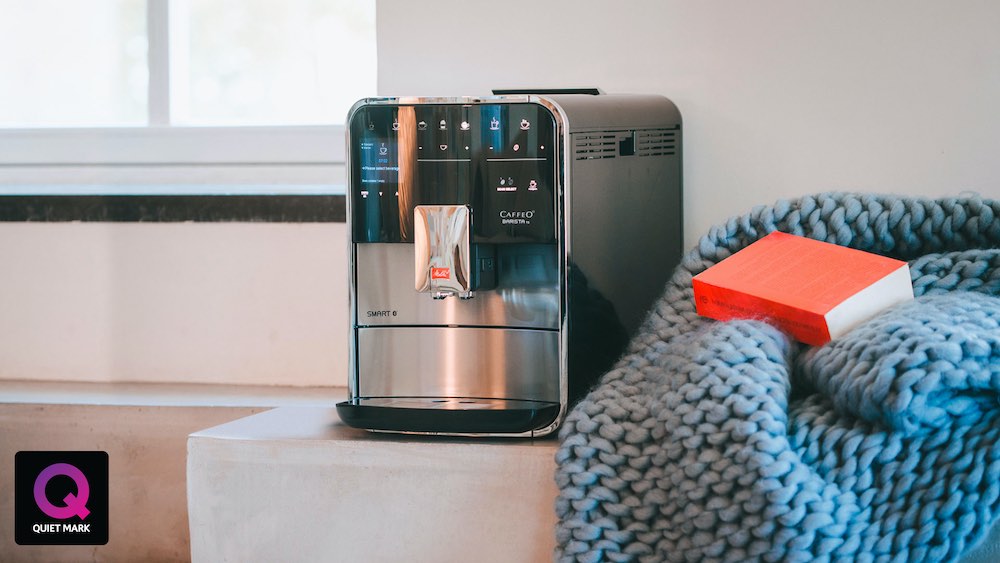 The Melitta® Barista TS Smart® can really do a lot. For example, it can make 21 different coffee specialities. With the right coffee beans, according to the original recipe or your own personal creation aroma cafe.
A special highlight: With the Melitta® Connect app you are able to steer the preparation of coffee and manage many other features really simply with your smart phone and stay away from coffee shops.
Sage Big Squeeze™ Juicer
The slow juicer that crushes and squeezes to make more juice, with more nutrients and a little fibre for a thicker, smoother texture. A great method for extracting high yield juice from items like wheatgrass, small berries and tomatoes.
Lakeland Personal Blender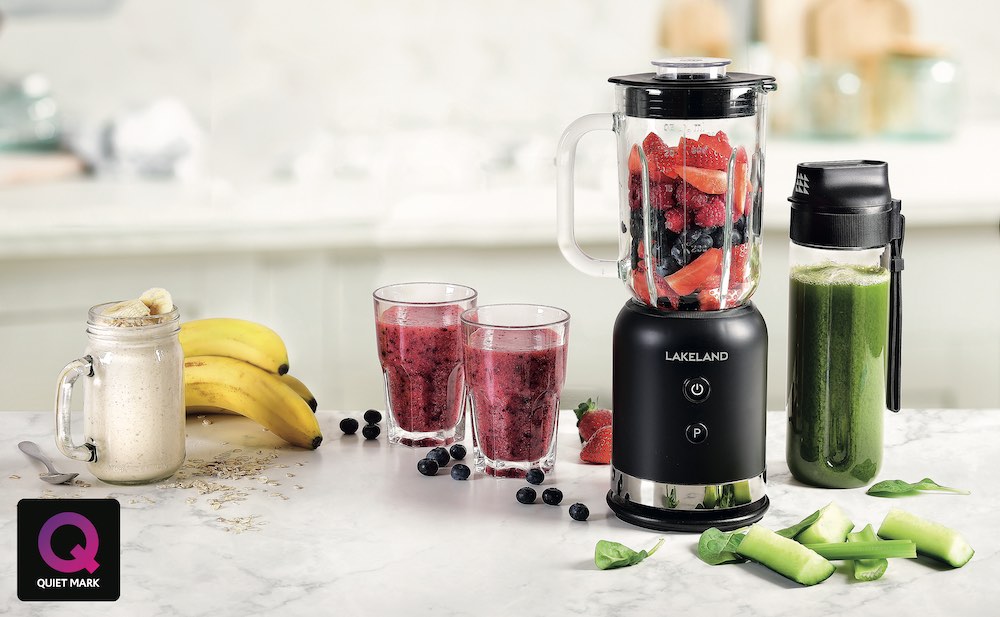 This personal sized blender is a great-tasting way to eat more fresh fruit and vegetables. Simply twist the blade unit onto either the glass blending jug with lid, or the tritan easy-go bottle for a thick smoothie on the go.
Magimix Juice Expert 3
For juice-lovers everywhere. Make juices, smoothies, plant-based milks and freshly squeezed citrus juices with ease. Using cold press technology, the Juice Expert 3 has shown to retain more vitamins and minerals alongside extracting higher yield with lower oxidation. The Magimix Juice Expert 3 is the ultimate juicer taking up little worktop space but containing a powerful and versatile machine.
George Home Twist & Go Blender
Perfect for making juices and smoothies, this twist and go blender comes in classic white with zesty lime green details.
Easy to operate, you simply mix your ingredients to the perfect consistency, twist off the detachable bottle, pop on the lid and head off.
Ideal for quick breakfast fixes and healthy on the run snacks, the blender comes with two bottles which are also easy to wash up and use again ready for the next day.
Dualit Classic Kettle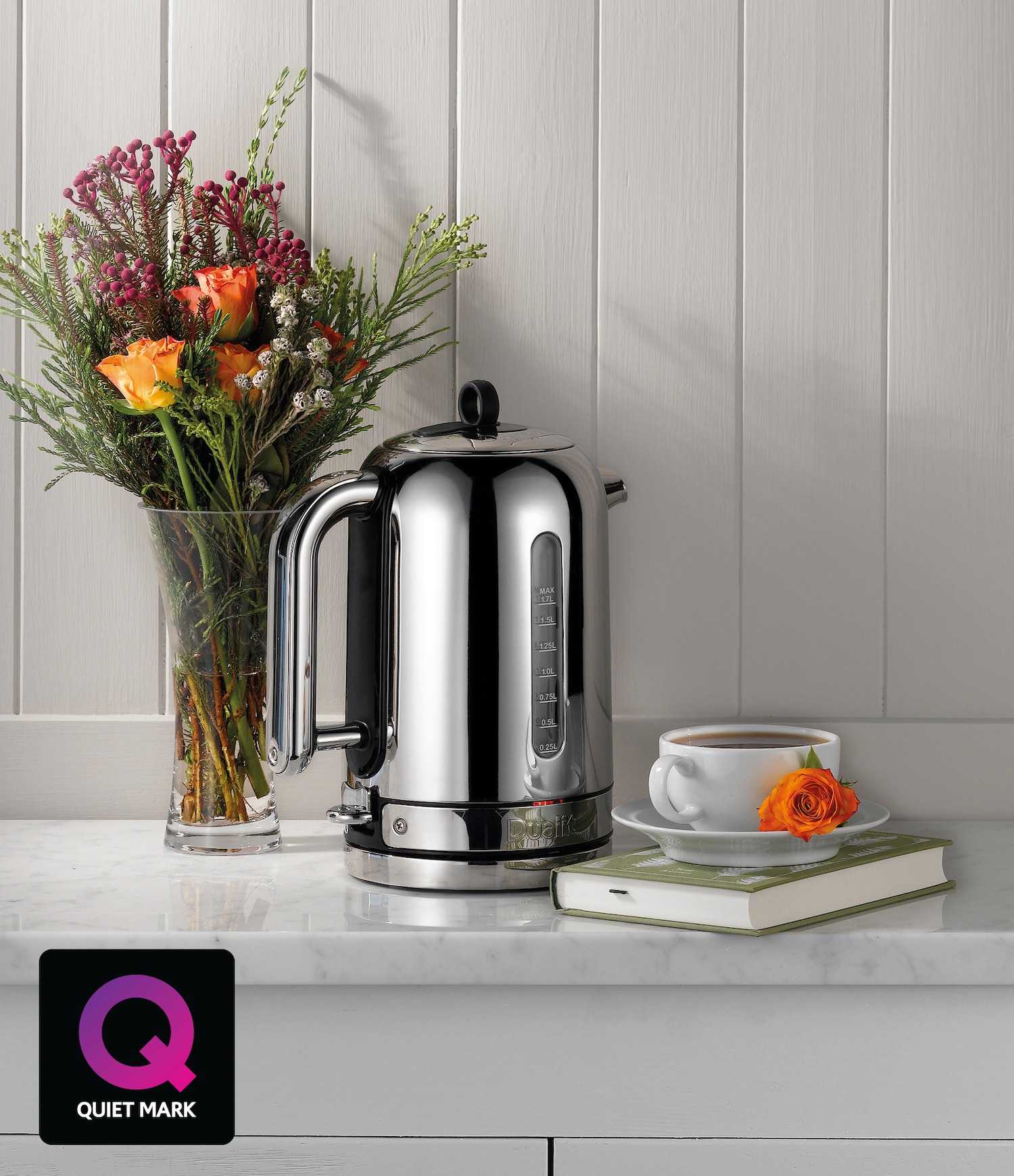 The multi-patented Classic Kettle features a ground-breaking replaceable element that lengthens the lifespan considerably, whilst the Whisper Boil™ drastically reduces unwanted boiling noise. The Dualit Classic Kettle is available in a selection of finishes and is fitted with a superfast 3Kw element, making for quick boiling time. Two measuring windows with cup level and litre indicators help you to only boil the amount of water required from one cup to 1.7 litres.
Sage Bambino® Plus Espresso Machine
Just like a cafe, the Bambino Plus does not compromise on the four key elements for true café quality coffee. Delivering barista quality performance using a 54mm portafilter with 19 grams for full flavour and an automatic steam wand for milk texturing that delivers true handsfree microfoam at the right temperature, just as you would see from our top of the line the Oracle Touch. With a 3 second heat up time from a cold start, along with instantaneous transition from extraction to steam, you can make a cafe latte, machiato or americano coffee even faster.
Melitta CI Touch Coffee Machine 
The Melitta® CI Touch® is an all-round talent among fully automatic coffee machines for all types of coffee. Numerous international coffee specialities can be made with a simple touch, especially if there's no coffee nearby. Exclusive functions such as the two chamber bean container "Bean Select", which allows you to always select the right type of coffee beans, an elegant design, a quiet as a whisper grinder and an intuitive use make it a pleasure for all of your senses.
Sage Tea Maker™ Kettle
Different tea varietals require different temperatures and steeping times to bring out their unique flavours and aromas. Simply press a button and watch as the basket descends gracefully into the water. Set the timer and wake up to your favourite brew.
Magimix Le Mini Plus Food Processor​
Designed for small kitchens, where space is at a premium. The Multifunctional 6 in 1 solution Slices, Grates, Chops, Whisks, Blends & Presses. Perfect for 1-2 people. Whisks up to 4 egg whites in the main bowl
Built better to last longer. 30 year motor guarantee. 3 year parts guarantee.
Making the move from disposable to reusable can make a massive difference to the health of our planet, now and for future generations. Juicing with fresh fruits and vegetables can be beneficial to any adult's health. Choosing quiet appliances as a solution to noise pollution, can improve our well being and mental health. It's a win, win, win! Cheers!
You can find all the products on Amazon UK website readily available for ordering.
So What is Quiet Mark?
Quiet Mark is the international approval award programme associated with the UK Noise Abatement Society charitable foundation (est. 1959). Conducting expert acoustic testing and verification of products Quiet Mark has over the past 9 years driven change in manufacturing worldwide to prioritise noise reduction within the design of everyday machines, appliances, technologies and house build materials, creating the first one-stop platform for third-party approved noise reduction solutions for every living space to health and well-being.
Through specialist acoustic measurement and product assessment, Quiet Mark identifies the quietest products in over 70 product categories giving consumers and trade buyers a more informed choice about the sound levels of the products they buy. The Quiet Mark scheme drives designers and manufacturers to reduce sound levels of their products enabling households and workplaces to rebalance the soundscape reducing stressful unwanted noise.
Why Quiet Mark?
"I couldn't hear my baby crying over the noise of the hairdryer"
The damaging effect of excessive noise on health, productivity and social cohesion is seriously underestimated.World Health Organisation research shows that environmental noise pollution affects mental and physical health and is now second only to air pollution as the world's largest killer pollutant. Across an estimated population of 340 million people, at least 1 million years of healthy living are lost each year due to noise pollution in Western Europe.
In our fast-paced lives, vibrancy is exciting and necessary. But this heightened state can only be valued if there is also the opportunity to choose the alternatives of calm, quiet and the chance to switch off. Quiet Mark was established to provide a credible, independent scheme that would help consumers easily identify quieter products for the home, at work and for public spaces.
Acoustics Academy for the Building Sector
In February 2020, in a move to further expand its service to tackle noise related problems in building design Quiet Mark launched its Acoustics Academy to include third-party verification of specialist acoustic materials for the building sector including – walls, floors, ceilings, doors, windows etc.
This brand-new online platform further equips and empowers architects, builders and designers with a guide to expertly verified leading acoustic solutions for every building application area. For more details – www.acousticsacademy.com
Quiet Mark Partnerships
Quiet Mark has established a unique alliance of partnerships with leading retailers who are helping shoppers to find the quietest appliance technology available on the market including John Lewis & Partners, Argos, Sainsburys, Currys, Dixons, ASDA, Lakeland and British Independent Retailers Association.
Quiet Mark's partnership with Good Housekeeping Institute, one of the most trusted and respected names in the UK and US has been responsible for testing and reviewing thousands of products for the benefit of its readers. The rigorous acoustic testing process over the past seven years included category re-evaluation annually to continually raise the bar for acoustic design. To support consumer health.
By highlighting the distinctive purple Quiet Mark as a trusted symbol, our retail partners are enabling consumers to make a more informed choice about quieter high- performance products they share their homes with. This is a powerful example of collective customer care to combat stress-related noise, an important health and environmental issue.
Quiet Mark Heritage
The Noise Abatement Society (NAS) was founded in 1959 by the entrepreneurial businessman John Connell OBE who believed that being exposed to excessive noise profoundly affected health, children's learning, productivity, and general quality of life – he called noise 'the forgotten pollutant'.
John almost single-handedly lobbied the Noise Abatement Act through Parliament, when in 1960, noise became a statutory nuisance for the first time in the UK. His practical problem-solving included introducing rubber dustbin lids and plastic milk crates to reduce urban disturbance, stopping night flights, and in the early 70's he commissioned detailed planning for a revolutionary Thames Estuary Airport directing flight paths out to sea.
Today, the internationally respected NAS seeks to accelerate change to protect future generations from a worsening aural environment by disseminating new methods of sound management, running an awareness programme for schools, incentivising industry to design low-noise technology and providing the only national help line dedicated solely to the problems of noise. NAS cannot change the human condition, but it can offer practical ways to support those who wish to exercise choice in an otherwise noisy world.