As temperature incrementally soars, we gear up to spend sunny afternoons in and around our private pool. A pool party with kids, friends, or relatives is the staple of summertime fun; it's filled with hours of unlimited fun, excitement & laughter. Before you dive into the pool, here is the list of essential pool accessories that will totally redefine the meaning of your summer pool time. So take a look at the list and vote the best accessories you'll be shopping for your swimming pool this year:
#1. Pool Cover is a Necessity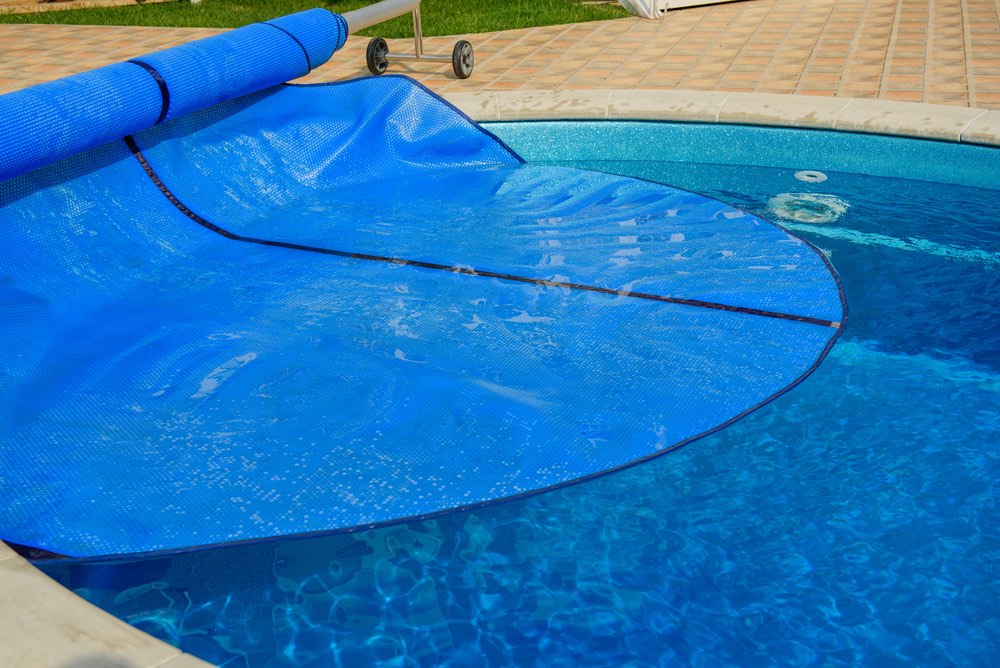 Water evaporation occurs at a faster rate, but during the warmer days, it becomes even more pronounced due to the extra heat. This suggests purchasing a pool enclosure and/or pool cover is worth an investment; it acts as a barrier to the excess heat, traps moisture, and doesn't allow the pool water to evaporate.
This will not only lower your water bill but also save you from the hassle of refilling your swimming pool too often. The swimming pool covers will save you from the hassle of scooping out bugs, dry leaves, and other unwanted stuff out of the pool; otherwise, the leftovers can lead to the formation of the algae underwater. For instance, the summers in some parts of USA, like Illinois or Texas, bring more heat which can evaporate your pool water faster. You can have professional help for swimming pools in Peoria, Illinois, during summers.
Pool covers are categorized into three types:
● Mesh
● Solid
● Automatic
The mesh covers let the sunlight and water to filter through. Solid, on the other hand, completely blocks sunlight and prevents debris from entering your pool. And, finally, automatic covers make it convenient to open and close your pool with a push of the button or turn off the key.
#2. Wireless Floatable Pool Speaker
There can be no pool party without the lively music to infuse life into the whole ambiance; making everyone go-gaga. Yes, you can bring out your home stereo system and increase the volume, but this may annoy the heck out of the family next door.
That's why we recommend a floating pool speaker to set the right mood, without disturbing your neighbors. These speakers are fully waterproof, presenting a myriad of volume options along with a powerful woofer for high definition stereo sound.
You can wirelessly connect the speaker to your laptop, smartphone, or tablet, and you can easily control the volume and other features through your gadgets.
#3. Waterfall  Fountain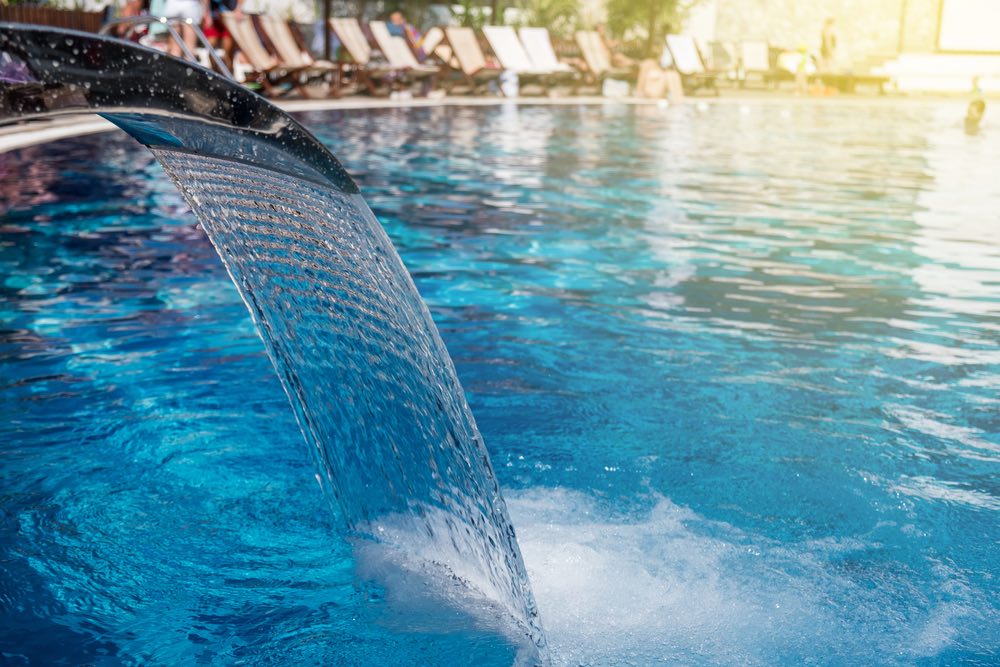 Since you own a backyard pool, you clearly know why pool circulation is so indispensable. Yes, you got the pump and other basic stuff, but a waterfall fountain in the middle or corner of your pool takes your parties to a whole new level.
Plus, it ensures your pool water smoothly moves around, so it's a win-win situation for you.
The spray height and direction is fully adjustable for most waterfall fountains available in the market; and works with both inground & above ground pools. And, not to mention, the waterfall fountains are convenient to install.
#4. Floatable Lounges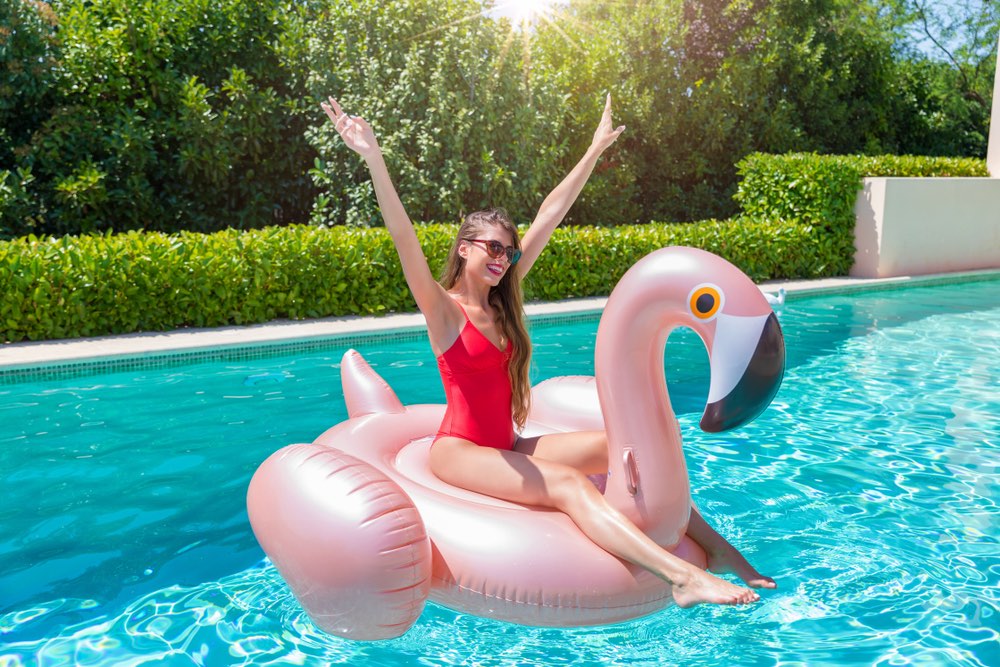 If you want ultimate relaxation after a tiring week at the office, then a floatable lounge falls in the list of top pool accessories you can't overlook. Whether you want to read your favorite novel or enjoy the latest movie soaking up in the sun, this pool lounge got you covered.
It is imperative to buy something sturdy & durable that won't tip off food or flood as you get on or off the lounge. This is even more important when you're planning to take your smartphone to the pool. You can look for additional features such as a built-in cup holder to sip your favorite cocktail while basking in the sun.
#5. Inflatable Bar
An inflatable bar is a great private pool accessory if you are inviting your friends over to relive the old times. It floats freely and steadily throughout the pool. So, you and your guests don't have to leave the pool when they are feeling hungry or having sugar cravings.
Make sure you buy a floating bar that has several cavities to hold different kinds of snacks & drinks. Additionally, have handles at the side of the tray so that it moves from one location to another. This is perfect for parties in the pool.
#6. Poolside Towel Hanger
A poolside towel hanger is imperative to ensure you and your guests a clean, dry, and hygienic towel at arm's distance after a swim session. You can look for hanging rails features to hold swim goggles, clothes, towels, or things you would like to keep handy.
#7. Portable Pool Shower
Showering after swimming in the pool is vital to lower the risk of contracting infections and body rashes.
But, most avoid as they don't want to go back into the washroom for a shower straight from outside. Thus, having a portable pool shower installed is worth it.
It is best if the pool shower is entirely made out of plastic, as iron may get rusted with time. For added stability, the outdoor pools have a water-filled base to keep the tall shower in place. However, assembling is required, which can be managed by following the necessary instructions.
Final Words
With the right set of accessories, you can create a perfect setting for your upcoming pool parties. Whether you want to render more fun and entertainment with Bluetooth floatable speakers, save on your water bills with pool covers, or enjoy the convenience of an inflatable bar, this pool accessory list is carefully created to have something for everyone.
In case you want to add something, share with us in the comment section of this blog post!