When you are working with a small space it can be really easy to be close-minded and limit yourself when creating your dream kitchen. But the kitchen is the heart of the home and no matter how small it is it needs to be a space you are pleased with. Here are some of the best ways to make your kitchen feel bigger. 
Declutter Your Kitchen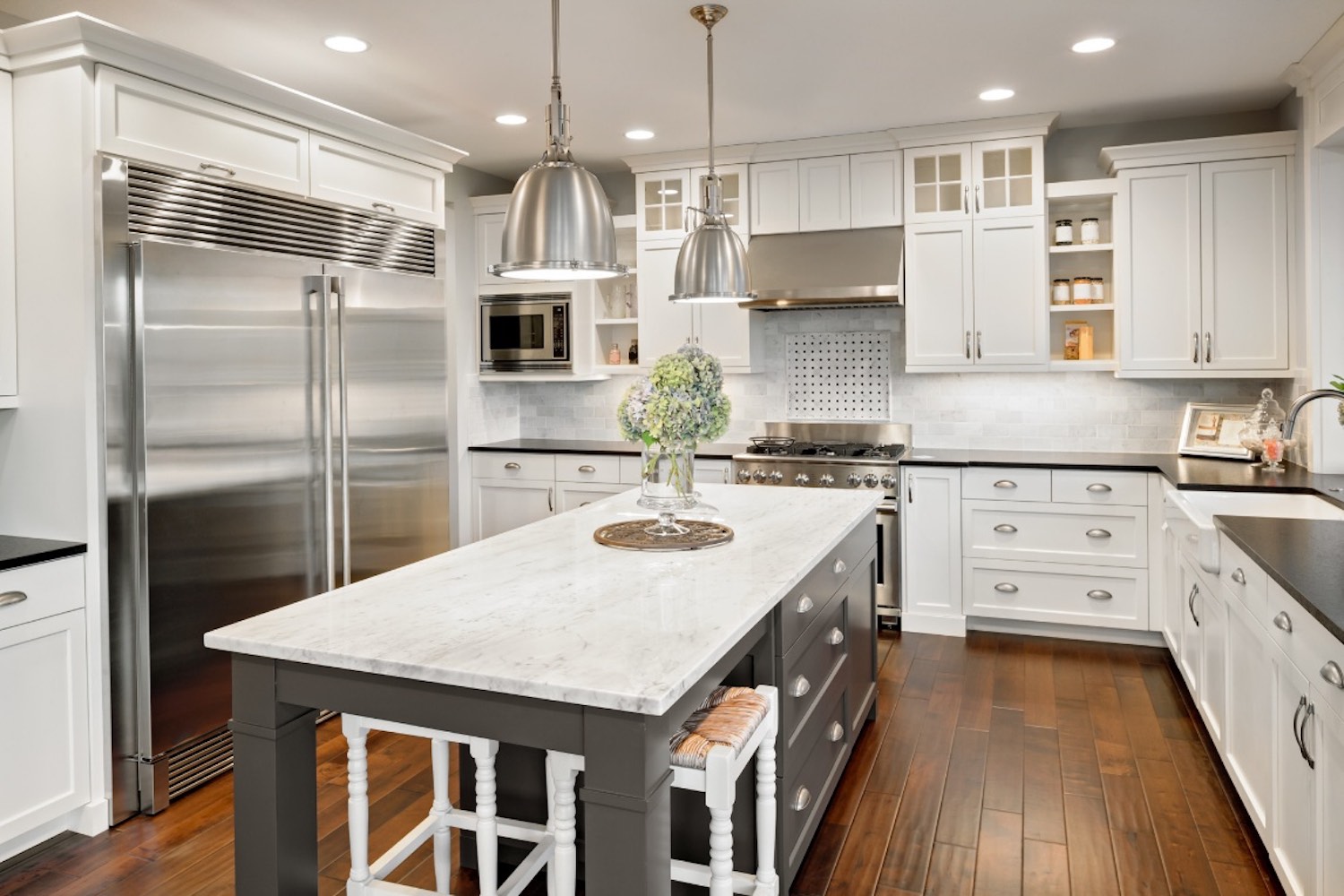 The best and easiest way to make any small space look bigger is to clean it up and get rid of anything that you haven't used in a while. There is nothing that will make your kitchen look smaller than having stacks of dishes, plastic containers and appliances just lying around the kitchen. That will make it look chaotic and claustrophobic. Take a few minutes every day to toss out anything that doesn't need to be there and put away all the items that should be in the pantry or the cabinets. 
Install See-through Kitchen Elements
By installing see-through elements, you are making an unobscured visual path and therefore making your kitchen appear much larger and open. By keeping the sights lines in your kitchen see-through your eyes will see through it rather than coming to an abrupt stop. Stray away from having hanging pendant lights or anything that will block the path. Floating islands, backless bar stools or chairs that are clear are the best picks for making the kitchen looking bigger.  
Pick Reflective Surfaces
The best way to trick your mind into making it think that space is bigger is by adding reflective surfaces. It doesn't need to be anything fancy or spectacular. It can be something as simple as choosing a high-gloss paint, stainless steel appliances, glass tiles or shiny floors. 
Go for a Single Sink
First and foremost, single signs are fashionable and there is no need to cram a double sink in your small space. By going with a single sink, you are making your kitchen look more spacious instantly. To make up for the space that a double sink will provide you with pick single sinks that have more depth so you can fit more things into it. But be aware that there are more types of sinks.
Choose a Compact Dishwasher
If you are a busy bee or want to save water having a dishwasher is a great thing to have. But when you are working with a small space it is better to choose compact dishwashers. They are just as useful as big ones only smaller and cuter.  
Choose The Right Color Cabinets
Selecting the right color for your Kitchen Cabinets can enhance the look of your kitchen and create a more spacious and airy feel. White shaker cabinets can completely revitalize your kitchen and visually increase the size. You can add pops of color to break up whites or neutral colors through kitchen appliances and small accents.
Use Cabinet Lighting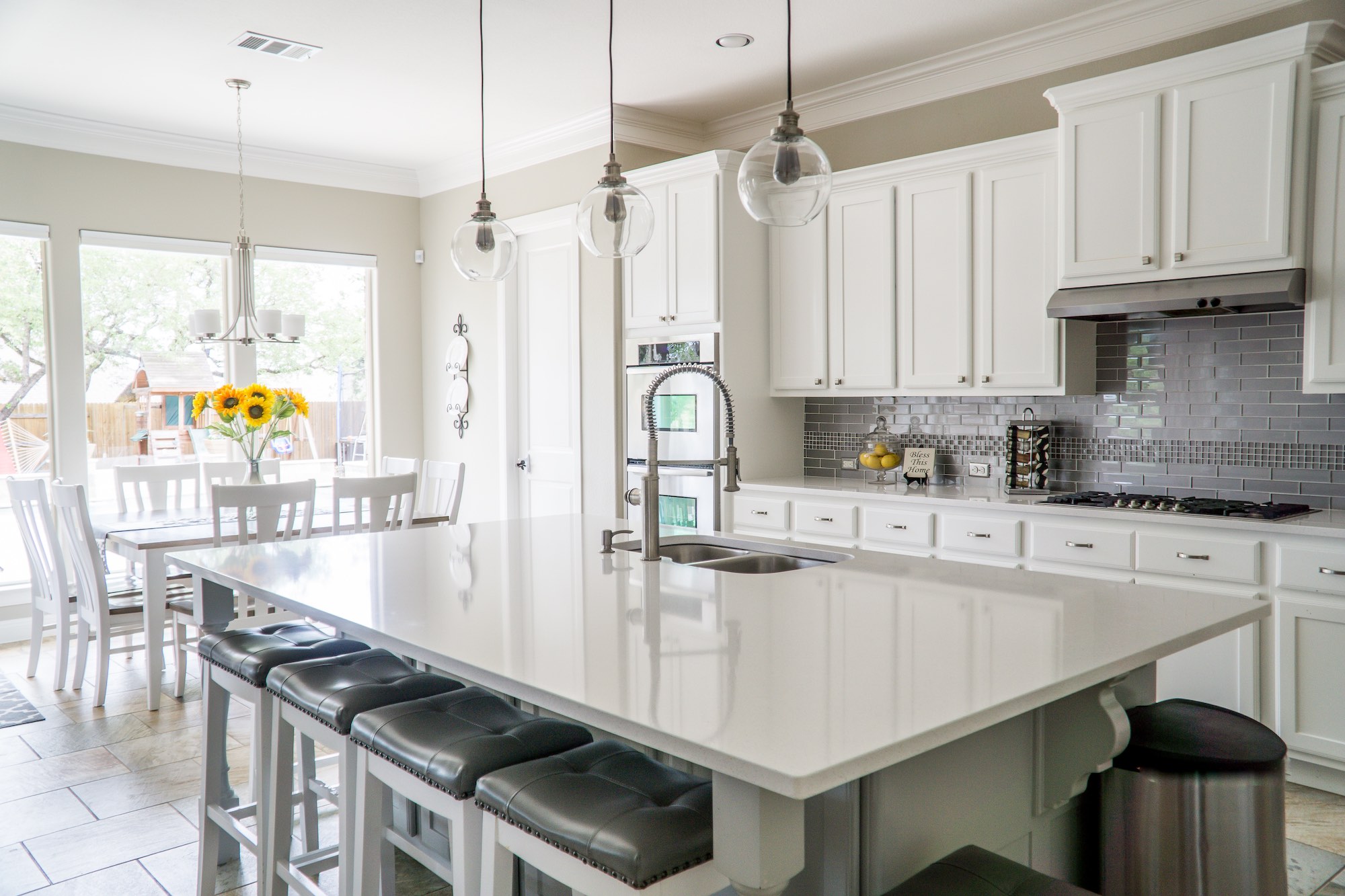 Lighting is something that will make any room appear larger. The lighter you have the bigger your kitchen will feel. Because most small spaces don't have a lot of natural lighting, you can either install skylight windows or cabinet lighting. By installing lighting underneath your cupboards, you are making the kitchen brighter and more spacious.  
Update Your Kitchen Hardware 
If you have big, chunky hardware it will make your kitchen look cluttered. If you can't install touch-activated cabinets, opt for hardware that is dainty and blends in with the whole room. That way you will make it appear more spacious. 
Go for a Slimline Fridge
Another appliance you should think about when you are wanting to make your kitchen look bigger is your fridge. Many Wholesale Appliance Supplies carry something called a slimline fridge. Even though it is not as luxurious as having a double-sided fridge, a slimline frigid is the perfect option for a kitchen that doesn't have a lot of space. 
Bring in Natural Light 
As we have mentioned before, there is nothing that will make your kitchen appear larger than natural lighting. If you can leave your windows untreated or opt for curtains that are sheer and let in as much light as possible. 
Add A Touch of Nature 
To bring more life to your kitchen but still keep it spacious, try incorporating plants, herbs or flowers. That way you are incorporating pops of nature but you're not putting all the previous minimalistic work into disarray. 
Choose Multi-functional Kitchen Furniture 
As you are working with a kitchen that doesn't have a lot of space, there is nothing better than adding furniture that is multi-functional. Staking, rolling and sliding items such as rolling islands are a great option because you can always move it. Another great thing is picking decorations that can also serve as storage space.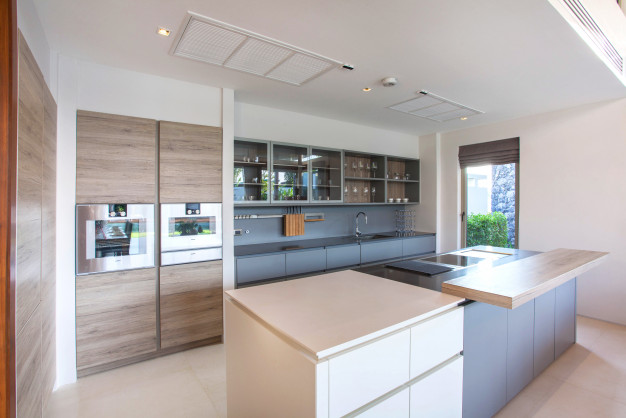 The most important thing is that you add personal touches because that is what it will make it feel like home. But by putting a lot of memorabilia around the kitchen it will make it feel even smaller and cluttered than it is. Display only your favorite and most cherished memorabilia in the kitchen and it will be perfect.