Starting a home renovation project is a fun and exciting task to take on. However, there are certain projects that are beyond the realm of expertise of most homeowners, and when that happens, that's when it's time to call in the pros.
Most homeowners tackle DIY home renovations on their own because they want to save money. But then some take them on because they want to test their skills on something new. Regardless of your reasoning, it's important to use your own good judgment, despite thinking you can do it, and know when a project is beyond your capabilities.
Did you know that 13 million people are injured in the US every year doing home repairs and renovations? And 55,000 fatalities are attributed to failing to practice safe DIY habits.
Now, that's not saying you can't take on home renovation projects but more so to use extreme caution when you do. If you're someone who enjoys working with your hands, by all means, keep enhancing your skills with various projects. But understand that with certain projects, you cannot take them on unless you get your contractor's license. Every state has laws and building regulations that require a license when taking on certain house renovations.
So if you're an overzealous DIY homeowner, pause for a moment and take a look at the most common home renovation projects that will be best left for the pros (at least until you get your contractor's license in a specific area).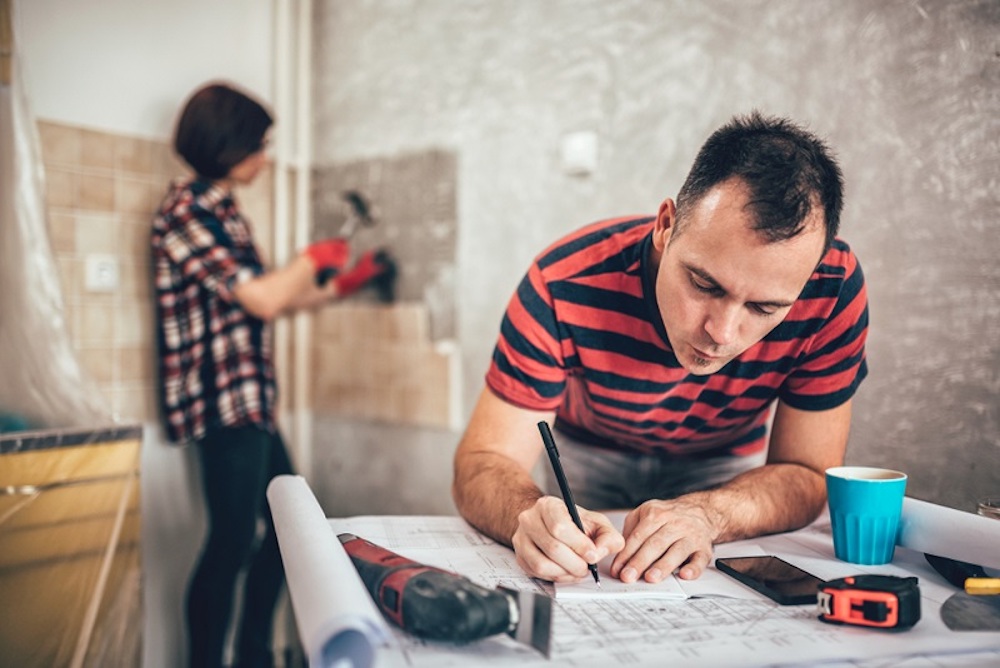 Home Reno Projects Best Left to the Pros
Roofing Projects
Whether you need an entirely new roof, need your roof to be cleaned, or if you need to replace a few shingles, any type of roof work should be left to professional roofers. Why? Well, for one, roof work requires you to work at height. Secondly, roof work requires the use of a ladder, which has contributed to over 500,000 ladder-related injuries. 300 of those injuries resulted in fatalities, according to the American Academy of Orthopaedic Surgeons. Any project that requires the use of a ladder, especially roofing, should be left to roofing professionals.
Electrical Projects
With electrical projects, we're not talking about changing a light bulb or switching out lampshades. Those don't require an electrician. But do you know what does require one? Installing a light fixture.
With electrical work, the name of the game is wiring. If the wiring in a home needs to be switched out, removed, manipulated, or handled in any way, then there is an urgent need to hire a local electrician in barwon heads.
Electricians have gone through extensive training to know the risks of working with wires and how to safely handle them as well. Without training or experience with wiring, you're putting yourself at risk for electrocution and potentially starting a house fire.
Demolition/Tearing Down Walls
If you've ever watched any of those house flipping shows, you'll notice that "demo day" is one of the funnest parts of the entire house flipping process for most homeowners. Why? It's their opportunity to take any frustrations out on their walls and not get in trouble for it.
Typically, demolition days happen because homeowners are wanting to open up a particular space. Sometimes homeowners will have connecting walls knocked down to have an open floor plan between their kitchen and living room. Some will tear down a closet to make their bathrooms bigger.
Those are all great ways to create a more open space, but for homeowners attempting this on their own, you're running the risk of tearing up wiring in your home and potentially busting certain pipes running through your walls, which will then lead to even more damage.
There are just too many risks involved with taking on certain home renovations on your own. With all the statistics out there on injuries and fatalities, it's sad to see that a lot of those injuries could have been prevented if they would have called in professional contractors. Take a long and hard look at this list. If you take on a home reno project and feel even the tiniest bit of uncertainty about it, don't attempt it. Just hire a professional to do the work for you.