If you are having a hard time looking for the tool or hardware you need, it is time to consider decluttering and organizing your workstation. Having lots of tools at home is fun, and they come in handy; without them, it is impossible to get every task done.
But organizing them can be overwhelming, especially if you have limited space. When your tools are cluttered, you will likely spend more time scavenging through your collection of tools to get the ones you need than the time you spend on your project. Storing them properly with routine maintenance will save you time—making projects easier, safer, and more rewarding. To maintain a clean workshop, it is important to organize your tools.
It is important to work with the space that you have when organizing. It is important to find an organizing method that works for you. To help you organize the ever-growing collection of tools you have, here are a few tips you might find useful.
Create Sections for Different Tools
Making a thorough inventory is the first step to organizing tools. You need to get a basic idea of your tools so you can sort them into categories.  All small hand tools on one area, power tools on the other, and so on. That way, you will also be aware that you are missing a few important tools. In addition, you will discover tools that need repair or replacement.
Either you get rid of them or have them repaired—but do not use broken tools as they can cause injury.  Also, get rid of the tools that are not useful—this will save you more space. While segregating your tools, take this opportunity to clean them. The more they are cared for, the longer they will last. Once you have segregated everything and eliminated the tools you do not need, we will move on to the fun part—organizing them!
Keep Sockets, Nuts, and Bolts in One Place
Some handymen like to save every spare screw, nut, bolt, or socket—you never know when you will need them. If you are like them, make sure you have a specific place to store these small items. If you have a lot of sockets you need to organize, you may want to consider making a homemade socket organizer.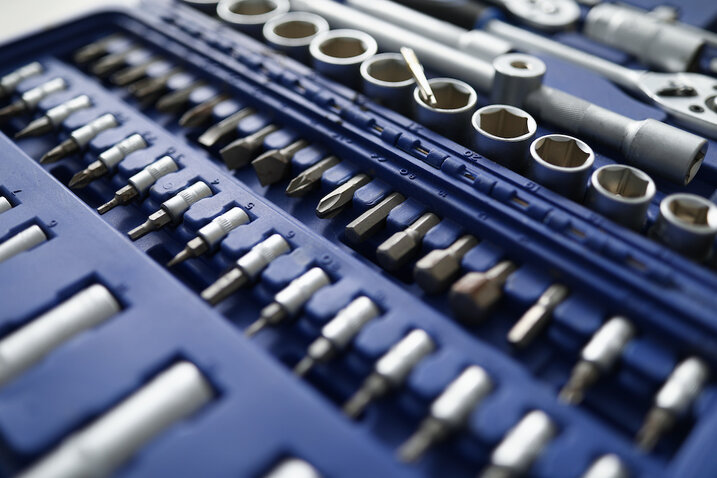 You can store your small parts in clear mason jars, although you need to place them in a location that won't take up too much space on your counter. You might even consider building open shelves for these jars to sit on.
Set up a Charging Station for Your Power Tools
Do you ever get tired of looking for those missing batteries from your cordless power tools such as drills, nailers, and sanders? You can build a customized charging station for them; add an outlet so you can charge them while they are stored. Make sure to do routine maintenance on your power tools. Their mechanical and electrical parts are more susceptible to dust and debris accumulation—thus causing malfunction.
Build a Tool Cabinet or Pegboard
The smart way to maximize your vertical space is to build a tool cabinet or a pegboard. This will give you plenty of surface area to hang your tools. Tool cabinets work best if you want to store your tools in a protected place. It will protect your tools from dust and moisture. It is best to store tools used for paints, gasoline, solvents, and cleaning materials in a secure metal cabinet.
On the other hand, Pegboards are a go-to storage solution for most handymen and homeowners. They also allow you to see all your tools at a glance, making it easier for you to find them. If your wall space is not enough, you can opt for a hinged pegboard or a rolling pegboard.
Add Drawers to Your Workbench
A great way to maximize your workbench is to add drawers. They come in many sizes, perfect for miscellaneous items. You can even store your sockets, screws, nuts, and bolts organizer in the drawer. That way, you will have easy access when you need them for the project you are working on.
Utilize the Side Panels of Workbench or Cabinet
What better way to add extra tool storage without taking too much space? Mount a floating shelf on the side panel of your workbench. This is a perfect spot for commonly used tools such as screwdrivers. Drill holes on the floating shelf to fit your screwdrivers. If your workbench is not an option, you can mount floating shelves on the side panel of your cabinet if it is close to your work area.
Organized tools can allow you to spend more time working on your projects rather than consuming your time walking around your workshop and hunting for those tools!