Summer's here! A time of strawberries & cream, picnics in the park and BBQs in the backyard. A prime time for keeping food cool and fresh. And with work from home, for many, becoming part of the #NewNormal our kitchens are doubling up as our offices, so a quiet fridge is all the more a necessity.
Since launching in 2011, Quiet Mark's expert team of acousticians have assessed decibel levels for hundreds of fridges, freezers and fridge freezers ranging in decibel levels from as high as 50dB to as low as 34dB, with only those at the very lowest end of the scale for their category receiving the Quiet Mark. Exclusively, only 25% of the refrigeration models on the market are eligible for the Quiet Mark certification and whilst 16dB variance may not sound like a big difference, you'd be surprised. Due to the way decibels are calculated with a logarithmic scale, if you decided to buy a 50dB appliance over the quieter 34dB version, this would sound 3½ times louder!
This piece highlights 6 Quiet Mark certified fridges and fridge freezers to suit a range of kitchen sizes and budgets.
Liebherr ICBP 3266 Premium BioFresh Integrated Fridge Freezer
Accurate and independent temperature control of the Liebherr ICBP 3266 Premium BioFresh Fridge Freezer refrigerator compartment and freezer compartment of combined fridge-freezers is achieved through DuoCooling with two completely separate cooling circuits. And there is no air exchange between the refrigerator and freezer compartment. This prevents odour transfer and stops the stored food from drying out. Here are some of the best kegerators for cooling.
The SoftSystem closing damping is comfortable and highly practical in everyday use. When the door is closed, the SoftSystem integrated in the door damps the movement and ensures particularly soft closing even when the door interior is fully loaded. The drawers extend on smooth-running telescopic rails and can be conveniently removed at a door opening angle of 90°.
Bush MUCFR55BLK Retro Under Counter Freezer
Add a touch of old-school class with this chic, retro style Bush under counter freezer. In a matt black finish, this sleek free standing appliance can hold up to 74 litres of shopping (about 4 shopping bags), making this the ideal addition to a small kitchen. With 3 storage baskets at the ready, you can make sure your making the most of your space.
LG GMX844MCKV InstaView Door-in-Door™ Fridge Freezer with LINEARCooling™ (NatureFRESH)
Experience less waste, more taste with the LG GMX844MCKV multi-door fridge freezer. Store more food than ever thanks to the new slim frame design and flexible folding shelves that give unparalleled storage convenience, while the NatureFresh technology and InstaView Door-in-DoorTM access maintains a constant temperature to delight your senses with fresher food.
John Lewis & Partners JLUCLFW6013 Larder Fridge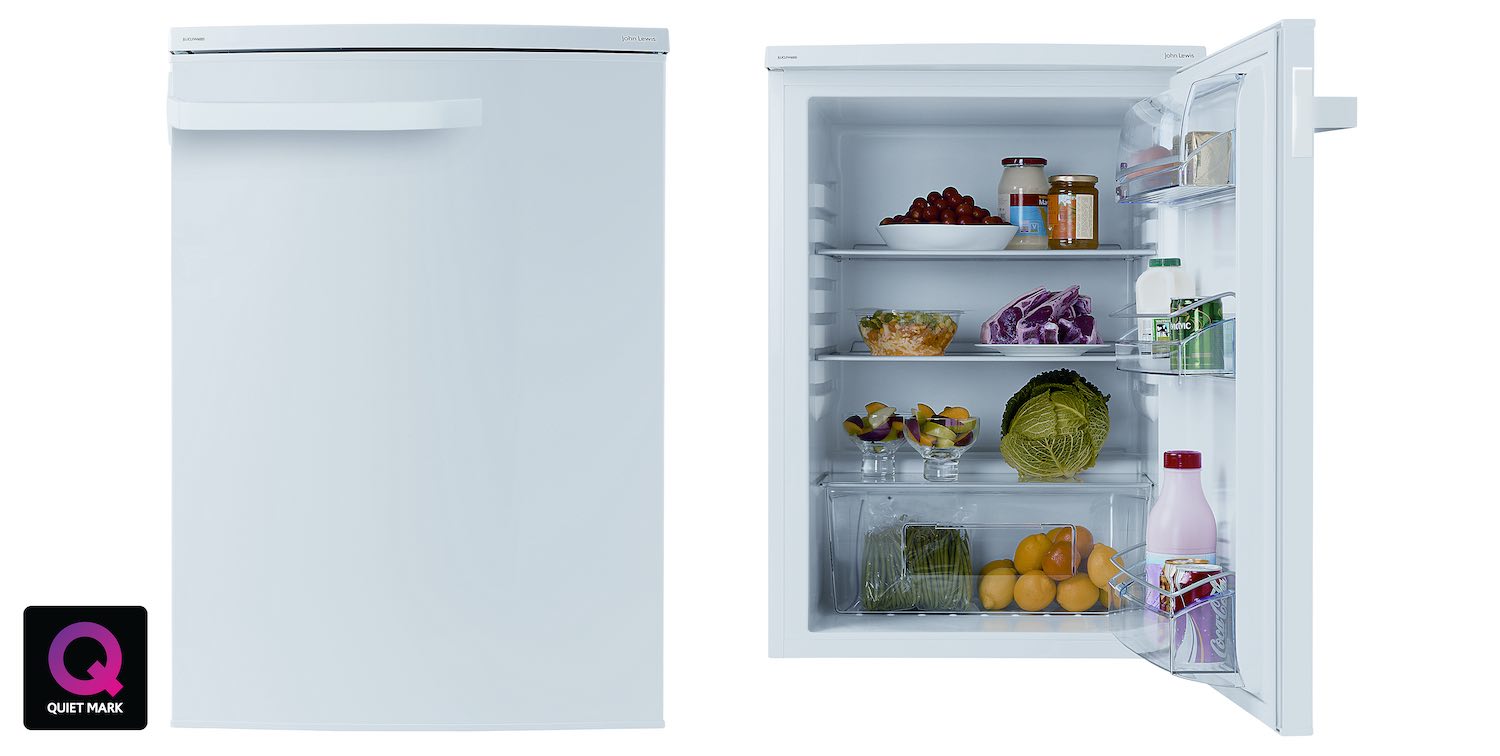 The John Lewis & Partners JLUCLFW6013 under-counter larder fridge has an 'A+' rating for energy consumption and the door can be hinged left or right to suit your kitchen layout.
With a capacity of 150 litres/5.4 cu ft, the JLUCLFW6013 is a good solution when you want plenty of space for food storage under the kitchen counter. The glass shelves are easy to wipe clean and also helpful in containing spillages.
Hotpoint H7T 911T MX H Fridge Freezer
Generous in space and built to cope with the ever-changing demands of the modern family, the Hotpoint H7T 911T MX H Fridge Freezer offers the perfect balance between performance, with an A+ energy rating and food preservation technology, all while boasting an impressive capacity of over 300L.
Food preservation starts here, with Fresh Zone+ you can ensure the freshness of your fruit and veg can be preserved in the humidity controlled drawer, paired with the Fresh Zone 0°, creating an environment ideal for preserving delicate foods, such as meat and fish.
Lec R5517W Under Counter Refrigerator
With a 113 litre capacity – enough for 5 bags of shopping – the Lec R5517W fridge is perfect for couples and small families. Measuring just under 85 cm tall it easily slots underneath most kitchen worktops, giving you more room for your shopping without costing you any floorspace.
A pair of glass shelves and a salad crisper can be found at the base of the R5517W, providing well organised storage for your fresh produce that you can check at a glance. This section is perfect for keeping your fruits and vegetables crunchy and full of flavour.
The transparent shelves help you to find what you're looking for quickly – no more digging around the back of your fridge. Not only this, but the glass is easy to wipe down, so you can quickly clean up any spills or mess. This model's shelves are adjustable, so you can raise of lower them to suit your needs. Get the perfect fit for all your shopping with Lec's great R5517W.
QuietMark.com currently lists more than 350 certified products by over 80 household name brands. When consumers see their purple Q logo, the Quiet Mark, alongside a product, they know it's been tested thoroughly and can be trusted to be one of the quietest available on the market.