If you love gardening but are lacking space to do so, then outdoor long planter boxes are here for you. Planter boxes particularly the long planter boxes are an ideal way of container gardening in small urban spaces as a balcony, rooftop deck or a patio. They work wonderfully alone as well as when combined with L-shaped planters to enclose an area with beautiful plants, vegetables or fragrant herbs.
Traditionally long planter boxes that are used in outdoor gardening are loved for their versatility and functionality and are used in everything from backyard landscaping to adorn windowsills.
Although planter boxes come in a variety of shapes and size the long planter boxes are one of the most common ones due to their ability to fit in perfectly in the long-elongated spaces. Long planters come in a variety of different materials like plastic, fiber, concrete, but the popular material to be used still remains to be wood.
How to use it?
Long planter boxes are a common sight on windowsills and backyard deck railings these days. Apart from these long planter boxes are also an ideal choice for tight long, oddly shaped and elongated spaces that cannot be covered by bulky round planter boxes.
Use the long planter boxes in small courtyards and patios or simply line them up along a walkway, create a border along with your property or use them as dividers to divide smaller more intimate spaces from larger ones.
Also Read: 7 Smart Ways to Organize a Small Apartment [Pro Tips!]
Types of Long Planter Boxes: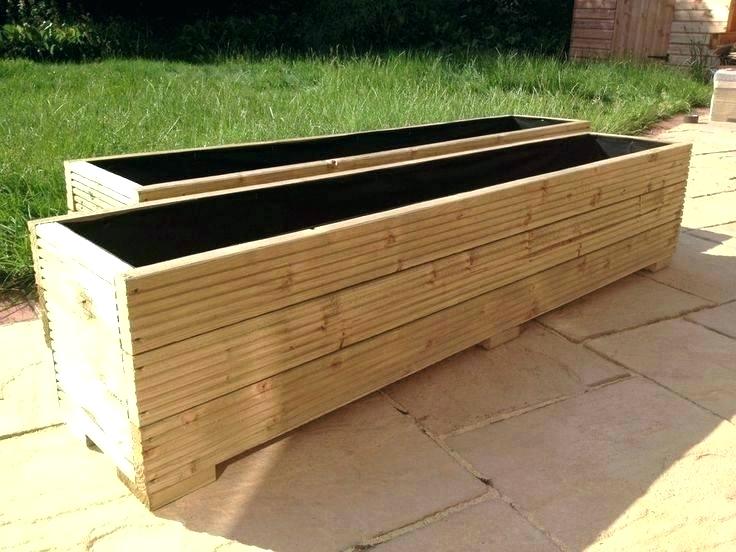 There is a myriad of choices available in the types of Long planter boxes. You can choose a classy and elegant look for your space with cedar, teak, acacia, mahogany, Australian blackwood and cherry wood built long planter boxes, or stick to more affordable and low-maintenance options of plastic or clay planters that can be made to look similar to wood with paint and staining. Long planter boxes are also available in terracotta and stone, but the stone is in less used for a heavyweight.
Also Read: Easy Improvements for Better Living
What can you plant in your outdoor long planter boxes?
You can plant a variety of plants in your long planter boxes as long as you remember to put only those plants together in one planter that requires the same amount of water and exposure to the sun and have similar soil needs. Perennials, bulbs, vines, annuals, vegetables and herbs do great in long planter boxes.
For planter boxes that get partial shade, plantlike sweet alyssum, anchusa, trailing ivy geraniums, celosia verbena and petunias are ideal. Plants like Vinca, poppies, nasturtium, ageratum and portulaca do great in long planter boxes that receive enough sunlight.  Long planter boxes are also ideal for growing herbs year round.
Some Tips for Your Long Planter Boxes:
Always make sure that you line your long planter boxes with plastic sheeting with holes.
For adequate drainage, top the plastic sheeted planter with a thin layer of gravel first, followed by good quality potting soil.
Keep your planter fertilized with pallets that are time-release or small amounts of soluble fertilizer.
Water your plants then, with fertilizer with a nutrient ratio of 1-2-1.
To avoid over-watering of your planter, remember long planter boxes have the ability to retain more moisture as they have more soil volume in the lower half of the container, so wait until the potting mix has dried out until the top 3 inches.
Protect wooden planter boxes from molds by ensuring adequate drainage and regular light sanding.
Protect your stone planters from cracks by protecting them from cold weather and keeping them dry with plastic.
Conclusion:
Long planter boxes are traditional forms of planters that are still in use in outdoors of the houses for better planting and gardening in large open spaces. You can also check gardening tips at this article from I Love Lawn Care.
If you are looking to buy Long Planter Boxes, You can find a lot of them with very reasonable prices on Amazon Website.