It is in the nature of every human being to crave a sense of safety and security – it's one of our most basic needs. Ensuring these needs are met means making an effort to create and maintain an environment that provides optimal safety.
Unfortunately, protecting humans' right to life is becoming increasingly challenging these days. In many states where individuals can access firearms quite easily (legally or illegally), gun violence and school shootings have become a common occurrence. As a result, many communities experience tragic losses on a daily basis. In this article, we'll be looking at five facts about gun violence and school shootings while also listing the measures that could help put a stop to gun deaths and create a safer and more stable environment.
There were 46 school shootings in 2022
Two years after the pandemic, America experienced a fast-paced rise in gun violence. This was particularly evident when an increasing number of school shootings started taking place in 2022. According to Washington Post, 386 school shootings took place since the Columbine High School massacre back in 1999, with as many as 46 occuring in a span of one year in 2022. Furthermore, 43,450 children experienced school shootings in that same year. Just one year before, there were 42 school shootings.
This only highlights the importance of taking steps to reverse the trend, with one of the most effective measures being educating the public on the signs of gun violence and methods of preventing it.
4 out of 5 school shootings could've been prevented
Although they occur at an increasingly high rate, many of the school shootings that occur in the U.S. can potentially be prevented. Sometimes, the school shooters manage to carry out their plans without anyone knowing or noticing any warning signs. But in many cases, there's at least one other person who knows about the attacker's plans. Statistics show that 4 out of 5 school shootings may not have happened if that individual reported what they knew.
In a time when seemingly everyone is interested in learning what is an ALICE drill and which other measures they can take to prepare themselves for a potentially life-threatening situation, it's more important than ever that organizations take this major responsibility and set up such drills for themselves sooner rather than later.
The truth is, any organization could fall victim to an active shooter event. By getting proper training, they can protect themselves and potentially save a number of lives.
12 children in the U.S. die each day from gun violence
According to statistics, every day 12 children in America pass away as a result of gun violence. 1 out of 10 deaths in the U.S. that occur due to gun violence involve children and teenagers aged from 1-19.
There's also a large number of children who are shot and injured during these unfortunate events but manage to survive. On a daily basis, there are 32 children in the U.S. who suffer gun-related injuries after being shot.
On a global scale, more than 500 people die from gun violence every single day. Research shows that firearm deaths are five times more likely to occur than drownings.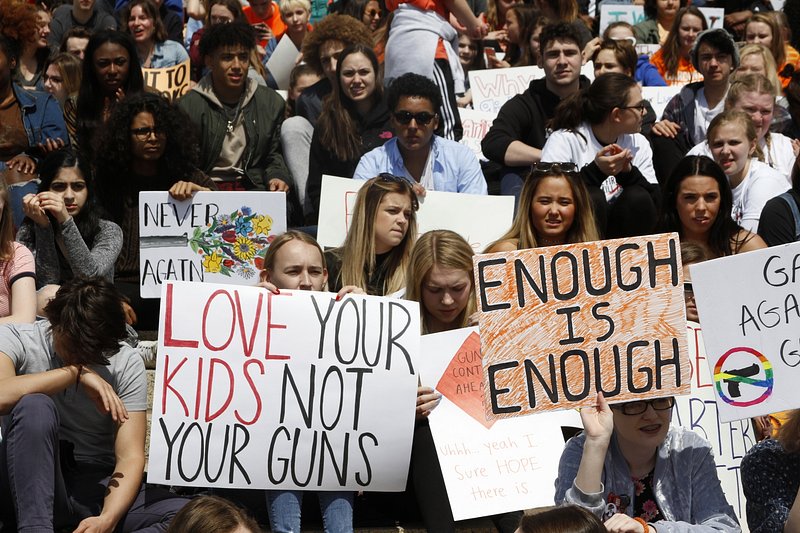 The highest percentage of gun deaths comes from suicides
Many gun deaths in the U.S. are homicides, but statistics show that these only make up a third of all gun-related deaths in America. A large part of gun deaths actually comes from suicides – 57.6%. The percentage of gun deaths resulting from homicides, on the other hand, is 39%.
Sometimes, the gun-related deaths will occur as a result of an unintentional shooting, and other times, the shootings will be undetermined. 2.1% of all U.S. gun deaths are undetermined or unintentional firearm deaths. The remaining percentage of gun-related deaths come from police shootings – 1.3%.
Almost every American will know one gun violence victim in their lifetime
Given the frequent occurrence of gun violence incidents, it is estimated that almost every American will know someone who's experienced gun violence in their lifetime. This isn't surprising given the fact that the rate of gun deaths has increased significantly over the last four decades and continues to grow rapidly. Statistics show that gun deaths in the U.S. have skyrocketed from 33,563 in 2012 to 48,830 in 2021, and that's just in a span of one decade alone.
Research suggests that the risk of accidental shooting triples for individuals who live in a home where they have access to firearms. Some of the measures for reversing the growing gun violence trend include educating parents on proper gun storage as well as volunteering and supporting causes that favor stricter gun control.
Take action today to ensure a safer tomorrow
As humans, the right to life is one of the fundamental rights we have. The numbers shown in statistics aren't just numbers . They stand for children and individuals who've lost their lives in unfortunate events that involved gun violence and school shootings.
What we can do as individuals is educate ourselves on ways of preventing these increasingly frequent events and take action that will help ensure a better, brighter, and safer future for everyone.