Global online retailer boohooMAN and Nigerian singer, songwriter, and rapper Burna Boy have joined forces to create an exclusive collection of hype streetwear.
Co-designed and executed by Burna Boy over virtual meetings between Lagos, Nigeria and Manchester, UK during quarantine, the boohooMAN x Burna Boy collection has come into fruition. Each style in the 120 piece collection embodies Burna Boy's primary goal – to bring Africa to the world.
In conjunction with his recently released smash hit album, Twice As Tall, the notion behind the Burna Boy x boohooMAN campaign depicts what it means to be larger than life.
And that's not just the good news; to celebrate the boohooMAN x @burnaboygram collaboration, boohooMan are giving away cash prizes until the launch on Wednesday 🤑 . Check it out below!
https://www.instagram.com/p/CFm0HAMHLnk/
"Twice As Tall inspired a concept. Throughout the shoot, Burna has been portrayed as a giant amongst men. My vision was to create a window into humanities past, present and future with oxymoron style imagery throughout.' Animation has been used to create and enhance a surreal fantasy experience."
– boohooMAN Creative Brand Manager, Cleveland Campbell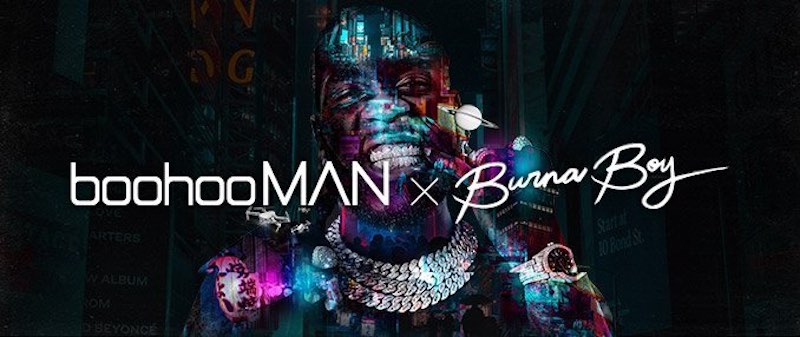 Keeping in line with the global brand ethos of providing accessible trend forward fashion, boohooMAN continues to appeal to its broadening audience. The collection includes everything from must-have matching sets to mix & match full looks with coordinating accessories such as printed footwear slides, headwear and shoulder packs. The collaborative collection also includes a variety of trend-forward tie-dye, and unique acid washes. Diversifying the product offering are bold distinct colors such as vibrant green, an ode to the Nigerian flag. The entire collection offers a large range from distressed denim, bold and bright sweat sets, and unique patchwork plaid.
https://www.instagram.com/p/CFfawZ8FRbe/
"Fashion is another form of self-expression; what you wear can directly reflect your current state of mind. So with this collection, I wanted every single person to be included, no matter what you do or the lifestyle you lead. I also wanted to start off making sure it could be accessible and attainable.

'We've become like family now. boohooMAN are self-aware and they just get it! They understand the essence of self-expression and the journey/mission that I'm on. Big love and blessings'
– Burna Boy
Creatively led by Burna Boy, the full collection boasts simple silhouettes, graphic tees and fresh, bright colour palettes. From matching sets and varsity bombers, and accessories, the custom-created 'B' logo is a staple throughout the collection. Price points range from $12 – $90 with selected lines available in sizes S – 5XL. The co-designed collection is the second one of its kind this year for boohooMAN, who recently dropped the Quavo part 2 collection back in April 2020.
"For me, Burna Boy is a pioneer across sound and style. Everything he stands for aligns with our core beliefs. This was a huge one for us and I am so happy to have Burna Boy join the family."
– boohooMAN CEO, Samir Kamani
The boohooMAN x Burna Boy collection will be available on boohooMAN.com and boohoo.com on Wednesday 30th September.