That bag that you carry to work is essential to keep your documents and devices organized. These bags are suited for working persons like you who bring their work essentials every day.
You may think that all bags are the same. Well, yes, since they serve one purpose: to carry things. However, there are many styles you can choose from, with each of them working differently for various occasions.
Choosing the Right Bag for Business
Not all bags may suit the type of work you do. When you're headed to your office or on your way to a job interview, a backpack may not fit the scene and would only make you look less professional.
One of the most stylish clothing accessories that best go with business attires is the leather bag. These are popularly known as the ideal accessory for offices or business meetings. Aside from the great quality, leather emanates a unique sense of class, sophistication, and elegance.
To give you better ideas on how you can effortlessly fuse your leather bag into your business clothing, read on.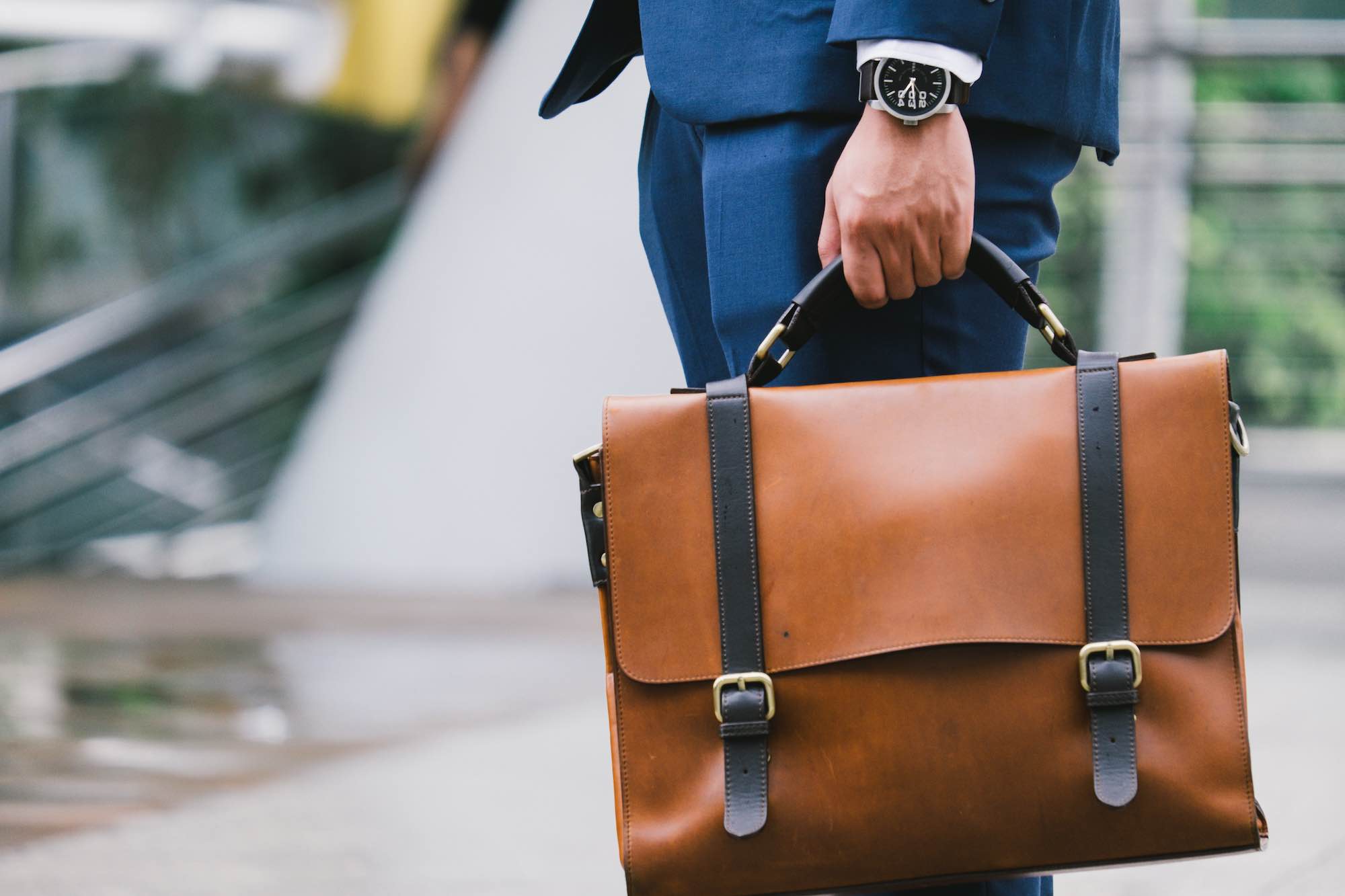 1. Match your bag with your outfit
With plenty of leather bags to choose from, you might be confused about which one would match your business outfit. The safest and most ideal leather bag for your daily business clothing is a man bag or otherwise known as the briefcase.
A leather briefcase can make you look more sophisticated and professional. You'd definitely want to make that type of impression with your boss. Matching a leather backpack to your business suit might ruin your entire look. Plus, the leather briefcase has many compartments in which you can organize your papers, devices, and other items you may need for your office job. You can also keep one small men's leather wash bag in it to store your essentials when you are travelling for business purposes.
If you're wearing casual business attire such as slacks and a collared shirt, you can match that outfit with a leather messenger bag or a leather satchel bag.
2. Go for the basic colors first
Every besuited man is aware that the secret to looking classy is getting the basics right. That means you must be well-stocked with the all-around classic colors, such as tan, brown, navyblue, and black.
In the business world, incorporating sharp and stylish colors may bring a bit of personality to your outfit. But when incorrectly matched, you'd only end up wearing a leather bag that clashes with your look. Before jumping in with the big leagues and trying out boldly printed bags, go with the basic colors first. Later, level it up with more interesting bag designs and see how you handle it from there.
3. Use different bags in various situations
So, you're wearing your best formal business attire for your job interview, and you're bringing a few documents with you to submit to your interviewer. Which type of leather bag do you think would match this situation? A backpack will only crumple your résumé and other certificates.
Leather backpacks are the best fit for men who bike their way to work. Don't worry; you won't look unprofessional as long as you choose a stylish one. Plus, some leather backpacks are designed to hold your laptops and other devices, too, which is great.
4. Find a style that fits your needs
As much as you want to look stylish and elegant with your leather bags and business attire, keep in mind that your bag's purpose is to carry your things for your convenience. You may have the most fashionable leather briefcase brought to work, but if that can't hold many of your items, it failed its main function.
In choosing your leather bag to match your business style, make sure to check for the bag's compartments as well if it serves your needs. Look for side pockets that can be easily reached. When it comes to your leather work bags, looking good and having substance are both essential.
5. Settle for the real deal
It's understandable if some of you would settle for faux leather as it's much cheaper, and they look as good as real ones. But this may affect you in the long run, with minor incidents such as a detached bag sling, easily scratched surfaces, and fading colors.
Your leather bag can be your long-time companion in your job, so might as well invest in a genuine one guaranteed to last longer. They aren't as expensive as you think. You can find authentic leather bags on sale or pre-owned if you take your time searching for the good one.
Carry On
Ultimately, choosing the conventional leather bag for your business outfit is a matter of personal preference. Your choice will depend on the items you'll bring and the style you're planning to wear. Also, find a leather bag that's practical and comfortable to use daily. There are plenty of business leather bags out there that are worth exploring, so you can find that bag that will excellently match your career.