Tilley new Merino Wool Collection is breathable, moisture-wicking and made from 100% wool. A collection made for any and all seasons.
Merino wool has been coveted for centuries because of its inherent benefits and its natural softness next to your skin. Our products are made with 100% extra-fine merino wool. No add-ons. No synthetics. No compromises.
Benefits of Merino Wool
Marino wool absorbs moisture and evaporates it away from the skin, keeping you warm and comfortable.
A versatile fibre that's naturally breathable, anti-microbial, and to wear next to your skin.
Merino wool keeps moisture away from your skins while naturally resisting odors. The fibers even seek to retain their shape and naturally resist wrinkles.
Ideal in all seasons, merino wool is temperature controlling and can respond to your body's needs in changing temperatures and during exercise!
Marino sheep consume water, grass and sunlight, growing a new fleece every year. Making their wool a renewable resource.
One Fibre. Two Weights
Lightweight: Yarn is highly twisted for durability and pilling resistance then knit with additional needles to achieve a refined lightweight quality or all-season wear.
Mediumweight: Knit with thicker needles to create space to lock in warm, insulating you during colder temperatures.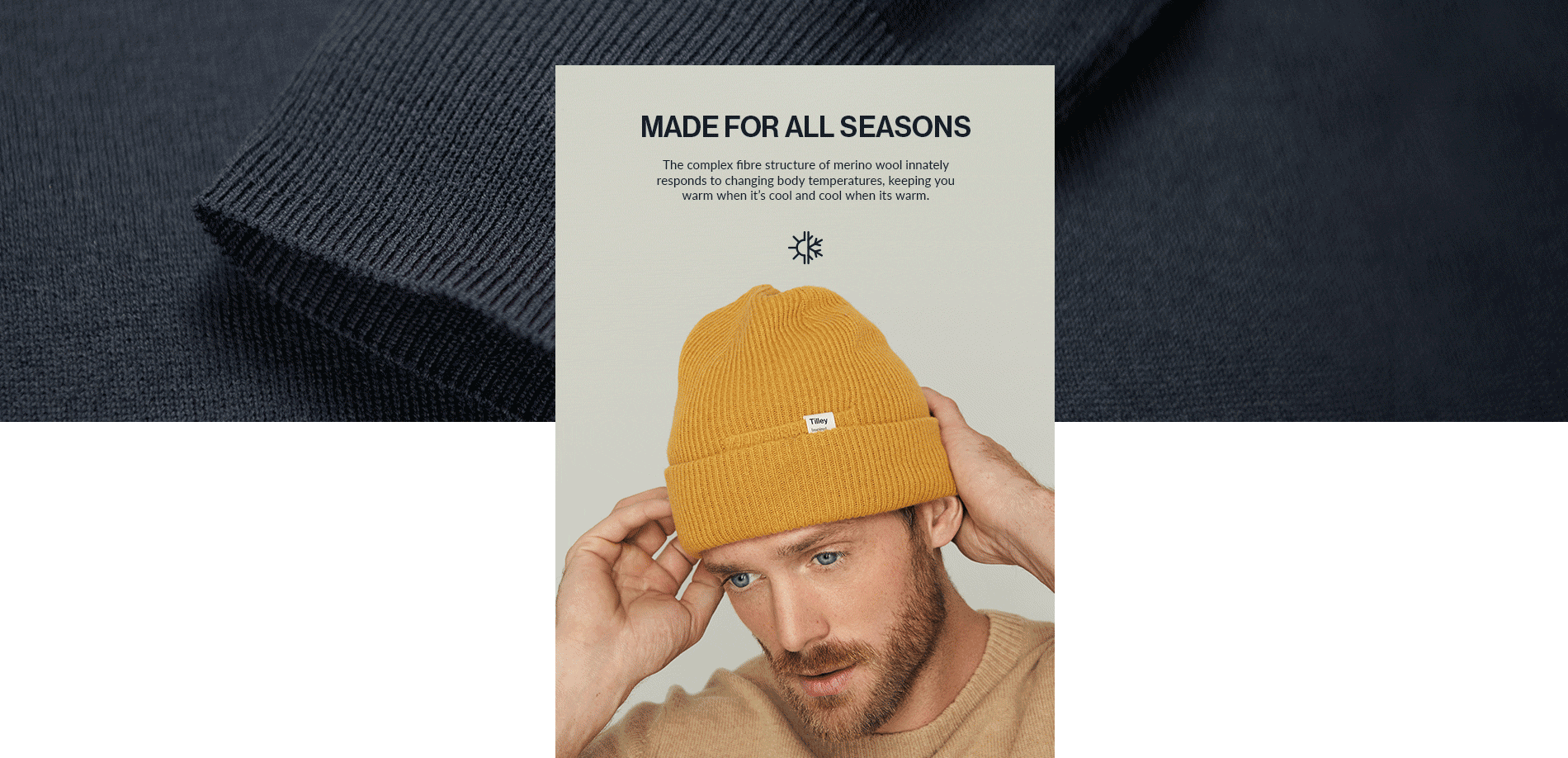 NATURAL, SUSTAINABLE AND CRUELTY-FREE
Feel good. Look good. Be good. The lifecycle of merino wool is embodied in this commitment and our promise to you of quality craftsmanship, durable products and ethical sourcing. Tilley have sourced OEKO-TEX® approved merino wool, ensuring sheep are handled in a non-harmful way. From renewable resource to biodegradable fibres, merino wool is truly a superior wool that is comfortable for you and our world.
100% BIODEGRADABLE
After a long life of comfort and wear, when merino wool is disposed, the fibers naturally decompose without polluting rivers and oceans for centuries to come.
Tilley's New Merino Wool Products Include the EXTRA FINE MERINO BEANIE, MERINO BEANIE, MERINO STRIPE BEANIE, MERINO POCKET BEANIE, MEN'S EXTRA FINE CREWNECK, MEN'S EXTRA FINE V-NECK and the MEN'S EXTRA FINE TURTLE NECK.

Check it out now at Tilley's website or order it from Amazon.