Soccer jerseys can be bought for many different reasons – to show support of your favorite team or player whilst on the stands to show your love or as a fashion option whilst you go out or to wear on the pitch whilst practicing. But one thing is for sure – soccer jerseys can be extremely comfortable regardless of why you have purchased it, which is why they are such a popular clothing choice.
When you are ordering a soccer jersey online, you may be slightly confused whilst deciding on what size to opt for, as unlike buying one instore you cannot try it on. Ordering the correct size online can save you from the inconvenience of returning the item via post. So, within this blog post, we will help you decide what size soccer jersey to buy.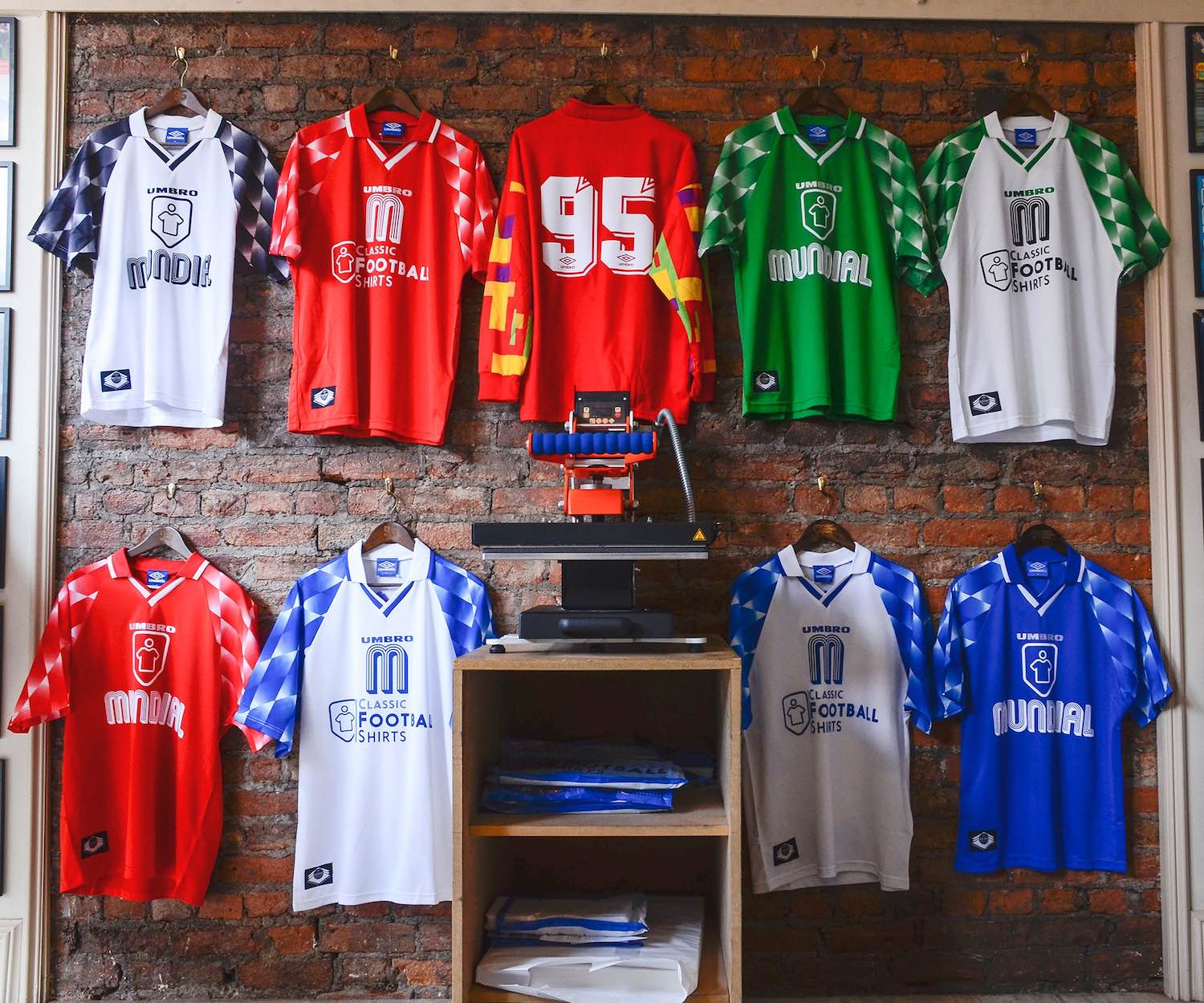 The standard fit of soccer jerseys is like a normal slim fit top if you want it to look like how it does on the model wearing it. However, if you desire a looser fit then we suggest buying the size up, and if you want a slimmer fit then you should go a size down. In order to get the most out of your soccer jersey, when deciding on the size you should consider the level of comfort and how long it will last. Also, it is worth noting that normal deviations of sizes are around 2cm.
In order to get the most accurately sized soccer jersey, you must take accurate body measurements, so that you can compare the measurements onto the provided size guide on each product. Depending on your gender will determine what measurements you have to take from your body.
If you are a man and buying a soccer jersey you will need accurate measurements of your chest, sleeve, height, and weight to ensure the best fit. To get the measurement for your chest you must measure around the fullest part of it and put the measuring tape all around you. In order to get your sleeve measurements, you must take the tape from the top of your collarbone to your shoulder and down your arm to your wrist, to make your sleeve measurements more accurate you should have your just slightly bent.
If you are a woman and buying a soccer jersey you will need accurate measurements of your waist width, bust width, sleeve length, height, and weight to get the most precise sized jersey for you. To measure your bust you must take the tape measure around the front and back of the fullest point of your bust. In order to get accurate bust size, you should have somebody to help you read the tape measure. In order to get an accurate measurement for your waist, it is worth noting where your waist is as there are many misconceptions about it, it is below your rib cage and is the smallest part of your torso. You must wrap the tape measure around your waist and ensure it is even.
Regardless of your gender, you will need an accurate reading of your height to ensure that the soccer jersey fits you well. You can do this by following these steps. Firstly, you should find a flat section of the wall and remove anything that alters your natural height (shoes, hairstyles, bulky clothing) and then stand on the floor with your heels, head, and shoulders touching the wall. Then you should stand up straight and look ahead, whilst someone lightly marks on the wall in pencil where your head is rested. Finally, use a tape measure to measure from the floor to the mark, and round up to the nearest 0.1cm.
Once you have decided on the specific jersey you want to buy, check the size guide of it because between some jerseys there are alterations, there is no established size guide for all jerseys and they may defer from the typical size guides provided in clothes shops.
An issue that can affect how long your soccer jersey will last is how much it will shrink when it gets washed. Some materials will shrink quicker than others when they are washed, for example, soccer jerseys that contain cotton can shrink. You should prepare for cotton-based soccer jerseys to shrink between 7-10% the first time you wash it! So if you want your soccer jersey to last for a long time, you should consider buying the size up from your actual measurements, as after a few washes it will fit you perfectly – rather than if you buy it to your actual size and it will become too tight!
However, soccer jerseys that are 100% made from synthetic materials (like nylon) do not shrink at all. Synthetic materials are completely artificially made from chemical synthesis rather than natural resources. So, these types of materials are usually more durable and do not shrink in the washing machine as it does not get hot enough to alter their molecular structure. Therefore, if the jersey is made out of synthetic materials you do not need to factor in its likelihood to shrink in the wash to the size, hence you can follow the size guide strictly.
Soccer jerseys are a great fashion option that will show your support for your favorite team! So when you buy one, the sizing is very important to guarantee it looks good and is comfortable whilst you are wearing it. Also, the size you chose will affect how long wear the product is, as jerseys will frequently shrink in the wash. All in all, the most important thing when deciding what size to buy is to take accurate body measurements and compare them to the specific soccer jersey you want to buy.