If you are planning to start a watch collection, it's important to know more about the different luxury watch brands in the market. These timepieces have their unique personality, which sets them apart from other brands and models. If you think that every watch only differs from its design and features, then you are wrong.
Every luxury watch manufacturer has different inspirations in creating their timepieces. Their values and ethos are the backbones of their designs and features. Without these, their timepieces will only be just an accessory the same as the rest. One of the luxury watches with a rich history is Bell & Ross. In this article, we will take a closer look at this globally recognized brand and discover why it is considered one of the best.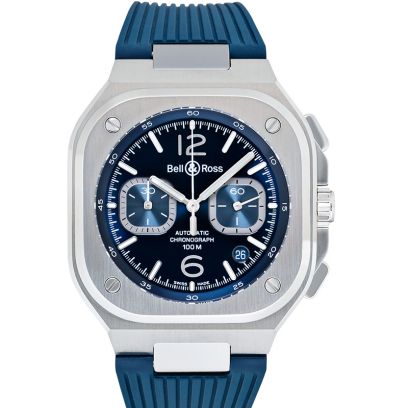 Its rich history
Before this French luxury brand is known worldwide for producing professional aviation watches, it started as a university project. Bruno Belamich (Bell) and Carlos A. Rosillo (Ross) created a timepiece with the vision to combine functionality and durability at the same time.
Bell & Ross was founded in 1992, a relatively young brand, and is one of the best in the watchmaking industry. However, with its founders' dedication to change the world of horology, it has become easier for them to penetrate the watchmaking scene. The brand logo is inspired by the history of aviation. It inspired them to produce timepieces with specifications and technological advances affiliated with the same industry.
Through the years, Bell & Ross continue to produce some of the most coveted timepieces in the world such as Space 1 — a luxury timepiece equipped with the first automatic chronometer to be worn in space. Since then, the brand has released a wide range of collections that have become popular.
Watchmaking inspirations
Aside from making their watches aesthetically pleasing, the brand wants to make sure that their timepieces will serve more than just a timepiece. They want their wristwatches to help professionals to fulfill their tasks while on duty. It's the reason why most of their timepieces are crafted using high-quality materials. In that way, it can withstand extreme exposures to various temperatures, can survive violent accelerations, and can still function despite being under dangerous pressures.
To make sure that their timepieces will be susceptible to these activities, Bell & Ross consulted professionals such as pilots, divers, bomb disposal experts, and astronauts. Through this, they gather as much information to build a timepiece that will have optimal functionality while these professionals are on duty.
Aside from its functionality, Bell & Ross also made sure that the aesthetic design of their timepieces is matching the professionals' industry. For instance, the BR 01 is inspired by an airplane's cockpit that's why it is shaped like a circle within a square. These small details set Bell & Ross apart from other luxury watch brands. They make sure that even the smallest details are parallel to their inspirations.
The Bell & Ross Collection
Bell & Ross kept their collections simple yet memorable. Since the brand was established, they only released two notable brands inspired by their professional inspiration.
The Instruments collection is the brand's signature model. It has the circle-square-style that stands out from the normal round wristwatches in the market. It is made with high-quality rubber to make sure of its durability when exposed to extreme environments.
The Vintage collection is inspired by the greatest years of aeronautical adventure. It has a modern sleek design that ensembles military DNA. It is made suitable for aquatic environments because of its watertight design and resistance.
The brand's method of combining sensibility with style made them release hundreds of timepieces even in their early stages. These timepieces have become popular with pilots, divers, and other professionals which is the primary goal of the company.
Where to buy Bell & Ross watches?
There are a variety of ways to purchase a Bell & Ross watch. If you are lucky to be near one of their boutiques, you can simply drop by and check out their latest collections. This brand can also be found in different luxury jewelry stores. These authorized sellers also have a selection of Bell & Ross timepieces that will surely fit your taste.
However, if you are looking for a more convenient way to buy a Bell & Ross watch, you can always check out TheWatchCompany.com. It's an accredited online watch store that sells a wide range of luxury timepieces such as Bell & Ross, Rolex, and more. You can visit their website to check out their selections of these timepieces.
Key takeaway
Every craft has an inspiration, and remaining true to these values can take you miles away. Bell & Ross is a testament that once you are focused on the goal and ethos of your brand, you can certainly make a unique brand image for yourself. This is one of the main reasons why this particular luxury watch is worth an investment.