Picture this — it's been a long, grueling day. You're tired, hungry, and just want a quick, delicious meal without the Sisyphean task of pushing an endless stack of dirty dishes up the hill, only for them to tumble back down again. Well, let's lean into that dream and make it a reality.
Welcome to the wonderful world of one-pan dinners, where the magic of simplicity meets mouthwatering goodness. Enter the hero of our story — ceramic cookware. It's a game-changer that transforms the dream of minimalist cooking and maximum flavor into an achievable reality.
The Advantages of One-Pan Dinners
One-pan or one-pot dinners are the low-key heroes of busy weeknights, and they're the best-kept secret of people who seem to have it together constantly. But why are they so great?
Firstly, it's the simplicity. There's something incredibly satisfying about tossing all your ingredients into one pan and watching them combine into a symphony of flavors.
Secondly, less time spent scrubbing away at the kitchen sink equals more time savoring that hard-earned Netflix binge.
Last but not least, one-pan dinners often promote healthier meals because they're mostly made with fresh, whole ingredients rather than the premade packets or freezer meals you might have been relying on to avoid extra dishes previously. You can also use less cooking oil and fats.
But the key to nailing your one-pan menu is the right equipment, and we'll give you the secret right now: ceramic cookware. This underrated kitchen champion brings to the table a host of benefits. Ceramic cookware offers even heat distribution, a non-stick surface, versatility between the oven and stove, and an easy clean-up, making it the perfect ally for one-pan meals.
The Basics of One-Pan Cooking
As with any cooking technique, there are a few principles to remember to achieve culinary success.
Understanding how your ingredients work together is one big tip for one-pan cooking success. Some ingredients cook faster than others. It's essential to layer your food correctly in the pan so everything cooks just right — at the same time.
Now that you know the one-pan dinner basics and the benefits of ceramic cookware, get ready. Because next, we're diving headfirst into mouth-watering recipes that will transform your dinnertime routine into a one-pan wonderland. Trust us — you'll want to take notes.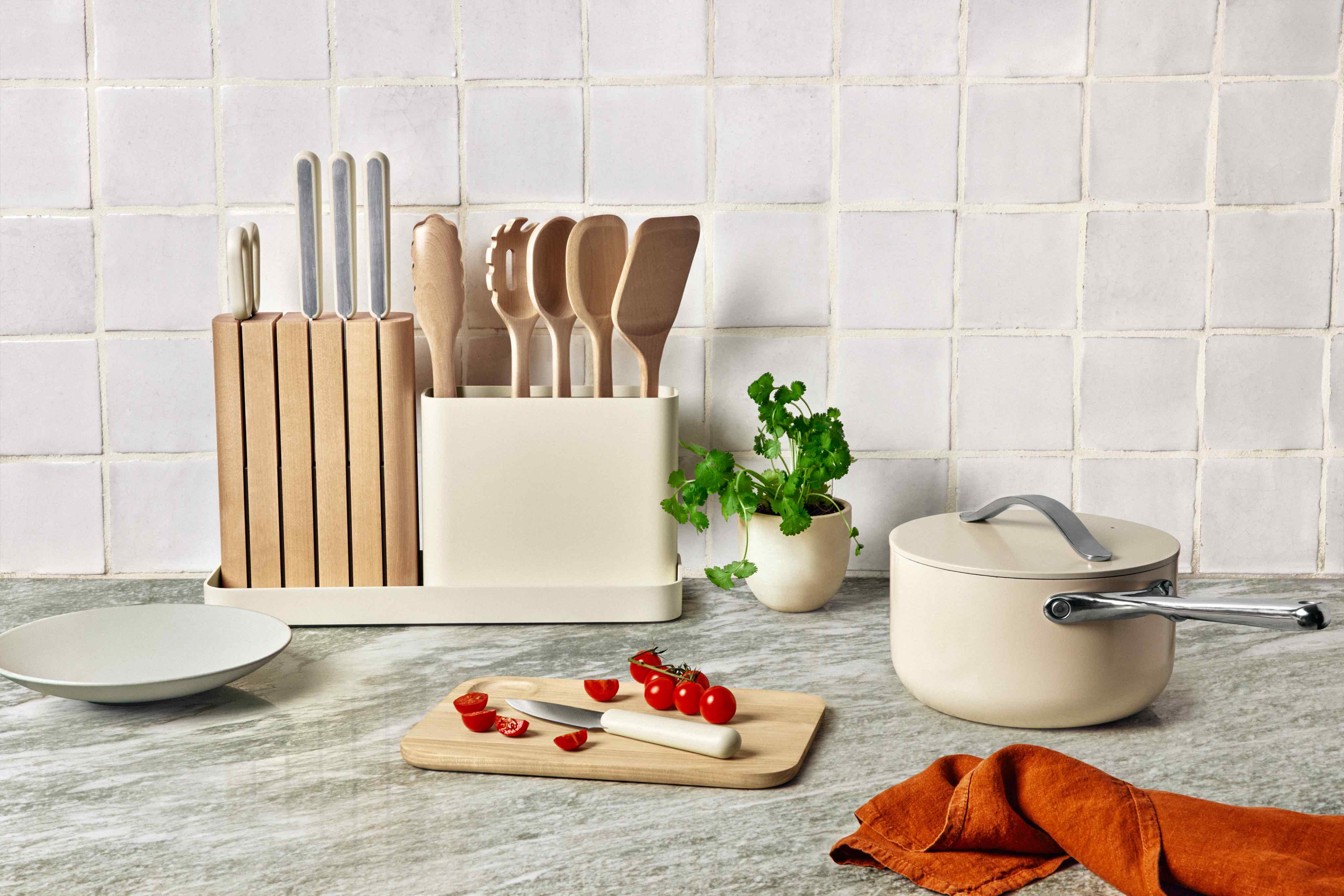 Recipe 1: One-Pan Chicken and Veggies
Nothing says comfort like a hearty chicken and vegetable meal. This dish is as easy as it gets and super customizable to your tastes and preferences. At a basic level, you need chicken, two to three different vegetables, and all the herbs and spices you should already have in your pantry.
Try and pick seasonal vegetables. But other than that, the world is your oyster. Mix up some cherry tomatoes, zucchini, red onion with your chicken and Mediterranean-style herbs like basil, bay leaf, black pepper, coriander, dill, cumin, fennel, and some fresh (or powdered) garlic.
More into Mexican food? Swap out the cherry tomatoes for some bell pepper and your zucchini for some corn, adjust your spice profile to feature cumin, cilantro, and oregano, and you're good to go. Before you know it, you're feasting on a rustic, home-cooked meal — minimal effort, maximum flavor.
Recipe 2: Skillet Lasagna
Who said you need to dirty multiple pots and pans to make lasagna? This skillet lasagna recipe is a game-changer. Use your ceramic skillet to sauté onions and garlic, brown your meat, and simmer your tomato sauce. Finally, assemble and bake the lasagna in the same ceramic skillet.
This dish saves on clean-up and delivers a cozy, comforting food experience.
Recipe 3: Mediterranean Shrimp Skillet
This dish is a true weeknight winner: quick, delicious, and nutritious. Combine shrimp, tomatoes, olives, and feta in your ceramic skillet, and you have a Mediterranean feast fit for a lazy summer evening. You can soak up that flavorful feta and veg medley with some crusty bread or a toasted pitta, or even add a cup of stock and some dried orzo to your skillet to create a wholesome, complete meal.
Recipe 4: Fajita Night
Start with thin-sliced bell peppers and red onions in a mixture of Mexican-inspired herbs. Then, all you need is a thin cut of steak — think flank steak, bavette, or minute steak — marinated in lime, coriander, olive oil, cumin, salt, and pepper to get this one-pot meal cooking. After starting on the stovetop, cover your skillet in foil and place your tortillas on top of the foil.
Pop the whole thing into the oven and let it cook for five to 10 minutes until your peppers and steak are fully cooked, and your tortillas are gooey and warm.
Goodbye, Dish Mountain
One-pan dinners are your secret weapon against a sink full of dirty dishes. They're easy, delicious, and an excellent excuse to whip out that fabulous ceramic cookware. With the recipes we've shared, you're set to take your weeknight dinner game up a notch.