Paneer Butter Masala is an authentic Indian curry that is extremely buttery, subtly sweet, and delicious. It is one of the highest-ranking Indian gravies when it comes to preferences and its fame is widespread across the world.
There are so many Indian Restaurants serving Paneer Butter Masala in countries such as the USA, UK, Australia, and many such countries where Indian food is very popular.
Paneer Butter Masala Recipe can be found on the internet with step-by-step instructions but the flavor and authenticity of the dish can only be achieved with the right ingredients and spices. Although it has that divine flavor that needs to be achieved when preparing the dish, it is perhaps one of the easier dishes to make at home if you have the right ingredients (which are not hard to find!). Paneer Butter masala is the king of gravies in essence.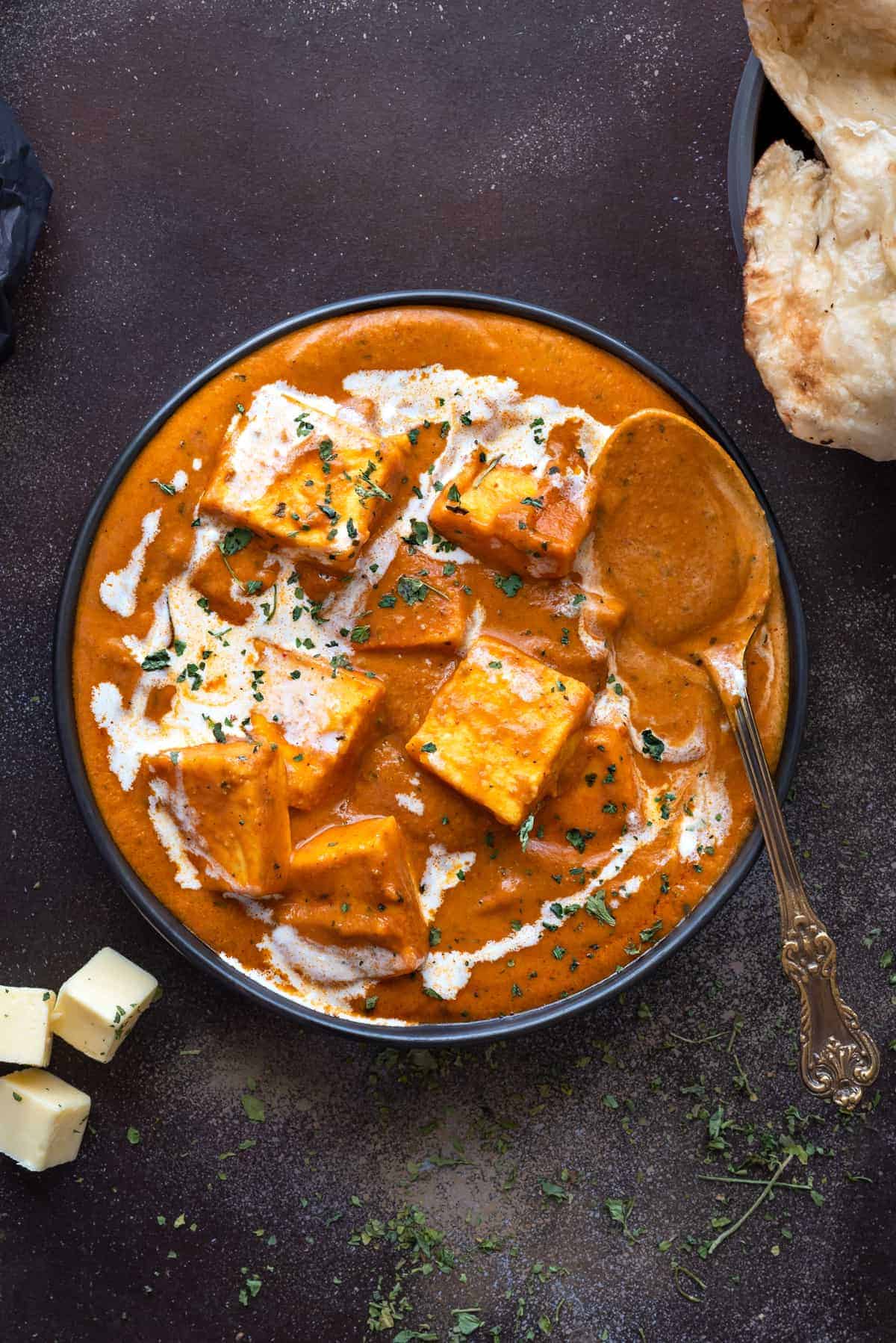 Origin of Paneer Butter Masala
The origin of this world-famous delicious gravy is quite contradictory as there are many claims on the internet as to who invented this gravy first. Many food connoisseurs claim that the gravy is an authentic Mughlai dish with a middle eastern influence and was famously made in the kitchens of Mughal Kings and Queens.
Although this may sound true, there is a whole other version of its origin from traditional Punjabi Kitchens where vegetarians substituted the Chicken from the Butter Chicken Masala recipe and replaced it with Paneer. Butter and chicken are popular items in a Punjabi household but a majority of Punjabis are also vegetarian, hence, giving birth to Paneer Butter Masala.
Paneer butter masala is a curry made from fresh cottage cheese mostly prepared at home with hung curdled milk. The paneer pieces are marinated in a fresh aromatic spice mix before being tossed into a pureed gravy that is made from onion, tomato, ginger garlic paste and sauteed in plenty of butter and topped with fresh cream.
The curry has a characteristic sweet touch to it owing to the butter, cream, and sugar added to the base. The curry is served fresh with lots of coriander leaves and with Indian bread or rice such as Jeera Rice, Pulao, or Biryani.
Step by Step Recipe to make Paneer Butter Masala
There are many recipes that one can find on the internet and each one is influenced by the author's unique take on this classic Indian curry. Below is a step-by-step guide to preparing this easy yet delicious gravy at the comfort of one's own kitchen.
1. Heat 2 tablespoons of butter and add a bit of oil. Add whole spices such as cardamom, cloves, and cinnamon as per your taste and preference.
2. Add the finely cut onions and saute them until transparent. Add the ginger-garlic paste and saute till the raw smell goes off.
3. Add pureed tomato paste or tomato puree that is available in cans. Boil the mixture for a few minutes so as to cook the puree thoroughly
4. Add salt,
turmeric
powder, chilly powder, coriander powder, and a pinch of sugar. Add the paneer pieces at this point and bring to a simmer with the lid on.
5. Finish off with a teaspoon of powdered garam masala, crushed kasuri methi, and a dollop of heavy cream or 2 tablespoons of fresh cream and a tablespoon of butter.
6. Serve with freshly chopped coriander leaves on top alongside Naan, Paratha, Chapathi, Tandoori Roti, Pulao, etc
This is the traditional Paneer Butter Masala recipe. One can play with the amount of the ingredients and experiment with how spicy or buttery the gravy needs to be.