There are many occasions in a year that wake up the chef inside you because the celebration of those occasions can't pass without having something delicious and mouth-watering. Just like that, Christmas is one occasion that people around the world celebrate with all the zest and utmost excitement. The streets get decorated with many different things, and you get to see a Santa in every shopping mall. Residential societies and educational institutions observe events and parties. And many people get dressed as Santa just to make children smile. Whatever is the way of celebrating, every party or event has one thing in common, i.e. something to eat.
So, whether you are planning to host a party at your place or you just want to commemorate the festive vibes of Christmas with your family, you should also plan for something to munch upon together. And that's why you were told to wake up the chef inside you. Make your family and friends feel the scrumptiousness as you prepare a perfect Christmas cake.
The recipe is shared below. Get your apron! And hit your baking lab!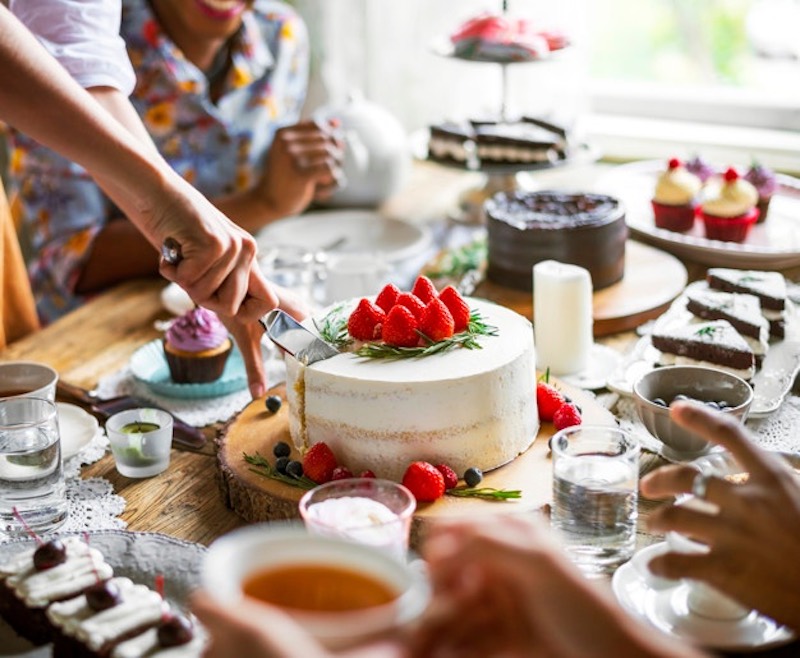 For Soaking Dry Fruits:
● 1/4 cup raisins/dried grapes, finely chopped
● 1/4 cup cranberries, finely chopped
● 1/4 cup figs, finely chopped
● 1/4 cup cherries, finely chopped
● 1/4 cup apricots/apricots, finely chopped
● 1/4 cup dried dates, seedless
● 1 cup grapefruit juice/apple juice OR, you can use red wine/brandy/rum or any liquor
For the Fruit Cake Batter:
● 1¼ cups water, warm
● 1 cup brown sugar, powdered (you can also use plain white sugar. Although brown sugar gives a brown color to the cake)
● 2/3 cup vegetable oil / any non-flavored oil
● 2 cup plain flour/maida/all-purpose flour
● 1/2 tsp baking soda
● 1 tsp baking powder
● 1/2 tsp cinnamon powder
● pinch of salt
● 1/4 tsp nutmeg powder
● 1/2 tsp cardamom powder
● 1 tsp vanilla extract / vanilla essence
● 1/2 tsp orange/lemon zest, peeled
● 1/4 tsp almonds, finely chopped
● 1/4 tsp walnuts
Instruction
Recipes for soaking dry fruits:
1. First, in a small bowl take a cup each of finely chopped raisins, cranberries, figs, cherries, apricots, and dried dates. I have taken 1 1⁄2 cups of dry fruits and later half a cup of nuts – walnuts and almonds. However, you can vary the number of dry fruits and nuts as per your preference.
2. Further, add 1 cup grapefruit juice and mix well. Instead of grapefruit juice, you can use red wine/brandy/rum or any liquor for more rich flavours.
3. Soak dried fruits for at least 2 hours or overnight for more flavor. You can also soak for a week if you are using alcohol. However, in grapefruit juice – dried fruit will rot if you are soaking for more than 2 days.
4. Plum Cake / Christmas Fruit Cake Batter Recipe:
5. Firstly, in a large mixing bowl, take 1¼ cups of warm water.
6. Also, add 1 cup powdered sugar. (You can also use normal white sugar. However, brown sugar gives a brown color to the cake)
7. Also, add a cup of oil. The oil helps to make the cake moister and stay fresh for a longer period of time. However, you can substitute butter for more flavours.
8. Using a hand blender or whisk, beat well making sure the sugar dissolves completely.
9. Next, take a sieve and add 2 cups of plain flour.
10. Also, add 1 tsp baking powder, tsp baking soda.
11. Also, add cinnamon powder, nutmeg powder, cardamom powder, and salt.
12. Sieve well to make sure the air is incorporated, as well as, the spices are mixed well with the flour.
13. Furthermore, grind half tsp orange peel. You can also add lemon peel.
14. Also, add 1 tsp vanilla extract.
15. Using a hand blender, blend until the batter is combined and of a smooth consistency. Don't over blend, as they can make the cake tough and chewy.
16. furthermore, squeeze the soaked dry fruits completely and add to the cake batter.
17. Also, add chopped almonds and walnuts.
18. Mix gently making sure the dry fruits and nuts are mixed evenly.
19. Furthermore, transfer the cake batter to the cake mold or bread mold. Grease the mold with butter to avoid sticking.
20. Tap the tray twice to remove the air contained in the batter.
Baking Christmas Cake Recipe:
1. Place the cake tray in the preheated oven. Bake the cake at 180°C or 356°F for 40 minutes.
2. OR Bake until a toothpick inserted comes out clean.
3. Also, let the cake cool completely.
4. And later cut into slices and serve.
5. Finally, serve Christmas fruit cake or store in an airtight container.
Take help of someone if you have invited a large number of people for the party or you can order christmas cakes through same day cake delivery in Bangalore or wherever you live.
Happy Baking! Merry Christmas!