Do you snack all the time?
You're not alone, far from it. Many of us hit up the kitchen throughout the day or night for a treat or two.
(Or, if you're one of the many who barely remember to stock up on snacks when grocery shopping, perhaps this isn't your post.)
However, for all the snack junkies reading this, you already know how easy it is for your treats to pile up. You can get overwhelmed pretty quickly if you don't have a clear storage plan for your snacks.
Don't fret, though. If you've been thinking about finding a home for your snacks, we've got you sorted.
Let's avoid clutter with these seven clever ways to store your snacks: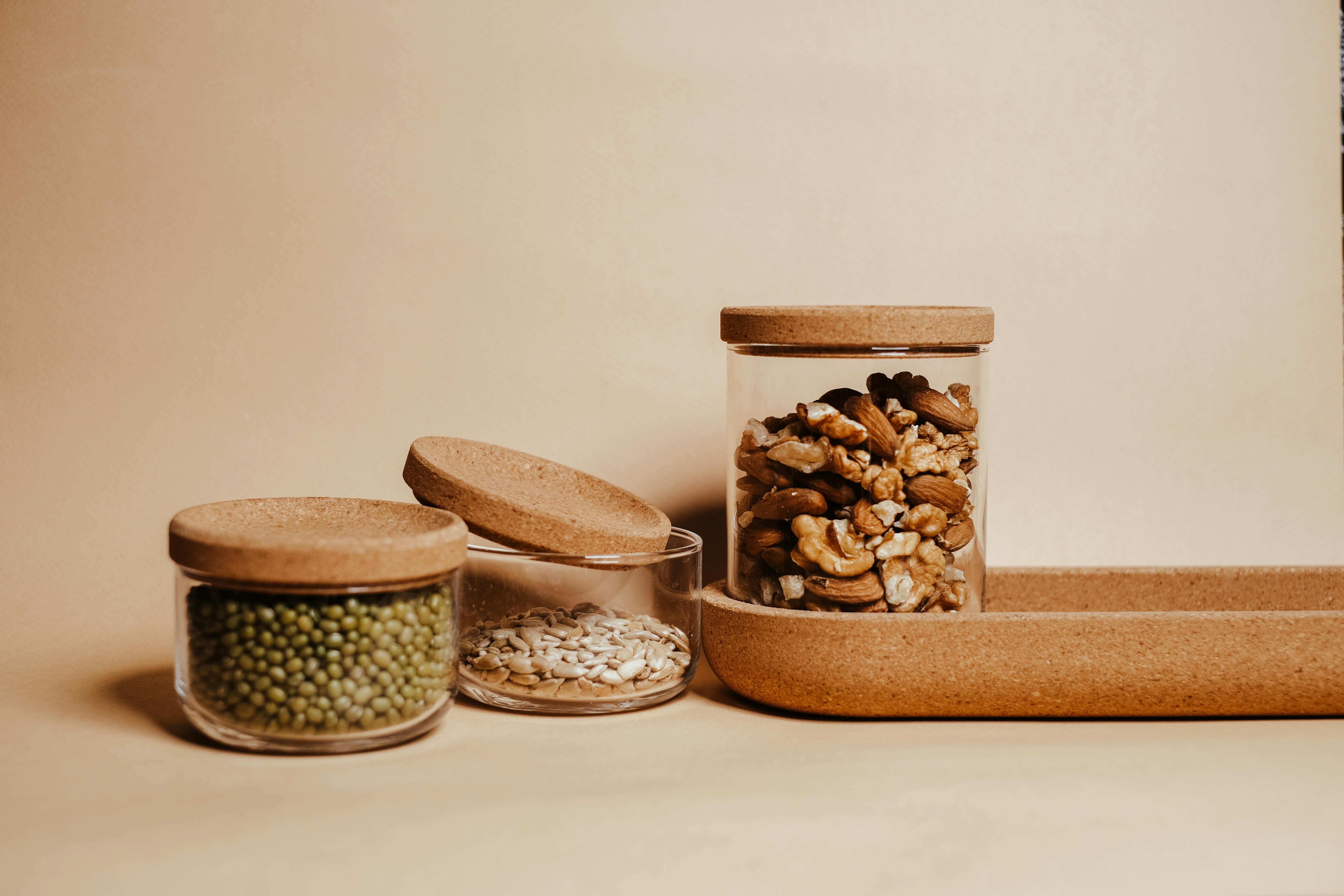 Plastic Containers
Plastic containers are probably the go-to for most people. Still, you want to pick the clear and airtight containers — not just any you can get your hands on.
There are many container options in the stores; be picky and choose what feels suitable for different snacks.
Don't forget to go with varying sizes from small and medium to large and even tall ones. They may come in handy for the different sections in your pantry or kitchen shelf.
Also, you may want to consider stiff plastic material.
Why?
Because, most likely, you're going to stack your containers, and you don't want them wobbling out of shape.
Clear Jars
Depending on your space, you may opt for glass jars instead. Jars or canisters are a perfect storage option for snacks; they range from large to pretty tiny ones like the ones you'd use for condiments.
You should have no trouble finding the right jar sizes for countertops, cabinet shelves, or the pantry.
Much like a plastic container, you want to get clear glass jars for your snacks. The reason for choosing clear glass is to aid with visibility at a glance. If you prefer the colored ones, you may need to label them.
So, for smaller snacks, consider glass jars. The small and medium-range ones can easily fit inside drawers.
Drawer Organizers
Who said the pantry is the only place to keep your sweet treasures?
Some people have a small pantry space, or it's already packed full. Others don't have one at all.
The easy solution is your drawer space.
Granted, your treats may seem locked away and out of reach, but that's sometimes a good thing, especially if you tend to binge on them.
Anyway, drawers don't have as much room as shelves, but you can still make the best of the available space by introducing organizers.
For your drawer organizers, you may use trays of varying sizes to fit neatly into the space. Alternatively, you could glue cardboard inside the drawer to create sections for the different types of snacks.
Snack Stand
Do you have extra space on the floor, counter, or kitchen table?
These spots can also serve as a home for your snacks. You just need a good and functional stand.
There are various types of stands and racks for holding small items like snacks. You can pick from plenty of options in physical stores and online from merchants like Amazon.
These stands vary in size to cater to your space requirements. The tall, tiered ones are best for the floors, while the shorter ones are perfect for the countertops.
Wall-Mounted Rack
Another interesting place to keep your snacks, (especially if you want them out of reach of the kids), is the wall.
Lots of people let their vertical spaces go unused when they make for excellent additional storage space.
What you need is a wall-mounted steel rack. They usually come fitted with relevant accessories like drilled holes and screws to make hanging them up easy.
The good thing about getting a suspended storage rack is you can hang it wherever you want so long as there's wall space. This could be in the kitchen or not.
Rattan Baskets
Have you thought of baskets for your snacks?
Well, baskets are another attractive storage option that don't require the confinements of the kitchen or pantry. In fact, baskets can fit perfectly with whatever you feel adds to the decor.
This means that if you want your treats closer to your other snacking places, like in your bedroom, so be it.
There are many kinds of rattan storage bins and baskets. You can get yourself several of them online for less than 50 bucks.
You could stack your baskets in a shelf space or on top of other surfaces like above the closet.
Lazy Susans
If you haven't considered this option yet, you'll be glad you read this. Get yourself a lazy Susan. They are a great storage solution, but most of all, they are pretty convenient.
The other thing is that you can put your lazy Susan wherever you want. Place one on a countertop, the pantry shelf, or those corner spaces where most things just don't fit very well.
Remember to get a lazy Susan with multiple tiers as it's better and space-friendly than buying several of them.
Besides, you'll have all your snacks in one place. When you get the cravings, just spin one of the layers to reach the snack you want at the moment.
Conclusion
If snacks are a huge part of your life, you may as well create a home for them. The tips we've shared with you are not just applicable but affordable as well.
All the above storage items are available in stores everywhere and online as well.
Go ahead and pick one and see if it suits your needs.
Also, can you think of any other storage ideas for snacks?
[Author Bio]
Ascend Five Points South offers luxury student housing near the University of Alabama at Birmingham. Learn more about their student apartments today!