The desire for skin care is natural. It is increasing among men as well. Men's skin is different from women. Living under the same roof they require different skin care products. These items should be chosen carefully depending upon their skin type.
Some men have dry skin, some have oily and others may have a sensitive one. Their skin is slightly thicker than women. The men who keep clean shave are themselves giving a gentle form of exfoliation to their skin.
Therefore they need to tailor their skin care requirements accordingly. The cosmetic boxes play an important role in selecting the right product for you. Cosmetic boxes list all of the product details like list of ingredients it contains and the skin type for which the product is made. The men who their skin and do not apply any of the personalized skin care products, dehydrate it over the years.
Your skincare routine always has a room for improvement.  Millions of choices are there starting from a simple bar soap, to face wash, body lotion, anti-aging cream, and facial cleansers, etc.
To help you out, below are the top 5 men skincare products:
1) Brickell Men's Charcoal Face Wash:
Although there is nothing wrong with washing your face with bar soap, there are better options a
s well. A simple bar soap washes away all the dirt but they dry your skin by removing natural oils.  Brickell's charcoal face wash is highly recommended for men.
It gently washes your skin without irritating and drying it out. Charcoal is good for men's skin as it provides deep cleansing of the toxins which stick to your skin. Different natural ingredients are added in it.
They include jojoba oil, olive oil, aloe Vera along with lemongrass oil, peppermint leaf oil, vitamin C, vitamin B-5, eucalyptus oil and much more.
All these organic ingredients make it highly suitable for every skin type. Before applying it, wash your face with warm water and rub a little amount of face wash over your face with hands. Wash with plenty of water.
2) Jack Black's Pure Daily Facial Cleanser:
Cleansers are best for removing oil-soluble impurities and dead skin cells while hydrating the skin.
They are non-foaming liquids. If you work outdoors, it's beneficial to wash your face once with face cleanser as you come back. Jack Black's Pure Clean Facial Cleanser is one of the best, personalized skin care product of 2019. Its two-in-one facial cleanser digs deep to remove oil and other impurities from your skin.
Moreover, it keeps your face fresh and hydrating. The CustomBoxes skincare cosmetic boxes list all of its ingredients. They include hazel which is an astringent, a skin toner, anti-irritant and antioxidant. Oat and coconut oil is used to clean the skin more. Organic ingredients like sage leaf and rosemary are good at healing with anti-bacterial properties.
It is also good for men who suffer from blackheads and acne. You will feel your skin look polished after its application with a light herbal scent.
3) Lubriderm Men's 3-in-1 Body Lotion:
Lubriderm was once famous for making high-quality products for women.
This 3-in-1 lotion for men is much better than the one designed for women. Men's skin has more collagen, so finding a body lotion with collagen booster is necessary.
Lubriderm lotion does this and much more. As the name suggests, it has triple action. It works as a face lotion, body lotion, and after-shave lotion.
Moreover, it is non-greasy and fast to absorb. The Lubriderm brand works for healthy skin. The lotion is clinically proven to improve the level of collagen and moisture in your skin, making it more elastic. It is enriched with Aloe Vera extract to soothe the skin. The hints of sandalwood give it an attractive odor.
4) Jack Black Intense Therapy Lip Balm:
This product is best for one who lives in a cold harsh climate and wants to save his lips from the impact.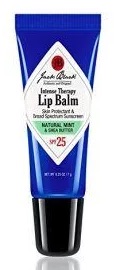 Weather can dry the lips in the same way as skin. Jack Black intense therapy lip balm is the perfect solution. It's a signature lip balm of 2019 due to a number of reasons.
It includes beeswax and shea butter as the main ingredients. Beeswax provides protection and shea butter is a primary moisturizer. Both of them offer natural protection against harsh climatic conditions. It contains SPF of 25 to provide sun protection.
Other natural ingredients are avocado oil, cocoa seed butter, and green tea. The lip balm comes in tubes which are enclosed in custom skincare boxes to enhance protection. It easily spread on your lips without leaving an extra shine.
5) Humane Acne Wash:
It is a strong product which contains Benzoyl 10% acne treatment.
It is an excellent attribute to fight against acne but not recommended for sensitive skin. It contains chemicals like Propylene glycol, formaldehyde, and Benzoyl peroxide.
It is perfect for the treatment of moderate to mild acne. It also contains Salicylic acid which removes dead skin cells which may lead to pores and acne. Humane Benzoyl acne wash comes in the non-foaming lotion which absorbs quickly into the skin.
It is anti-inflammatory if applied in a proper amount. It kills acne-causing bacteria and clear pimples, blackheads, whiteheads, and blemishes.
It is perfect for the men of all age groups who come across this problem.