It can be hard to find a bed that your dog likes but when you do, you want it to last. A good dog bed is one of the most expensive items you will buy.
They look so perfect at first don't they?
Then gradually over time, the covers start to look grubby, a stain appears that won't shift and a corner is nibbled. You give up washing it because the covers are impossible to get on and off and every time you get too close a musty whiff hits you in the face….
But your dog LOVES it and you don't want to fork out for a new one. Ruff and Tumble Dog made Bed Covers for this problem, and also to prevent this problem. They cover old, much loved beds, and protect brand new expensive ones too.
Like thick towelling fitted sheets, an elasticated edge grips the edge of the bed and covers it. Soft and stretchy, they completely cover most types of beds, leaving a soft and absorbent layer for a dog to snuggle down on.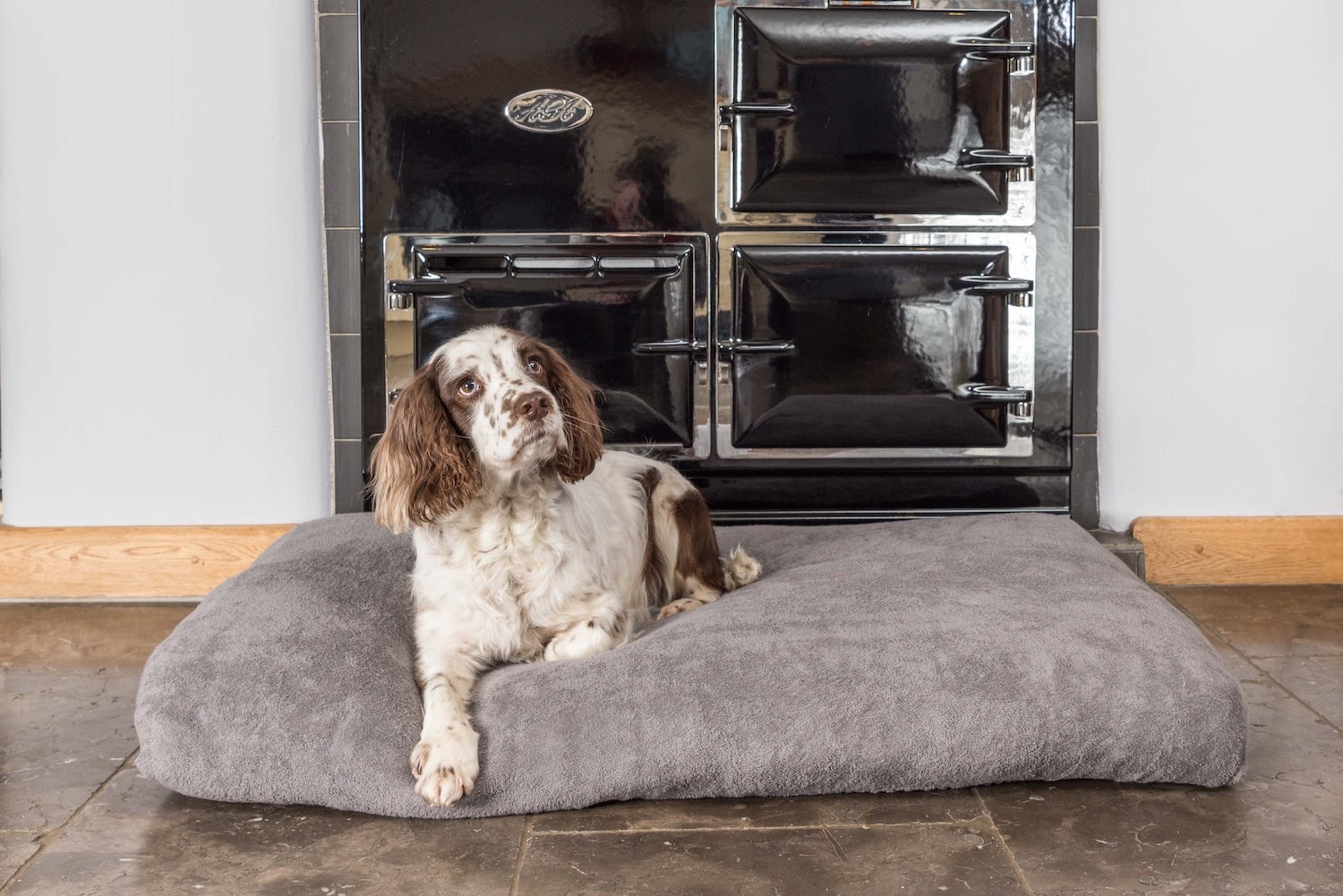 Very easy to remove, and therefore wash regularly, you'll find that grubby dog beds are replaced by clean and fresh ones, in a choice of four contemporary colours to complement your kitchen and living room.
In three sizes, S, M and L, from £23- £33 plus P&P, and four colours: above, Flint, bottom L-R, Bottle Green, Mink and Brick Red.
The dogs are wearing double layered towelling Ruff and Tumble Drying Coats from £26 for XXXS in 16 sizes and four colours in the Classic Collection, fitting dogs 1-120Kg.
Ruff and Tumble are proud to be the market leaders in Dog Drying Coats. The high-quality, super-absorbent, double thickness soft cotton towelling doggy dressing gowns, with their unique, practical yet stylish design, is what sets us apart from other brands. Everything made at Ruff and Tumble is designed with dogs and their owners in mind. The Dog Drying Coats, Drying Mitts, Bed Covers, Sofa Throws and Aprons are the ultimate solution for managing wet dogs. Designed with care, and made from top quality cotton towelling, the Ruff and Tumble range is simply essential for dog owners everywhere.