It's no secret that most men couldn't care less when it comes to the decor of their bachelor pad. Realistically speaking, home decor takes a lot of time, effort, and obviously, money. These three reasons alone are enough to make any man (and many women) choose the bare minimum when it comes to home decor.
The good news is that home decor doesn't have to take up all of your time, but it is going to require some effort. It also doesn't have to cost you a fortune. Home decor isn't a science, as even the simplest solutions can make the biggest difference to your home. Here are three tips for men to follow when it comes to "decorating" their bachelor pad.
#1: Keep it Simple in the Kitchen
When it comes to kitchen appliances, most men don't care for many fancy appliances— unless they're actually going to use them. However, in most kitchens, you're going to have space for an oven/stove and refrigerator so you know that you're going to need these appliances. Other countertop appliances you may want include a coffee maker and a toaster.
When it comes to the actual kitchen decor, it's best to stick with more natural-looking patterns, such as wood and stone. The good news is that you don't have to buy actual hardwood floors; vinyl flooring can be made to look like real wood. It's also good to mix different textures, so granite or marble countertops will also work in the kitchen. Stone is one of the most affordable countertop materials.
#2: Less is More in the Living Room
You don't have to spend a fortune on the furniture in your living room, nor should you. In fact, going vintage by finding your furniture at thrift stores can save you money and will still allow you to be stylish— as long as all of your furniture pieces have that antique look to them.
Another tip is to make sure that your furniture is actually comfortable. Furniture, especially in a bachelor pad, is more about functionality than it is about looks. Still, choosing vintage furniture can allow for both comfort and style.
It's also a good idea to get heavier furniture or furniture that looks like it may be heavy. This allows you to get away with having less furniture without your living room looking too empty. Bulkier furniture tends to take up more room or appear to take up more room, leaving less space and giving the appearance of a fuller room.
#3: Basic Bedroom and Bathroom Decor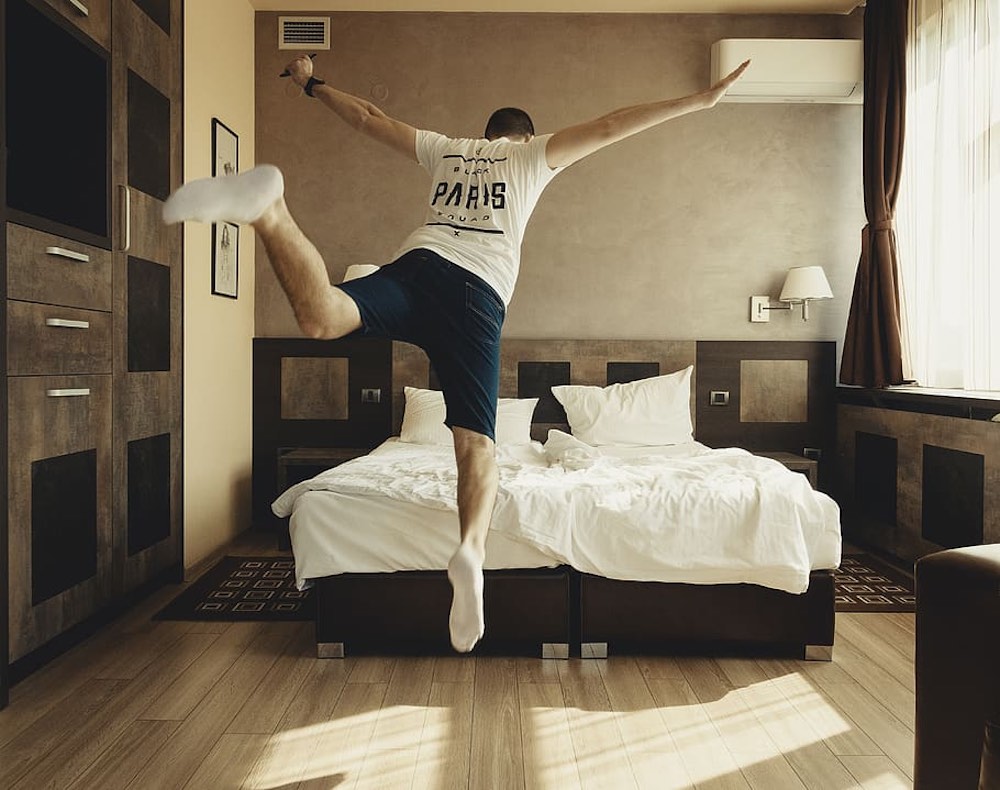 Bedroom
The same tips can apply to the bedroom as well. A bigger, thicker headboard, a bulky dresser, and one or two floor lamps may be all you need in your bedroom. You could also try the minimalist approach, which means that you don't have to get bulky furniture— but it does mean that you'll still buy less furniture.
It's also okay to add personal touches, such as gaming systems if you're into video games. It's also a good idea to add the artwork to your walls. This is easy if you have posters of things you're interested in, but you can also choose simple pictures, such as maps or charts, or even flags.
Bathroom
Bathroom decor also doesn't have to be over the top. Many bachelor pads have simple walk-in showers, and instead of glass doors, you can hang a shower curtain from a straight or curved shower curtain track. As for other bathroom decor elements, it doesn't hurt to have a live plant or two on the vanity, back of the toilet, or shelf in your bathroom— especially plants that love moisture.  Black and white photography also works great in the bathroom as wall decor, and it works in other rooms as well.
Again, not all men struggle with the decor of their homes, and even some women may struggle as well. These three tips can be used by anyone who may not know where to start when it comes to home decor. It all depends on the look you're going for, although the minimalist approach is stylish, simple, and even affordable, which is why many people choose this style.
The bottom line is that when you don't want to spend the money and you don't want to spend too much time on home decor, keeping it simple and basic is the way to go. You can still have a stylish home without breaking the bank and sacrificing comfort.