You never know when you have to move to a new place in a new city or state. The hardest part is the physical labour involved in moving heavy objects and furniture from your old home to your new one. Moving to a new place involves a lot of heavy lifting, which puts a lot of strain and can cause various injuries to you.
Although it is not impossible to move heavy stuff alone, it is better to take the assistance of expert removalists and professional packers and movers. However, if you want to do this on your own, here are certain tips that will help you lift and move heavy boxes.
Create a plan and follow it

It is better to create a plan so that you know what rooms and boxes to handle first. It will help you manage your time and avoid double-lifting of goods and boxes. Make a list of rooms and go through them one-by-one. Make sure you have all the tools and accessories beforehand so that there are no unnecessary stoppages while lifting. Things can go wrong if you don't follow a proper plan.
Butler's Removals is one of the new companies in the Bettini family and covers the Sydney-Brisbane-Cairns area. The passionate staff aims to provide fast and stress-free packing and moving services to the residents of the area. Visit their website and get in touch with them for long-distance moves, local moves, packing-unpacking, and storage facilities.
Gather help and get your house ready
It is safe to say that lifting and moving are very difficult and it will be better if you arrange for some help with the work. Ask your friends and family members in advance so that they can make out time from their schedule and help you out with your moving and lifting work.
Make sure you clean each room and know from where to pick up boxes and where to drop or leave them. The pathways should be clear, and there should be no obstructions as you may drop and break stuff. There will also be a risk of injuring yourself if the path is not clear and rooms are congested.
Move the boxes using a handcart
We all have some stuff at our home that is impossible to move without the help of certain tools or accessories. You can visit a hardware store and buy a handcart to help you with moving boxes around. It will make the work easier, safer, and faster for you and anyone helping you.
You can load multiple heavy boxes on the cart and move them around. Operating the cart is easy, and your kids can assist you with it too.
Be careful on stairs and small spaces
Moving and lifting boxes may involve the use of stairs, and you need to take extra precautions if that's the case. While on the stairs, make sure you walk at a certain sideways angle. This will allow you to see the stairs so that you don't slip and fall.
Moreover, always keep someone near you when you walk up or downstairs, lifting something that can guide you and help you in case of an emergency. Falling off a staircase is very dangerous and can cause serious injuries to you.
Always carry boxes close to your body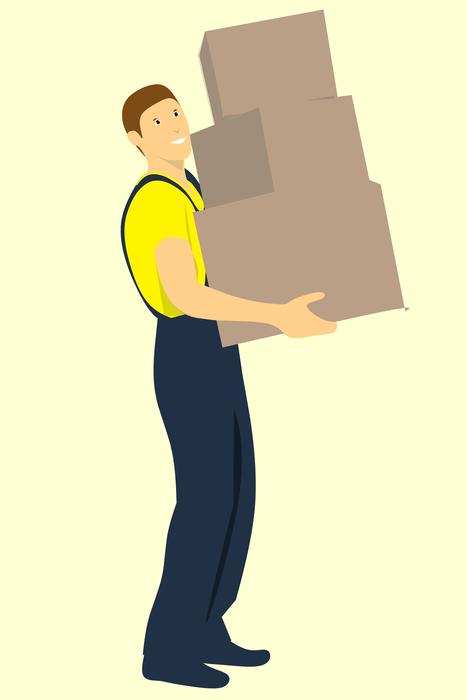 Carry heavy boxes close to your body so that you can use your body weight too and prevent boxes from falling over. The correct technique and posture helps, and make sure to always bend the knees while lifting heavy stuff.
Some boxes have very heavy stuff, and it is almost impossible for a person to pick them up. Keep such boxes on some sheets and try to slide it. Plastic sheets glide well on carpets while blankets work nicely across wooden floors. Some boxes have awkward shapes and sizes, and this is the right way to move them from one place to the other.
Use proper safety measures and footwear
Even if you stay cautious and take all precautions, it is possible that accidents may occur and you injure yourself. It is best to use all safety measures and keep yourself safe at all times. When you rush things, chances are you may make mistakes and hurt yourself.
Use proper footwear that provides a nice grip and balance while lifting boxes. First aid is also important so that you can receive immediate medical treatment in case something happens. Don't rush things, take your time, and stay safe at all times.
Conclusion
If you are planning to move to a new place, it is better to seek help from professional removalists, but it is not impossible to do the packing and moving work on your own. In the above article, we read some tips to move heavy boxes. Keep these in mind, take proper precautions, and stay safe while packing and moving heavy boxes.