Wallets form an integral part of men's lives. Men use them to keep essential materials safe from damage and theft. These include travel documents, personal identification cards, business cards, driving licenses, and even money. If you don't have a wallet, it's about time to own one. However, you must ensure you're buying the right wallet.
You can consider purchasing a wallet made from any material. However, you can reap more benefits by opting for leather.  Leather wallets are eco-friendly, breathable, resistant to fungal attacks, and always in fashion.
If you've decided to go with leather wallets, read below for important tips to help you purchase the best one.
1. Consider Full Grain Leather
Quality is essential when purchasing leather wallets for men as it determines a heavy-duty product. With proper care and maintenance, a superior type of wallet can last longer than its substandard counterpart. This means you won't return to the shop any time soon to buy a new wallet. It's one of the best strategies to save a lot of money in the long run.
If you have the choice, then you should always choose full-grain leather for your wallet, as it's the most durable and highest quality type of leather you can buy. These leather wallets from Von Baer are made from full-grain leather, and you can also purchase leather cream to ensure the longevity of your new wallet.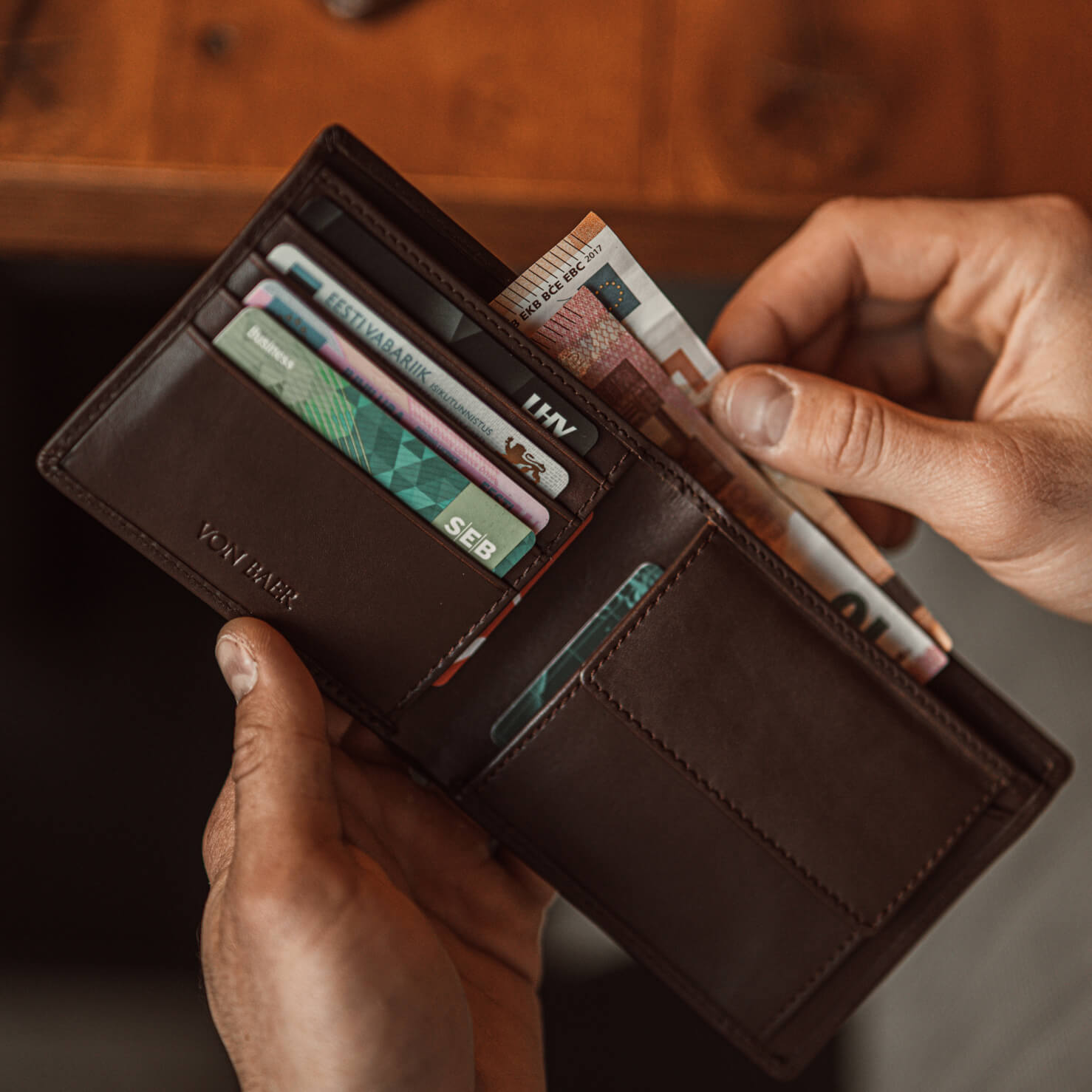 "Brown leather wallet from Von Baer"
2. Conduct Price Comparison
Price is another vital factor to remember when choosing leather wallets for men. This is because the available wallets are priced differently. Some have a high price, while others have a low-price tag.  If you're on a tight budget, conduct a comparison and select a leather wallet that goes for the lowest price.
However, you shouldn't compromise the quality of the wallet for low price tags. Some cheap products come in poor quality. Therefore, a cheap leather wallet might cost you a lot of money in the long run. At the same time, you need to understand how high prices don't always reflect better quality. Some sellers may attach high price tags to substandard products to attract customers. For this reason, make sure you find high-quality leather wallets for men at reasonable prices.
Hence, you can consider bargaining for the best prices with the sellers. Besides, you can research and find companies that sell wallets at discounted prices. Some will be willing to give you offers, especially when you buy in bulk.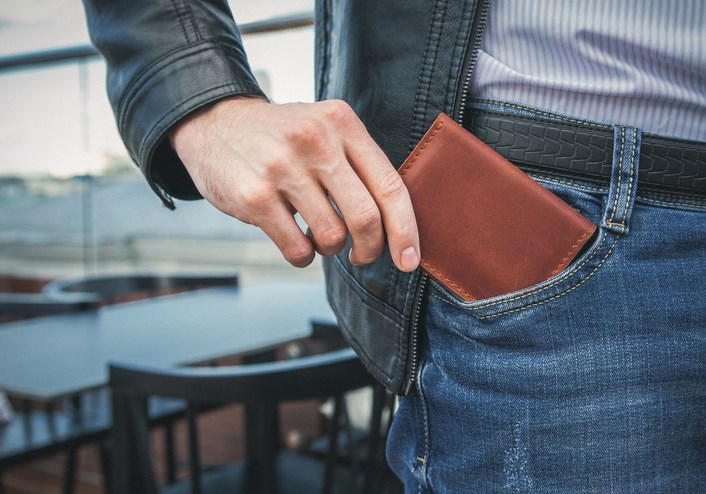 3. Be Mindful About the Size
There are several leather wallets for men out there in the market. However, they're not made equal in terms of sizes. These include large, medium, and small. Make sure you select the right leather wallet size for your usage and preference.
While the size of your wallet is mainly determined by what you want to carry with it, you might want something small. Go for a wallet that can perfectly fit into your pocket. This enables you to look neat and professional.
4. Purchase FromA Reputable Brand
In most cases, the manufacturer determines the quality of a product. A good company will always produce the best items in the market. Hence, you need to buy your wallets from a reputable brand.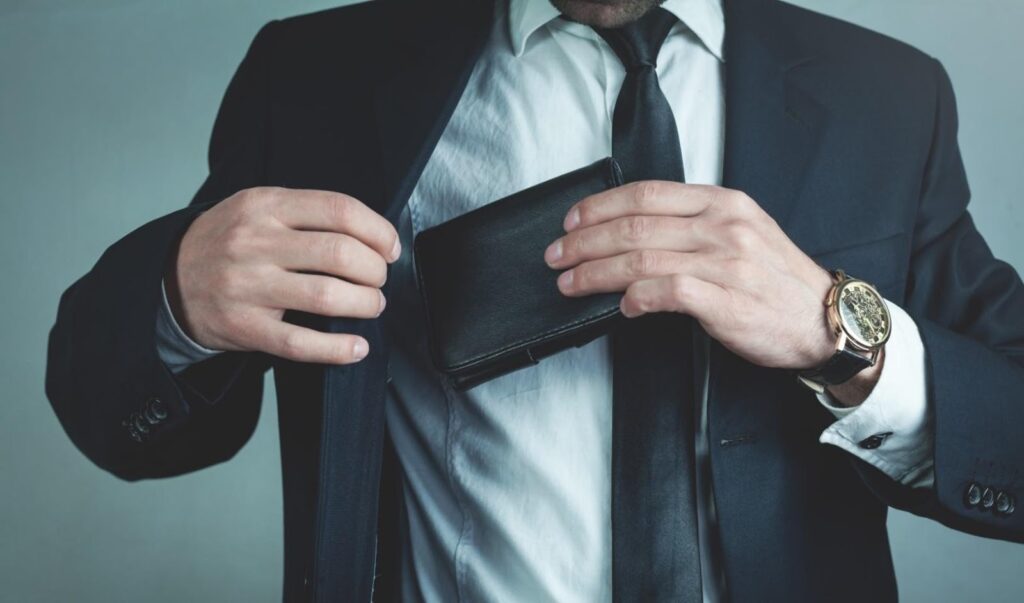 Reputation refers to opinions held by other clients regarding the leather bags and wallet seller in question. In other words, it's a belief a person has concerning a company or product. The best method to learn about a brand's reputation is to visit their online platforms. This refers to their website and social media accounts to read other customers' comments. A good seller leather wallets seller will usually have many positive feedbacks.
On the other hand, a bad brand will have a lot of negative opinions from other customers. Strive to purchase leather wallets for men from a brand with an established positive reputation.
5. Asking For Referrals
Asking for referrals is another best idea for purchasing the right leather wallets for men. This involves talking to other men with wallets similar to what you want to buy. You may inquire where they bought their wallets.
Most clients are honest and will give you a genuine opinion regarding particular sellers.  At the same time, they'll advise you about the best quality leather wallets. Therefore, you won't go wrong by asking for recommendations.
However, you shouldn't make purchases merely on referrals. Consider researching, investigating, and selecting the best seller from your recommendation list.
6. Consider Country Of Origin
Although ignored by most customers, the country of origin is critical when purchasing leather wallets. Today, there are several counterfeit leather wallet products out there. Some sellers claim to sell quality leather wallets for men, which isn't the case. Several countries have been known for producing high-quality leather products for many years. For this reason, you might want to examine the country where the wallets came from before making your payment.
7. Find A Suitable Color
Finally, you can also contemplate on the color to help you purchase suitable leather wallets for men. The color will depend on the occasion you want to attend with your wallet. For instance, the color you choose for outdoor activities or traveling might differ from the office. A bright-colored leather wallet may look casual, while a neutral-colored wallet gives a more professional feel.
However, if you're on a limited budget or don't want to own several leather wallets, you can select one with a universal color. Some of these include various shades of brown or black.
Takeaway
Wallets are essential in men's daily activities. They use them to carry vital documents from one place to another. Hence, you might hardly find a man without a wallet.
One of the most recommended materials for men's wallets is leather because it's durable. However, not all leather wallets can be the best match for you. Some might not adequately fit your lifestyle. For this reason, you might consider the tips discussed in this article to help you purchase the best leather wallets for men.