No doubt, one of the fundamental aspects of RVing, making it such a comfortable way to travel or live, is having clean running water at all times. The RV plumbing system is the one that allows you to drink clean water, perform household cleanups, bath, and altogether avoid using public toilets. Yet, just because it's such a crucial feature of your motorhome doesn't mean it's intuitive. Learning basic information about how the system works and what are its most important parts, can help you keep everything in shape and avoid unnecessary costly repair bills when something minor goes wrong.
How Does RV Plumbing Work?
Most recreational vehicles have a completely self-contained plumbing system, including sinks, toilet facilities, and showers. They also have their comprehensive water system, including potable and wastewater tanks, as well as a water heater. For a brief overview, RV Hot Water Heater: A Brief Guide is surely a good help.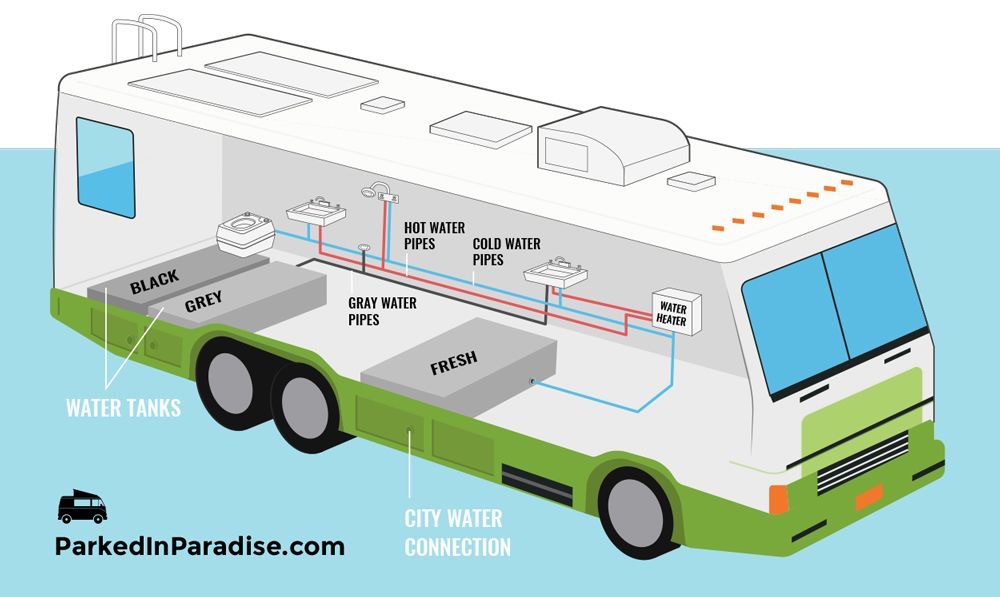 The water tanks of your RV are located underneath the chassis and allow you to bring a portable supply of freshwater and carry wastewater when your vehicle is not hooked up to city systems. Simply put, the water tanks are the ones that enable "dry camping" adventures, and they are usually the limiting factor when it comes to how long you can stay on your RV camping trip. The potable water tank has a hose inlet connection that allows you to fill it from a city water source, or to connect the RV for open-ended freshwater usage, such as a hookup site at a campground.
When connecting to fresh water, it's an excellent idea to use an RV water pressure regulator as excessive pressure can cause your plumbing to leak or even rupture. Even though most of the campgrounds tend to regulate their sites' water pressure, having one will make you have a safety mechanism just in case something goes wrong. The sole purpose of these water pressure regulators is to limit the water pressure going into the RV. The final step before the water is clean of bacteria and ready to use, is to filtrate it through specialized RV water filters. Afterward, it's safe to be using water from this source for drinking, cooking, cleaning, and bathing in your RV.
Plumbing Basics
When the water is finally on board in the vehicle, it will travel back out again in several ways. When you use the bathroom sink, for instance, or the shower, the contaminated water ends in the gray water holding tank. The gray water is dirty, as it's used water that contains soap, food particles, and other various contaminants, but not human waste. The different chemicals in the water can devastate local plant life, so we highly recommend avoiding dumping it on the ground.
On the other hand, the water you flush down the toilet goes straight to the black water holding tank, the ickier of the two wastewater supplies. This water always has to be dumped in a city sewer system which most developed campgrounds regularly offer. Even though dumping your tanks seems scary at first, it is a straightforward and mess-free procedure if you do it right.
5 Must-Have Plumbing Accessories
The plumbing accessories may vary depending on the vehicle's specific size and set-up. Nonetheless, many of the plumbing accessories you will need for your RV are pretty much the same that you use in your household water system. However, in most cases, the RV plumbing system is composed of PVC as opposed to metal, so make sure you acquire specific RV parts if you need to replace something.
Water Pressure Regulator
In most cases, the plumbing systems are built to bear water pressure of 40-60 PSI. If the pressure is higher, there is a severe risk of leaks in piping and connection. This comes especially handy when using city water, as it's highly pressurized and often exceeds 60 PSI. Because of this, you should always travel with your RV water pressure regulator. The regulator goes directly into the potable water hose between the city water connection and your hose.
Potable Drinking Water Hose
As the freshwater tank supplies the sink, shower, and toilet, never fill your freshwater tank without a food-safe potable drinking water hose. It's for the best to travel with one or more tubes totaling 25 feet in length because you never know how distant your RV will be parked from the city water connection. To keep your hose clean and neat, always store it by screwing both ends and never using your hose for anything other than potable water.
Cleanout Hose
As we've just mentioned, you never want to use your clean water hose other than for freshwater. That means you will need another hose just for washing the gray and black tanks, cleaning out the sewer hose, and altogether keeping your RV clean. Make sure that you buy the cleanout hose in another color or with a different design so you can tell them apart.
Sewer Hose Kit
The sewer hose kit and connections will assist you with dumping your black water tank. It would help if you always hit the road with both a 10-foot and 20-foot hose with fittings. Be sure to get one with thick sidewalls and tight connections so you won't spring a leak.
RV Water Filters
As you move campground to campground, state to state, you can never know for sure how good the water supply is going to be. For the sake of drinking decent quality and clean water from your faucets, use water filter cartridges as they are the most effective way to remove particulate matter from the water. They also protect down-stream filters and the whole plumbing system from premature failure.
Final Thought
RV plumbing is a bit more complicated than plumbing in regular homes. Try to learn the basics and be more hands-on about it, as you have to take measures to protect your system against irregularities that occur every once in a while. Fortunately enough, with a little bit of knowledge and the right plumbing accessories, you will be able to take exceptional care of your RV.