Do you want to start the "Android Tutorial" channel on YouTube by recording or just want to record the Android screen to get the job done? With a series of apps in the Play Store, you can also easily record the screen of your device directly without using a camera or external computer. These apps are also available in free versions from a reliable app firm.
We have actually already seen how you can record Android screens from PC using third-party software. But if you have no special needs, below you will find a list of the best screen recorder apps for Android. These apps offer all kinds of features you could want: from magic buttons that automatically adjust your videos to video game recording, to very high frame rate recordings and screen and audio recordings at the same time.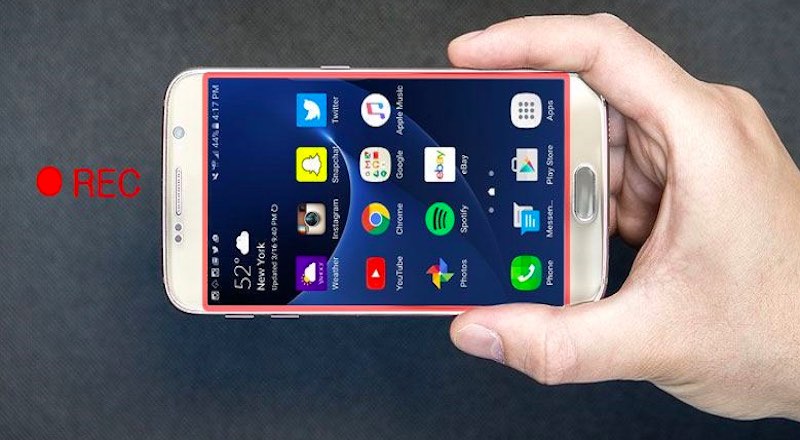 1. AZ Screen Recorder
AZ Screen Recorder is a high quality, smooth screen recording app. This application has a lot of features, such as screen capture, screen recording, screen live streaming, etc.
In addition, AZ Screen Recorder also provides you with the most convenient tools for recording instructional videos, recording calls, recording game screens, recording live shows, and recording videos that cannot be downloaded. From Android 10, this application supports the recording screen with sound in the device. If you want to record instructional videos or record in-game screen with game audio, then this is the best app for you.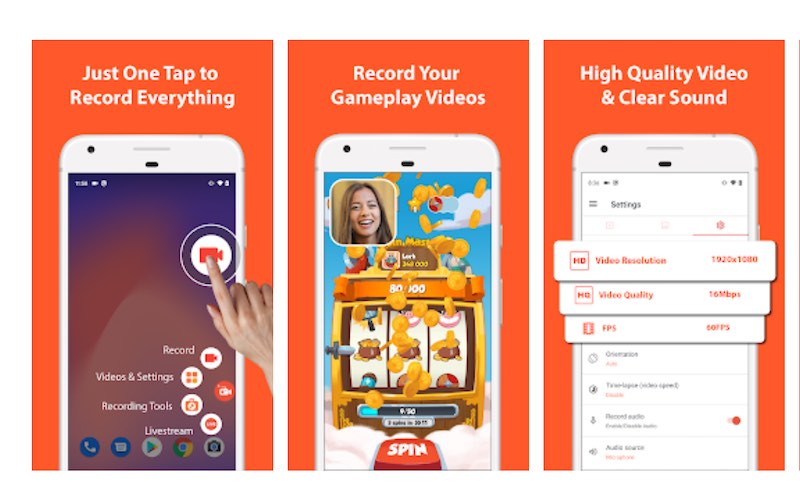 2. Mobizen Screen Recorder
Mobizen Screen Recorder is a screen recording software available on both Android and iOS platforms. This application supports users to record activities on the phone screen with high quality.
It also has a number of tools to enhance videos after you have recorded them, such as adding background music and the option to record yourself while making intro videos. It is especially useful for games and allows you to record your sessions at the same time as recording your face.
3. Lollipop Screen Recorder
This screen recorder was designed to serve users of Android Lollipop (version 5.0). However, the app is also available and works perfectly on outdated phones or older versions of the operating system.
In large part, the preference they have among users is given by the number of options made possible by the app, which include free screen recorder without root and still lets you record live broadcasts by merging the screen recording with the use of the cell phone's front camera. If it is not live, the user can still pause and cut the video at any time with simple commands.
Among its features, it is possible to choose the video resolution, which ranges from 480 to 1080p high resolution. Such a feature is what justifies the popularity of this application to record the cell phone screen.
4. RecMe Free Screen Recorder
RecMe is one of the few apps that allow you to record the Android screen with internal audio. But if your phone is not rooted, you can't take advantage of the internal audio function, but you still have a lot to play on the front of the screen recording, setting a video quality up to 60fps 1080p, a front / rear camera overlay (for users professionals) and microphone recording.
The user interface is nice and intuitive: the design makes it look like it could be an "official" screen recording app built into the phone.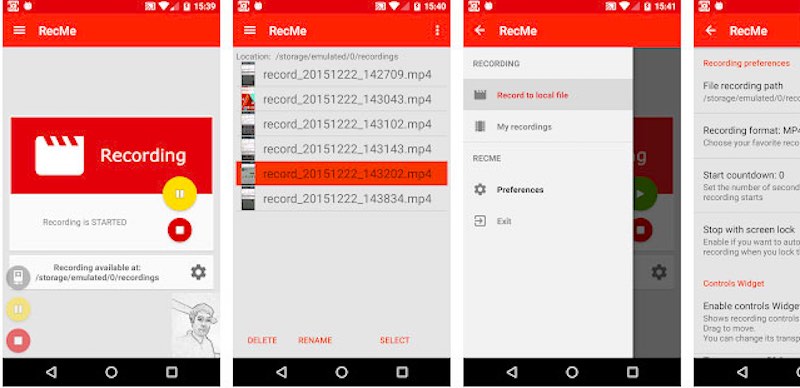 5. MNML Screen Recorder
The MNML Screen Recorder works only on Android phones. However, this audience does not leave anything to be desired. In addition to not having any type of watermark even in the free version, it also allows users to record video and audio using their cell phone. The software also has resources for more experienced editors, such as the use of subtitles and video editing.
Even though it is completely free, the way to finance this high-quality application is through collective financing. Whoever wants can donate a sum of money to the developers to guarantee improvements in the system.
Are you using a phone with Android operating system? Do you want to capture the most realistic and vivid moments in your phone to share with friends? Don't miss the screen recorders listed above with super simple system sounds. Let's get started now!