Whatever type of drill bit you will be using on a metal, it must be extremely sharp and able to withstand heavy-duty use. Your normal home repair drill bits cannot cut through hardened metals, so you will need to get specified drill bits to carry out the operation.
Basically there are two types of drill bits you can use for metals.
1. Titanium drill bits
2. Cobalt drill bits
Titanium drill bit is a high-speed steel (HSS) drill bit used for metals that are soft and mildly tough. They can work under high temperatures due to the titanium nitride coating on the surface. This acts as a lubricant for the drill bit and makes it last longer. It is also pocket friendly and not expensive for the purpose it serves.
The major constraint with this drill bit is that it cannot be sharpened and once it is worn out you might have to replace it to continue getting the best service and value. Thankfully it doesn't get blunt and worn out easily.
It is best practice not to use this drill bit with excessively tough metals because the coating on the drill bit wears off rapidly when used with such materials. Without the titanium nitride coating, it loses its efficiency and the property that makes it special.
Cobalt drill bit is a hard drill bit crafted to deal with jobs at super high temperatures. It is specifically designed for hard metals and can withstand the frictional forces that occurs when working on hard metals. It is an alloy of steel with about 8% cobalt. The cobalt adds more strength and durability to the bit.
The major constraint with cobalt drill bit is that it is really expensive and incase of damages takes a huge chunk of money from one's budget. It goes without saying that it is extremely durable and can be reused as it can be easily sharpened.
Note that to enjoy your cobalt bit longevity, you need to get the required sharpener for it.
There are other types drill bits that can work on soft metals like the step bit and twisted drill bits.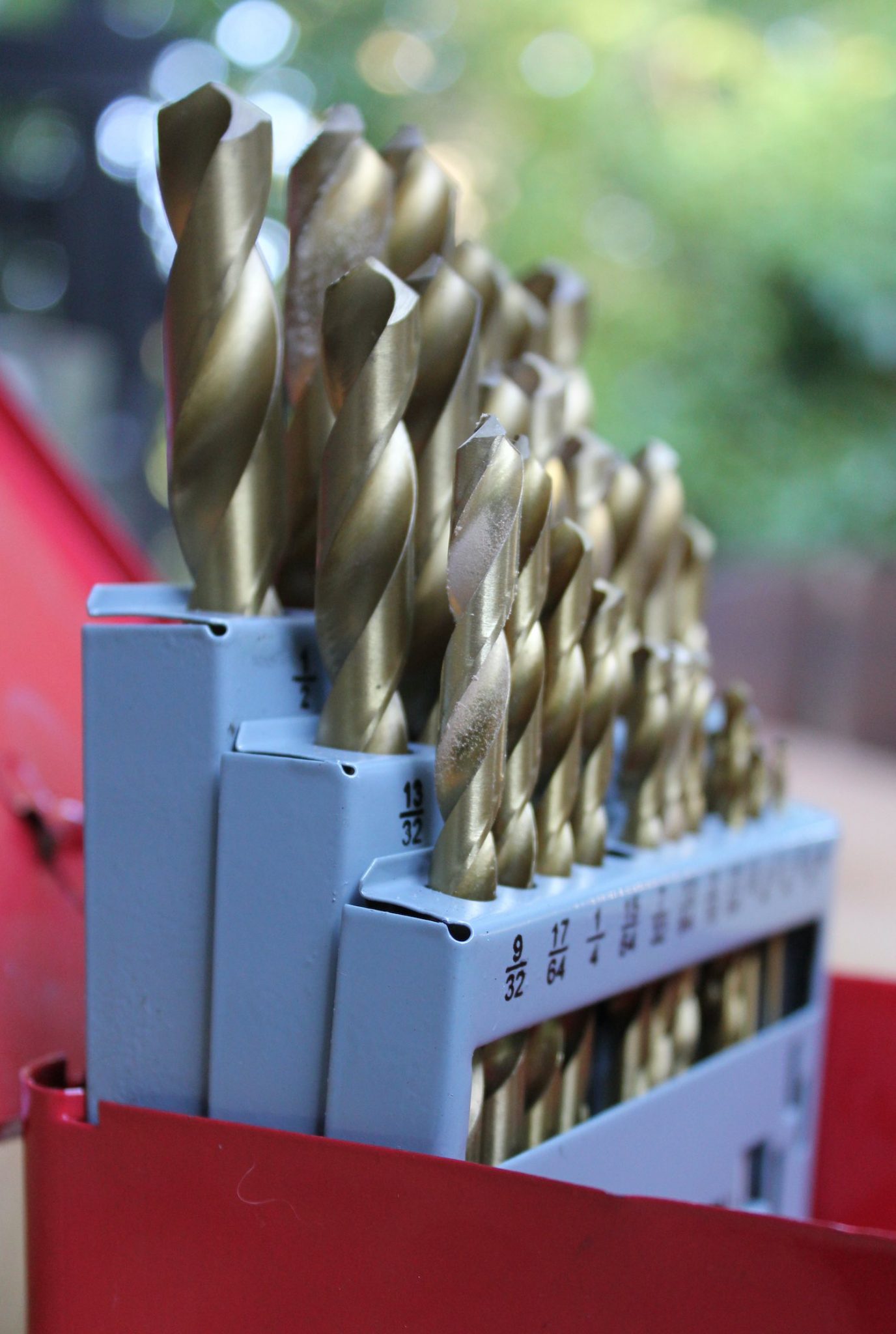 Criteria for choosing a drill bit for metalwork.
• The type of material to be worked on i.e the strength
• The size of hole to be drilled i.e the diameter and depth.
To make things easy for you, we've helped you selected 4 of the popular and highly rated drill bits available in the market, which are reviewed below.
Popular and highly rated drill bits.
Dewalt DW1354 drill bit set – Best for Drilling Metal Sheets
It is a carefully designed high-speed steel bit that is coated with titanium nitride. It works withsoft and mildly tough metals with a roaring efficiency. The package comes with a well organized 14 pieces of bits of varying sizes. The sizes ranges from 1/6 inch to ½ inch arranged in the kit in graduating size difference. The bit and the drill are tightly held together by its special shank and the bits only starts after making contact with the workpiece.
Hymnorq metric is a HSS drill bit that is designed to seamlessly cut hard metals like stainless steel and cast iron. It is a combination of molybdenum, cobalt alloy and High-speed steel. The package has 13 bits of varying sizes each having an extremely sharp cut edge which enhances its focus and prevents it from skidding on the surface of the workpiece.
This is another HSS drill bit mostly used for professional use. It has 130 pieces of well arranged titanium coated drill bits. The package is well structured and organized with each compartment have a unique label for ease of identification. It is an Industrial drill bit with a high coverage area and can be used on plastic, glass and some other notable materials.
Neiko 10193A Titanium Step Drill Bit Set – Best for Drilling All Type of Holes
This is a unique and classy tool. It is a dynamic drill bit with graduated steps which allows each bit to drill holes of varying sizes. It has 3 bits which gives the possibility of twenty-eight sizes of cleanly drilled holes. It is relatively inexpensive compared to its characteristics, and it is one of the most durable and efficient drill bits you can get.
There are lots of products that are highly efficient depending on your needs and pocket size. As well as many benefits in transitioning from metal drilling to concrete drilling, and you can learn how to drill into concrete if you follow the tutorial.