So, you want to create the perfect home theater using your basement as your movie-watching space. The only problem? You have zero ideas on where to start or how you can create the home theater of your dreams.
Well, creating a basement home theater isn't as complicated a project as you may think. And as long as you avoid a few common mistakes, you should be more than happy with your results upon completion.
In this article, we'll break down what makes a great basement home theater, including what you need to do, what you need to buy, and even what order to do everything in.
Now then, let's get started!
Choose the Right Flooring Material
When it comes to building a home theater in your basement, figuring out where to start can often be the hardest part. And starting with the wrong task can set you up for failure, which isn't what you want.
So, before you start trying to figure out where you want to mount a projector, you first need to get your flooring installed. Doing this first also allows you to avoid worrying about moving items, like chairs and tables, out of your room later so you can lay down flooring.
What type of flooring works best for a home theater? Well, if you can, try to go for a thick, dark-colored carpet.
Black works best, as it helps make your room darker during movie time, but it is a bit of a hassle to keep clean. Keeping a vacuum cleaner in your basement is a good idea, especially if you plan to have snacks available during your showings.
Invest in Proper Sound Proofing Materials
Once you have your flooring taken care of, it's time to focus on other structural areas like your walls and ceiling. Again, having your room finished before you start moving in furniture and electronics can save you from a ton of headaches down the line.
So what exactly do you need to do to your walls in order to make them suitable for a home theater? Well, if you're up for it, and your budget allows it, consider tearing them down and installing new insulation and soundproofing.
If your home is newer, or you don't have the funds for this type of a project, soundproofing panels from Amazon work great, too. They'll also give your room a legit movie theater look, which is pretty awesome.
What about your ceiling? Well, those same soundproofing panels work great there, too. And you can find them in tons of colors, meaning you can add a bit of personality to your space.
Again, going with darker colors is a good idea, as it'll make blacking out the room for movies much easier. This is especially important if you're dealing with lots of natural light that can negatively affect your movie-watching experience during the day time.
Understand the Importance of Lighting
Speaking of lighting, when it comes to creating a movie theater-like experience in your home, lighting is the biggest piece of the puzzle. A room that isn't lit properly won't be as enjoyable, meaning the decisions you make involving lighting are crucial.
A few circular ceiling lights should be more than enough to light your room when you're not watching movies. Installing dimmer switches is also an easy-to-do task that can help take your home theater to the next level. If you are kin to lighting effects finding wall mounted lights could probably satisfy your eyes in giving more accent and layered lighting to your home theater.
Colored LED lights are also quite popular and for good reason. They can add a bit of atmosphere to your space as well as allow you to customize and create a unique room that fits your style. You can also add neon lighting or design your own neon sign and place it on the wall to bring up the mood and add glow in the room.
Want to take things to the next level? Consider installing LED lights on the floor around your seating. Not only will it make your room more like a legit theater, but it'll keep you and your guests safer, too.
Also, linking these LEDs to a home theater lighting control system can allow you to control the way your room looks from the comfort of your own chair, which is convenient.
Choose the Right Projector for You
Once you have your room set up, it's time to get to the fun part: projectors. Depending on your budget, a few different options should be available for you.
With this in mind, we recommend that you don't cut corners on your projector, even if that means saving up for a bit longer before starting your project. Simply put, you won't be happy with a cheaper, older model, especially if you're dedicating an entire space in your home to your theater.
There are a few different projector options that are available. Depending on your setup, some may work better for you than others. Check out the best projector under 1000.
Short throw projectors sit low on the ground, right below your screen and don't need to be mounted in your ceiling. So if you're looking to set up a small entertainment center below your screen, consider purchasing a short throw projector.
If you want a more traditional setup, a long throw projector is what you're looking for. These tend to be a bit harder to set up, but are usually cheaper than short throw projectors, especially when comparing similar models.
There are HD, 4K, and even 3D projectors available on the market today. So take a second to decide how you plan to use your projector before making a purchase.
Don't Forget About Projector Screens
If you don't know a lot about home theater setups, you may be wondering if you need a projector screen or not. After all, that's another few hundred bucks that you can spend somewhere else if it's not worth the money.
Well, to put things bluntly, projector screens are absolutely worth the money.
A nice projector screen will make your picture quality much clearer, especially during the daytime viewings. They also add a lot to the overall look of your room, which is a nice bonus.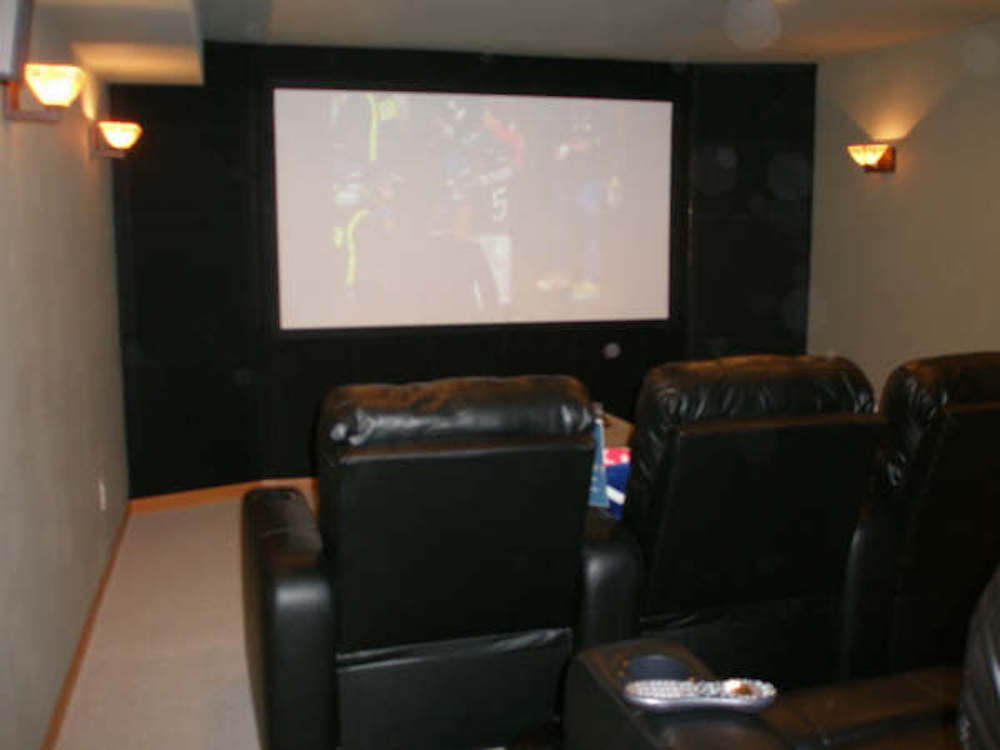 Don't have the wall space to mount a projector screen? No problem! A nice pulldown projector works great, too, and gives you the option to hide it away if you're not using it.
Also, projector screen wall paint might seem like a good idea and a cheap solution to your projector screen needs. While it may work as a temporary solution while you save for a screen, you won't get the same results you'll find with even a cheap screen.
Don't Go Overboard on Sound
If there's one area where you can accidentally overspend or purchase too much gear, it's sound.
After all, you're adding sound to one room in your house.  And unless you have a basement big enough to fit a few dozen people, you don't need a crazy sound system to get good results. Also, a setup that is too loud can cause permanent ear damage when turned up too high, which of course isn't a good thing.
A pro tip? Purchase a quality soundbar and see how it works for you in your setup. You may be surprised to find out that one soundbar is all you need to get good results.
And if you don't like the soundbar, simply return it and get your money back or store credit you can use to purchase a different sound system.
Go Comfortable with Your Seating
Next to spending too much money on sound, a big mistake that people make when setting up their theater revolves around seating. More specifically, people go for aesthetics over comfort, making long movie sessions uncomfortable.
It's possible to find comfortable chairs with cupholders that aren't too pricey. With that being said, you can't beat a few couches or sectionals, especially if you want to lay down when watching your favorite flicks.
Have Fun With Your Wall Decor
Last but not least, be sure to have plenty of fun with your wall decor. This is without a doubt one of the most exciting things to plan and shop for, so pick a theme and be as creative as you possibly can.
Not sure what kind of decor you want for your theater walls? Classic movie posters are quite popular and can really tie your entire room together.
Wall sconces are a great way to get more lighting while adding some flair to your room. And if you're dealing with windows and natural light from the windows, a few blackout curtains are a great investment.
A Guide to Creating Your Dream Basement Home Theater
Well, there you have it! A guide to creating the basement home theater of your dreams! So, as long as you keep these ideas in mind, you should be more than happy with your results!
Remember, take your time during the early planning process. Don't rush into any decisions, or purchases, and make sure you have a good outline to follow before you start tearing down any walls.
Looking for more ways to make the most out of your home? Check out our blog!