Spring is approaching, and there's no better time to update your storefront with fresh content! One easy way to do this is to upload Shoppable Photos. Now with the opportunity for earning Onsite Commissions, your Shoppable content and product recommendations can be selected to appear to customers as they search and browse Amazon for products and services. You will earn onsite rates when Amazon displays your published content (e.g., Idea Lists, photos, videos, and livestreams where applicable) on Amazon and customers click on your content and make a qualifying purchase.
Did you know that by uploading Shoppable photos with tagged products in Women's Fashionor Home Décor & Furnishings, you have the opportunity to be featured on #FoundItOnAmazon?!
Where do Amazon customers see #FoundtItOnAmazon?
Customers can discover #FoundItOnAmazon under the search bar on Desktop, in the Programs & Features menu, by searching on Amazon, and in other placements on the Amazon Homepage and product detail pages. By having your content featured on #FoundItOnAmazon, new customers can see your product recommendations and make purchases that can earn you more commissions and lead to new followers!
Get started and be seen on #FoundItOnAmazon! 
For an opportunity to be featured on #FoundItOnAmazon, upload Shoppable Photos to your storefront that show off your outfits or home styling, with captions that share the inspiration and stories behind them. Uncover best practices and content examples for the experience here.
Shoppable Photo Examples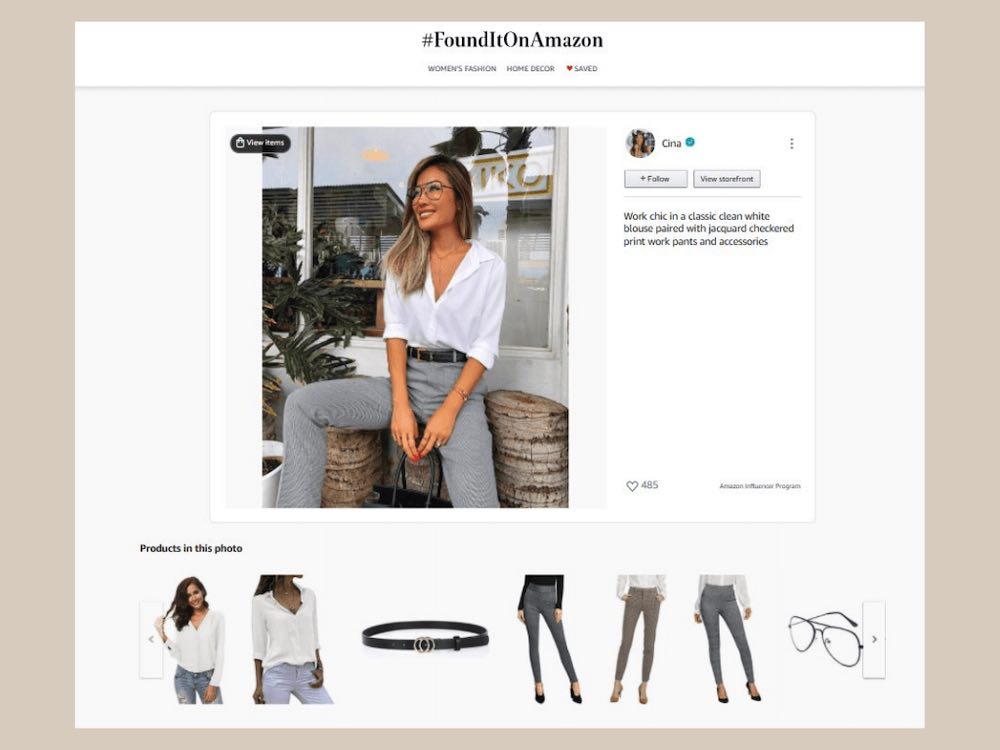 Why we like this: The photo is high quality in composition, lighting, and focus. The photo is aspirational (background is neat and tidy, the look is chic), and the Influencer has tagged all products in the photos or products that are visually similar. The caption captures the Influencer's style and personality – corporate chic!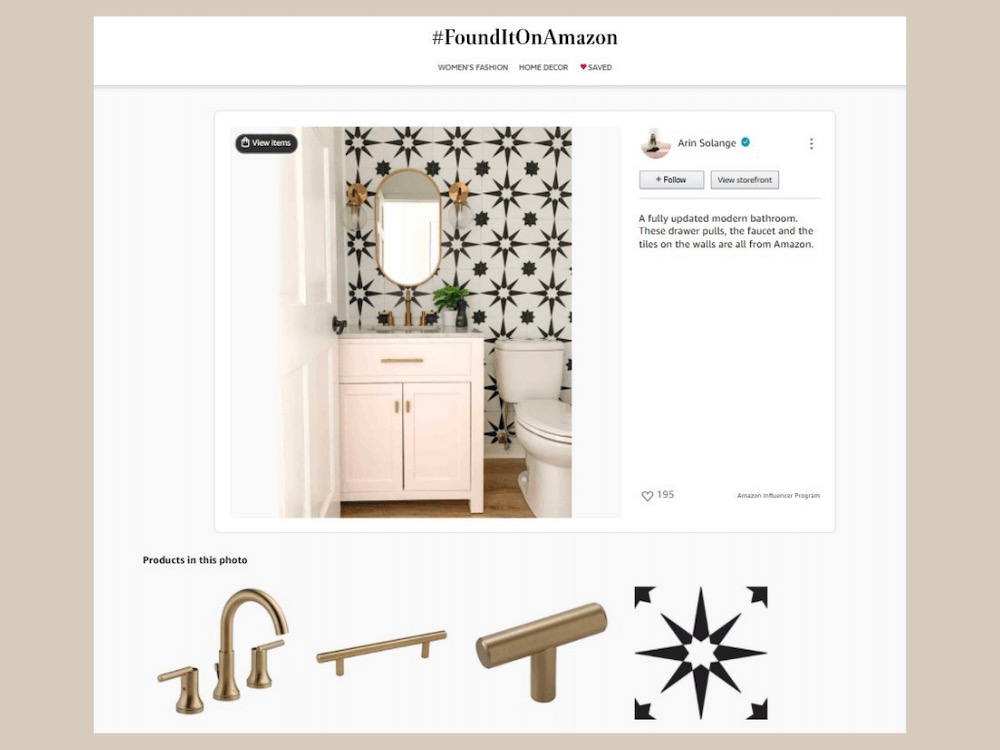 Why we like this: The photo is high quality in composition, lighting, and focus. The photo is aspirational (aesthetic and in product selection), and features and tags multiple products. The caption describes the Influencer's project – bathroom update!
Upcoming Event: NEW beauty livestreaming event on March 30th
Beauty Haul Live is a monthly, LIVE 4-hour beauty party on Amazon Live where customers can shop and discover the best beauty deals and product launches. Each month, 10 participating brands will offer exclusive discounts on beauty products so that influencers can feature live-only beauty promotions during their livestream – driving customer urgency to make purchases while tuning in. You can take advantage of this opportunity by livestreaming on March 30th between 3PM – 7PM PST / 6PM – 10PM EST using the Amazon Live Creator app.
Click here to download or open the Amazon Live Creator app. Check your notifications (under settings) to get access to participating beauty promo codes you can share during your livestream!
For questions, visit our Beauty Haul Live FAQs.