The recent May Bank Holiday saw temperatures soar to 27C across the UK, making it the highest in a century. In addition, a pollen forecaster warned last month that the UK was experiencing the highest pollen counts in 70 years, due to a delay in trees' pollen release. At this time of lockdown, with WFH – (working from home) – becoming the #NewNormal, we need to be able to stay cool, improve air quality and reduce allergens, but in a quiet way that doesn't disrupt our work focus or interfere with our mood.
Studies show that workers can be up to 66% less productive when exposed to just one nearby conversation and a British Journal of Psychology study found that whether reading or writing, background noise is a productivity killer. In the list below, we share 10 quiet fans, air circulators and purifiers, to suit a range of room sizes and desktops. And because they are Quiet Mark Awarded, you know that they are one of the quietest available on the market.
MeacoFan 1056 Air Circulator​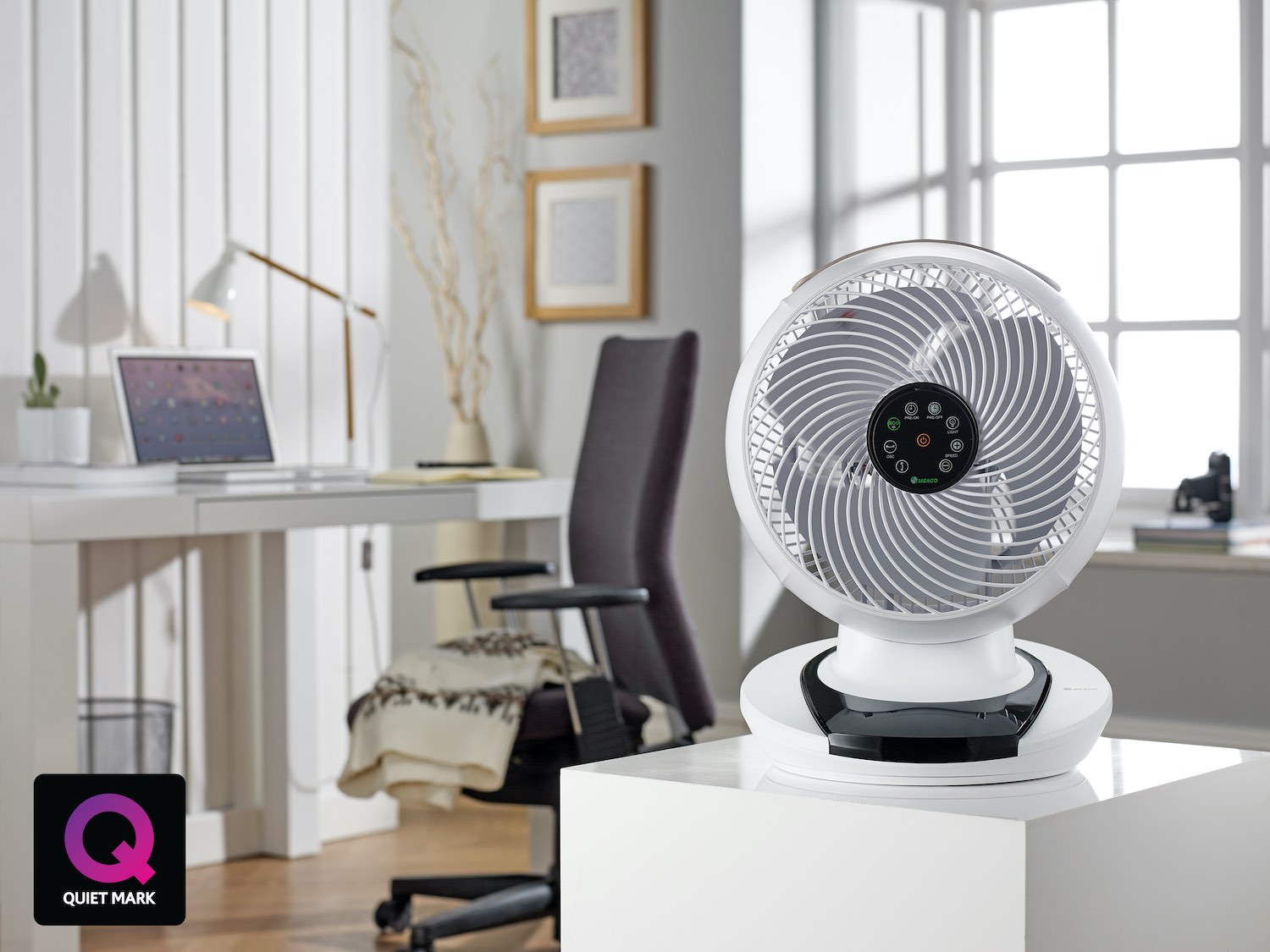 The MeacoFan combines market leading DC technology with a large airflow giving you a quiet, low energy fan that moves a large amount of air to keep you cool all summer long. With its multi directional oscillation it can move the air around the room bouncing the air off walls and ceilings keeping everyone in the room cool and not just those in the direct flow of the fan's air.
If you want a quiet fan for the bedroom to help you sleep at night, a timer function gives you the option to programme when the fan will turn itself off so you don't wake up cold in the middle of the night.
The DC technology has three major benefits: low noise level, low running costs and a longer lifespan.
Dyson Pure Cool Me™ Purifying Fan
The Dyson Pure Cool Me™ is Dyson's first purifying fan for personal use. It cools you with a stream of purified air, not dirty air. Engineered to help improve your air quality, it projects cooling, filtered air – wherever you need it.
The machine's sealed filter combines an activated carbon and glass HEPA layer. Together, they capture gases and 99.97% of pollutants and allergens as small as 0.3 microns from the air.
Precisely control your airflow. By adjusting the dome's position, you can angle the flow higher or lower.
NSAuk TFRDC-50RC Rechargeable Column Fan
This elegant Rechargeable Tower Fan w. DC Motor & Remote Control is ideal for any location – home or office. It combines stylish good looks with exceptional cooling performance, quiet operation and is packed with useful features. The revolutionary rechargeable feature is when this fan comes into its own by allowing the ultimate in versatility.
The intelligent timer feature allows you to program 'Time ON' & 'Time OFF' and speed of air flow is easily controlled by a swirl dial on the top of the fan. Aroma oils can be used via the aroma box where drops of essential oils can be added to the lint drawer for a subtle, delicate aroma.
GeoSmartPro AirGo Smart Fan
GeoSmartPro has launched with a product that has been around for decades, making us all cooler and our homes fresh during the hot summer months, the fan. The transition is a smooth one, still enjoying the same functions that we're used to, except we've gone a step further and turned it into a fantastic app and voice-enabled fan, called AirGo.
This smart fan can be controlled via your GeoSmartPro app from anywhere, allowing you to benefit from all its fantastic features, namely the Timer, Schedule, Mode, App automation, Speed and Swing. AirGo is looking to fit seamlessly into people's lives, helping everyone from parents wanting an even and timed airflow for their children's night sleeps, as well as people wishing to set AirGo on from the comfort of their sofa.
Dyson Pure Cool Link™ TP02 Tower Purifier Fan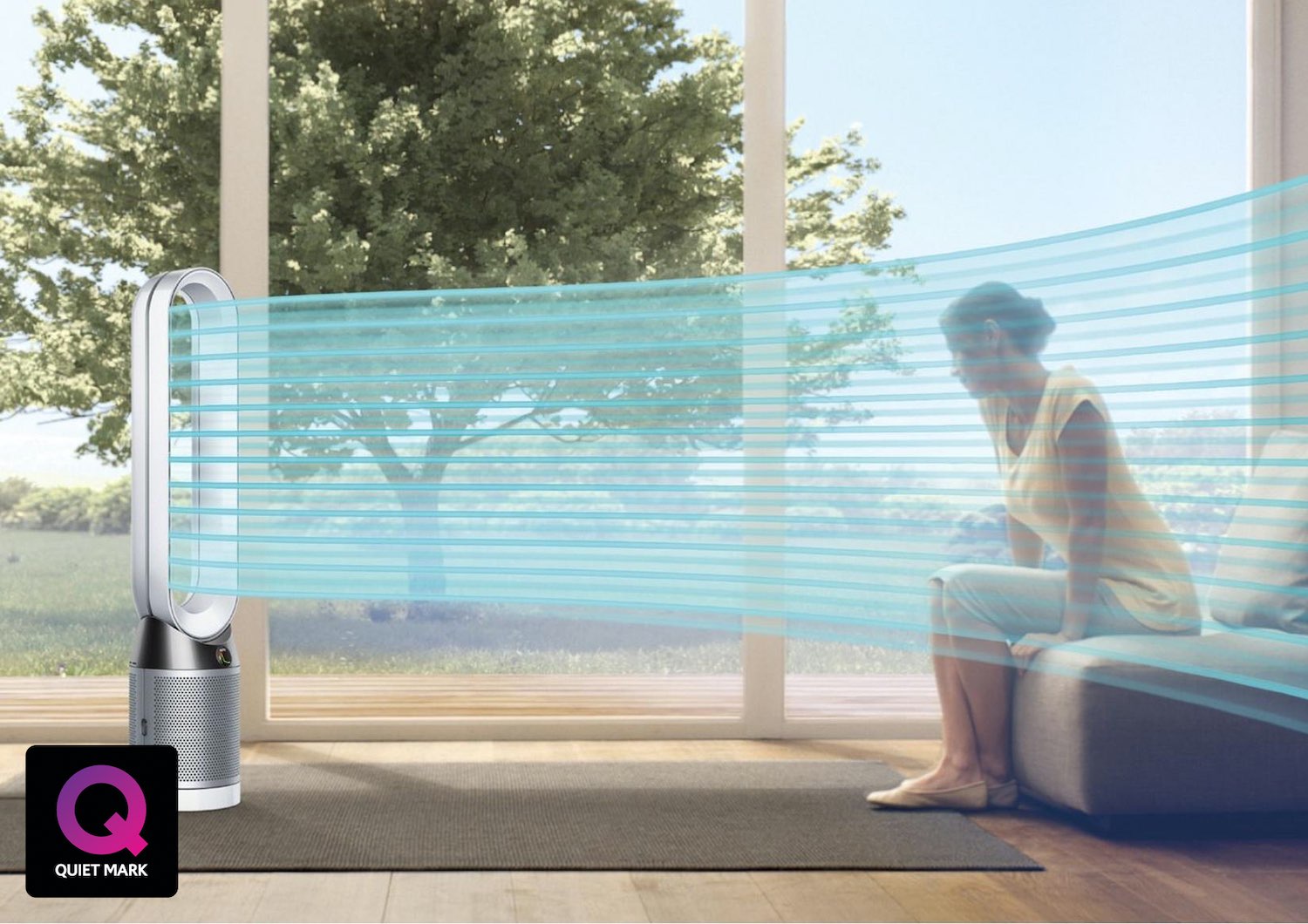 The Dyson Pure Cool Link™ Tower purifier fan has dual functionality.
As a purifier, it automatically removes 99.95% of allergens from the air. It monitors, reacts and reports air quality to your Dyson Link app – enabling you to remotely control your environment.
And as a fan, it projects and circulates cooling air throughout the room.
Dimplex DXRCF Rechargeable Cooling Fan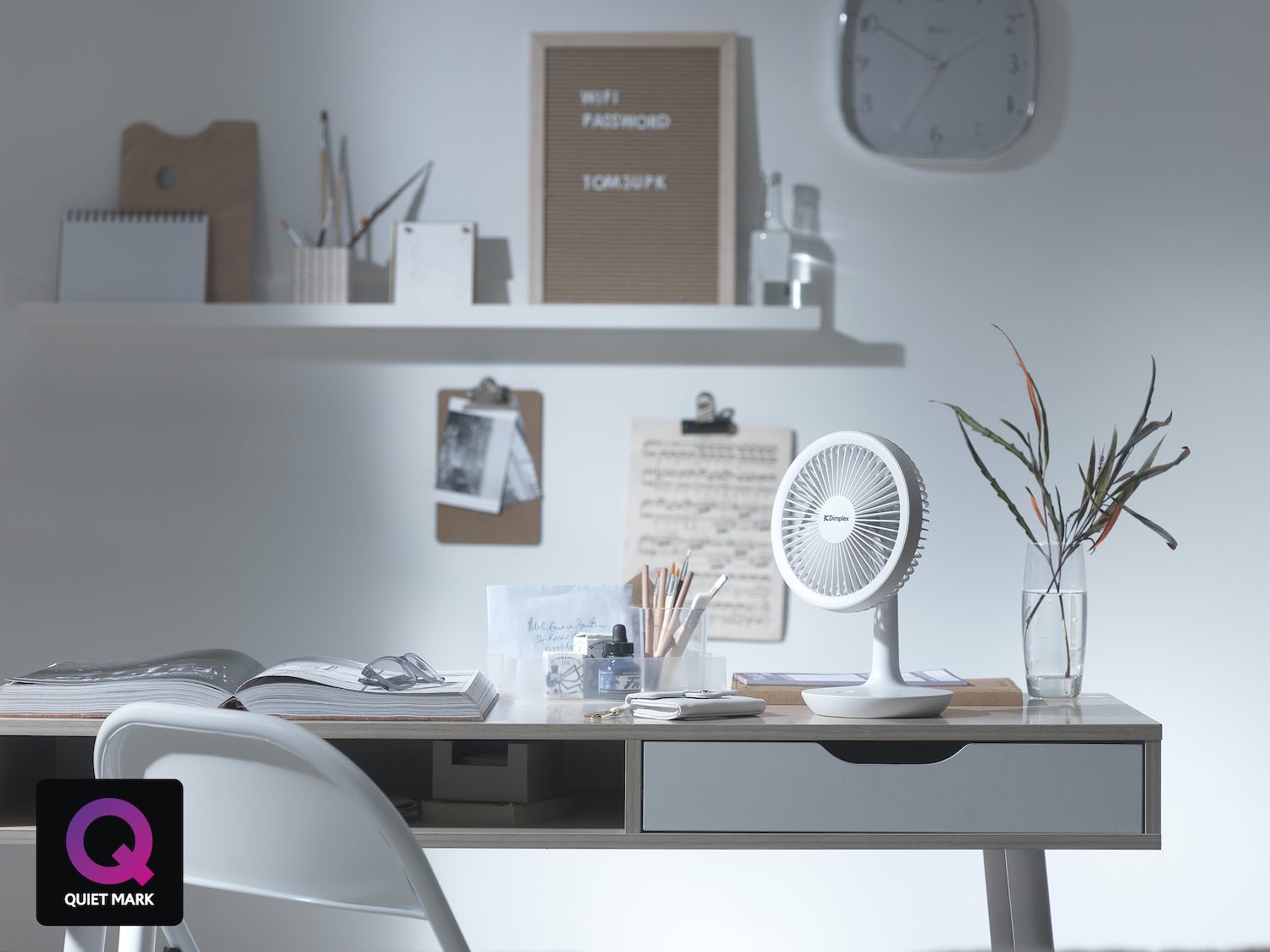 The highly portable Dimplex DXRCF 5" desk fan is compact, rechargeable and one of the quietest cooling fans on the market. It's stylish, simple design and white finish ensure it will look at home wherever you place it, be it the office or the bedroom, or even in the garden.
The 5-watt fan is charged through a USB port and includes a 1.5 metre charging cable. It can run for up to 15 hours (at the lowest speed setting) on a single charge. It has 4 speed settings, a 90 degree manually adjustable tilting head and an Air-Flow rate of 4.2 metres / second.
Blueair Blue Pure 411 Air Purifier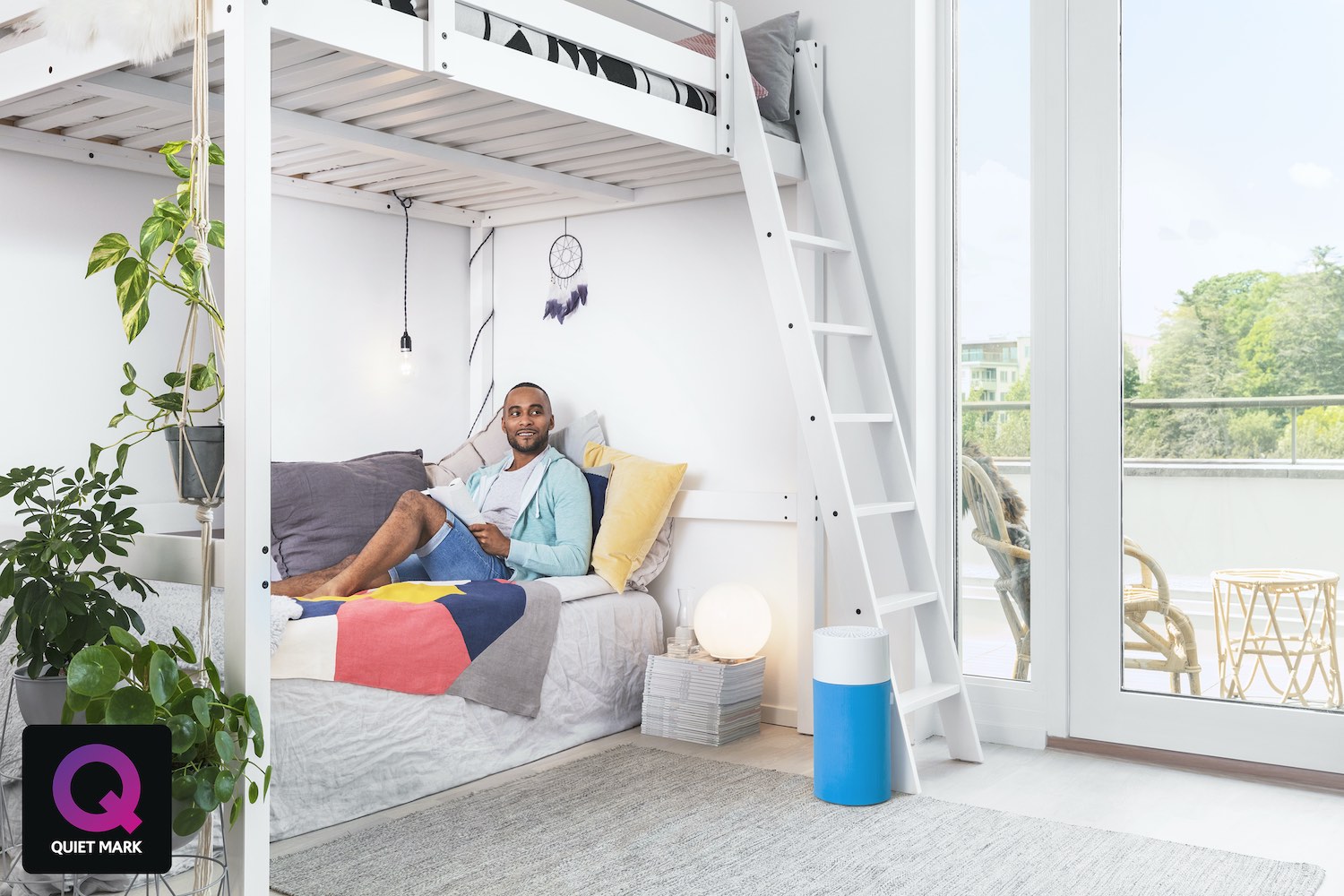 Blue Pure 411 is not only whisper silent and energy efficient, the one-button speed control makes it super easy to use. The entire bottom part of each air purifier consists of an advanced filter. Using both mechanical and electrostatic filtration, it catches virtually every airborne contaminant down to a virus in size: pollen, dust, pet dander, mould spores, smoke, allergens and bacteria.
Philips Series 3000i Air Purifier AC3033/30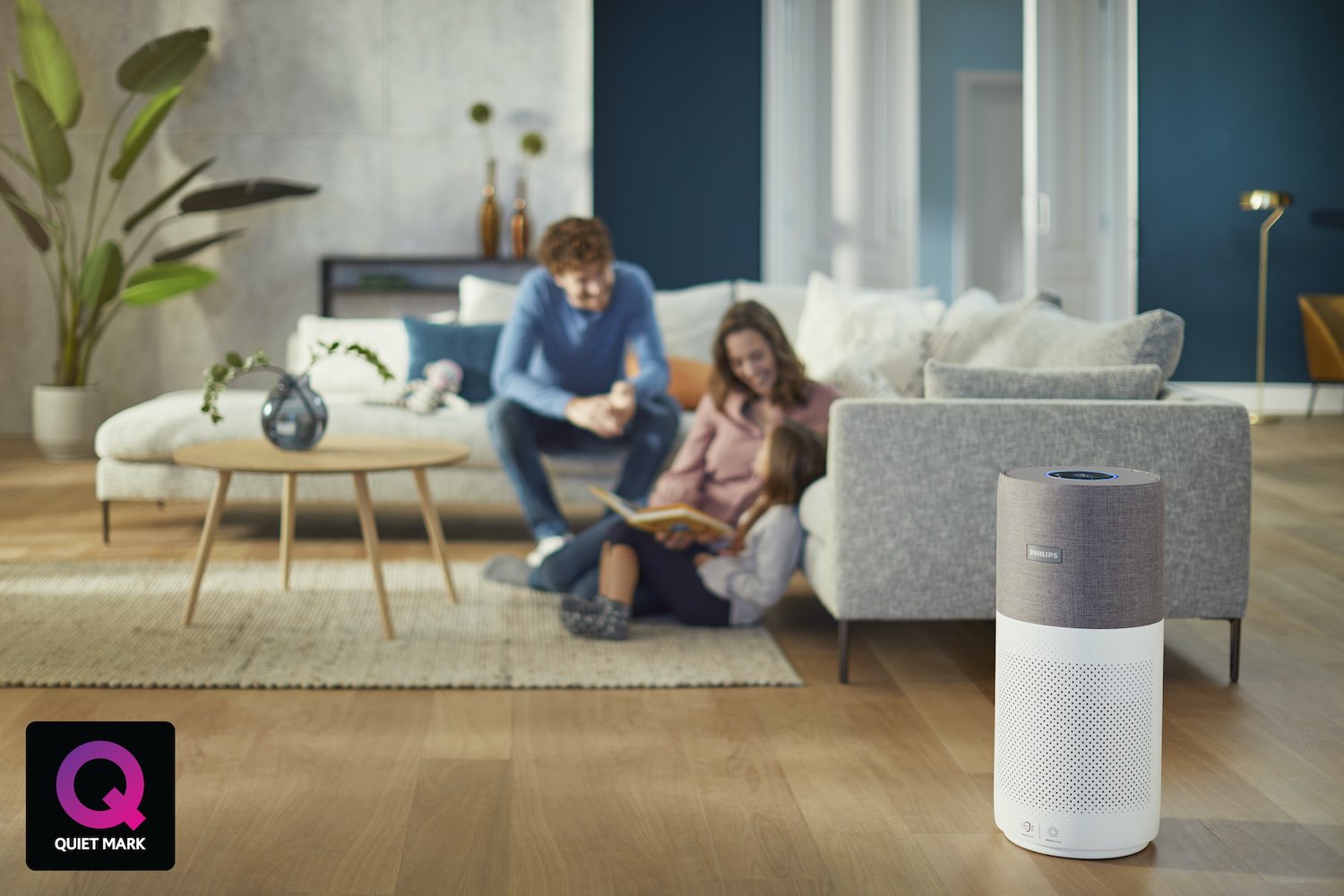 At just the touch of a button the Philips Series 3000i Air Purifier will continuously detect and remove pollutants from the air without you having to worry, ensuring you always have healthy clean air in your home. The high grade filters remove 99.97% of airborne allergens, pollen, fine dust, odours, fine particles and bacteria and the 360 degree airflow enables fast purification in large spaces – Purify the air in a room of 20m2 in less than 8 minutes, much faster than traditional ventilation methods.
In sleep mode, the display lights are dimmed and the purifier operates in near silence for undisturbed sleep.
The intuitive digital display easily shows your indoor air quality in real time but by also connecting to Philips Clean Home+ app you can monitor your air quality and adjust the purifier settings wherever you are. Intelligent purification – its professional grade air quality sensor automatically monitors, reacts & purifiers air so you don't have to lift a finger.
Blueair Classic 200 Series Air Purifier
The Blueair Classic 205 and 280i air purifiers use Blueair HEPASilent™ technology to remove virtually all airborne pollutants. Using the best in electrostatic and mechanical filtration, the HEPASilent™ technology is a revolutionary combination of advanced filter media and an encapsulated particle-charging chamber.
The Blueair Classic 205 is lightweight and easy to move around your home. With its compact fan design and huge filter surface, it delivers solid performance, freeing your home of allergy and asthma triggers.
The Blueair Classic 280i is Wi-Fi enabled and comes with integrated air quality sensors. The result? This quiet, highly efficient air purifier gives you more control over your air quality at home.
Vent-Axia Lo-Carbon Svara Extractor Fan
The launch of Svara marks the next generation of unitary fans. Consumers will be attracted to Svara's good looks with its sleek modern design, plus with noise a key issue for consumers, households will also be impressed by Svara's quiet running.
For electricians, installation is made simple through Svara's Bluetooth-enabled App allowing you to choose whether to opt for intermittent or continuous ventilation; whether you would like the humidistat to trigger operation or not; and whether the overrun timer is required. No more fiddly switches and jumpers!
The 10 fans and purifiers shown here are just a small selection of the many Quiet Mark awarded, air related products. A complete list of which can be found here.
For the building sector, you can source the best, quietest fans, purifiers and vents via our new Acoustics Academy, a new online platform to further equip and empower architects, builders and designers with a guide to expertly verified leading acoustic solutions for every building application area.
You can find all the products on Amazon UK website readily available for ordering.