Dubai has a reputation for being a safe and secure location for people of all religions, cultures, ethnicities, and races. Because of recent government changes and revised immigration restrictions, the Emirate now offers numerous options to relocate and start a business or obtain a well-paying job.
With thousands of tourists visiting this Arab metropolis each year, Dubai, the world's entertainment capital, needs no introduction! Dubai is synonymous with grandeur and a pretentious lifestyle, with ultra-modern buildings, exotic and active nightlife, and breathtaking bird's-eye views of the beautiful skylines. This means that you will be spoiled for choice when it comes to tourist attractions in Dubai during your future Dubai holiday.
We have compiled a list of 10 hottest tourist places to visit in Dubai. Lets have a look!
1. Ferrari World
The Ferrari World is not a car exhibit, but rather the polar opposite. Ferrari World is the largest amusement park in all of Abu Dhabi. It was established in 2010 and has since attracted a big number of tourists over the years. The building is designed to suit and attend to everyone's needs, from 8 to 80 years old. Aside from riding a Ferrari, you may also go shopping and dine at small eateries serving local favorites. It is without a doubt one of the nicest spots to see in Dubai.
2. Kite Beach
Kite Beach is not just a popular tourist destination in Dubai, but it is also popular among locals. It is located near the Al Manara Road intersection, and the name of the beach describes the types of activities available nearby. The variety of water sports, as well as kitesurfing, make up for the great activities that the majority of tourists enjoy all year. The beautiful white smoothness of the soft sand will undoubtedly please your heart and soul. The Burj-Al-Arab is readily seen from there.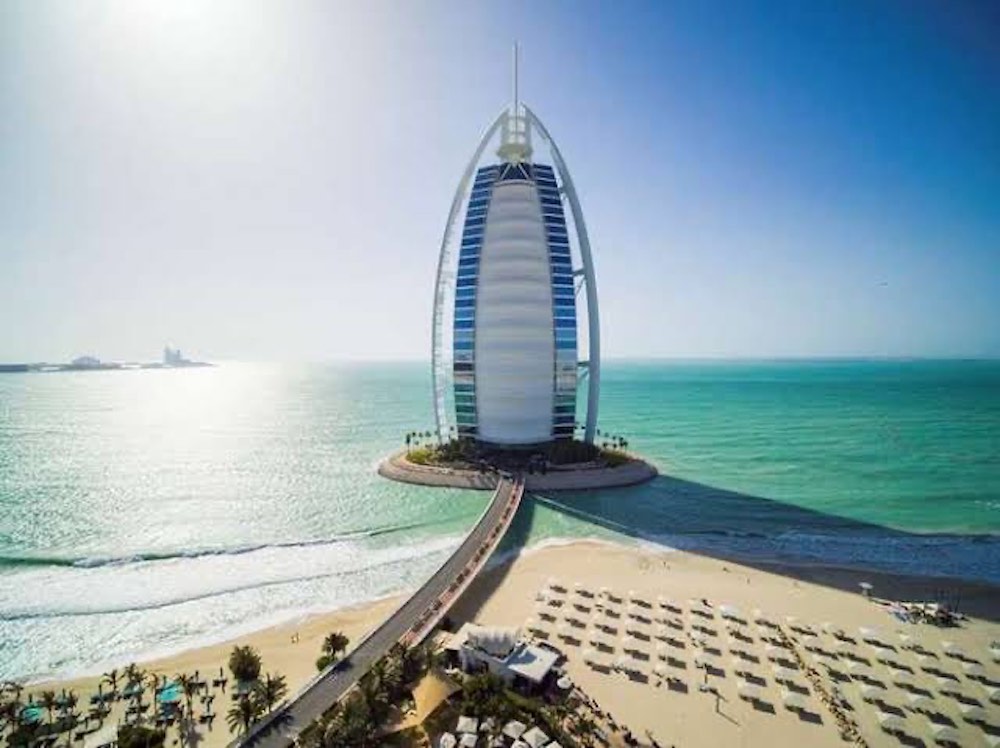 3. Grand Mosque
When it comes to popular places in Dubai, visiting the Grand Mosque is an absolute must. It is one of the world's largest mosques, and its stunning architectural components keep visitors captivated. It has 82 vaults, and the 24-carat gold overlay fixtures further add to the opulence of the setting. It also boasts the world's largest hand knotted cover, which adds to the excitement. Spend some time by the pool staring at the mosque, and you won't be disappointed with the experience.
4. Museum Of The Future
This 'living museum,' one of the city's most iconic buildings, explores how society can evolve in the next decades by mixing aspects of traditional exposition, immersive theater, and themed attractions. Look beyond the present to the unlimited possibilities of the future in a variety of industries, including space exploration, climate change, and ecology. In Dubai, you may discover the world's best ideas, prototypes, and creations.
5. Dubai Dolphinarium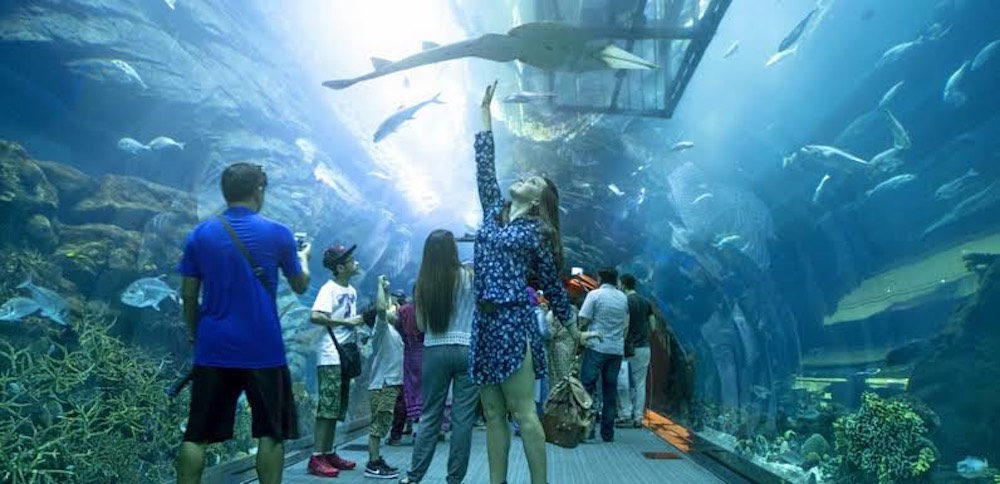 The Dubai Dolphinarium is one of the most popular Dubai attractions, located near Creekside Park in Dubai. It is regarded as one of the best tourist amusement venues, containing fish farms and coral reef tanks. This particular sightseeing destination is more than simply a must-see; it was built with the intention of educating people about the critical need for dolphin conservation around the world. Not only do dolphins need to be protected, but so do other types of aquatic life.
6. IMG Worlds of Adventure
IMG Worlds of Adventure is a popular indoor amusement park with four separate adventure areas all in one location. That is what distinguishes it as one of the greatest in the neighborhood. They host some of the most well-known global companies, like Cartoon Network and Marvel. Aside from that, you can explore the IMG Boulevard and the Lost Valley Dinosaur Adventure Zone, both of which have excellent original themes.
7. The Palm Islands
If you've heard about manmade islands but have never seen one, you must visit The Palm Islands. The Palm Islands are a grouping of two distinct manmade islands located primarily in Palm Jumeirah and Palm Jebel Ali. While the island at Palm Jumeirah is finished and open to guests, the one in Jebel Ali is still under construction and hence cannot be visited. The islands are named from the shape they take. The majority of tourists and even ex-pats recommend viewing the islands from the air or from any of Dubai's prominent skyscrapers, such as the Observation Deck of the Burj Khalifa.
8. Bollywood Parks Dubai
If you love Bollywood movies, then visiting Bollywood Parks in Dubai is an absolute must. The location is well-known for having everything you could want when it comes to Bollywood culture, from rides to eateries. It is without a doubt one of the top Dubai tourist attractions. You can also enjoy live performances and even exhibit some of the most exciting activities in the area. The total complex covers an area of 1.7 million square feet. When it comes to spinning around in the worlds of fantastic Bollywood entertainment, this Bollywood theme park in Dubai is a definite must-visit.
9. Al Bastakia
If you want to learn about culture and history while in Dubai, Al Bastakia is an excellent place to start. This ruin-worthy village is a culture lover's dream, and if you're one of them, don't skip out on visiting it while you're there. The sandy lanes surrounding the area make your trip even more daring and memorable. The modern white mosque surrounding the area is a must-see, and if architecture and design interest you, you must stand and admire the decorations constructed with gypsum, coral, and limestone. The carved wooden doors contribute to the place's grand aura.
10. Hatta Dome Park
Set up camp at Hatta Dome Park for a wonderful night beneath the stars, a glamping experience that takes advantage of Hatta's mountainscape vistas and back-to-nature attitudes. There are 15 tents here, each constructed with sleek minimalism in mind, complete with panoramic windows, an own outdoor patio, and many of the hotel facilities. Hatta Wadi Hub, a hub of exhilarating outdoor adventures, is just a short walk away, so you and your tribe may amp up the adrenaline or, if you prefer, simply light up your own private barbeque and fire pit and enjoy a dinner in the sunshine.Luxury Villas in Dubai
Apart from renowned monuments, sky-touching constructions, and an abundance of attractions, the luxurious Emirate is also known for Dubai villas for sale. These detached and semi-detached villas and apartments for sale in Dubai include a unique set of amenities and features and are available in a variety of neighborhoods throughout the Emirate.
Dubai villas for sale are widely regarded as the most opulent and expensive residential properties. They are currently in high demand among investors and purchasers, making them ideal whether you're seeking for a place to call home or a way to generate a high ROI. Luxury villas for sale in Dubai come in a variety of styles and layouts, including 2, 3, 4, 5, and 6-bedrooms, making them ideal for families. They are offered in contemporary, Spanish, Mediterranean, classic, and Arabic architectural designs, depending on the community.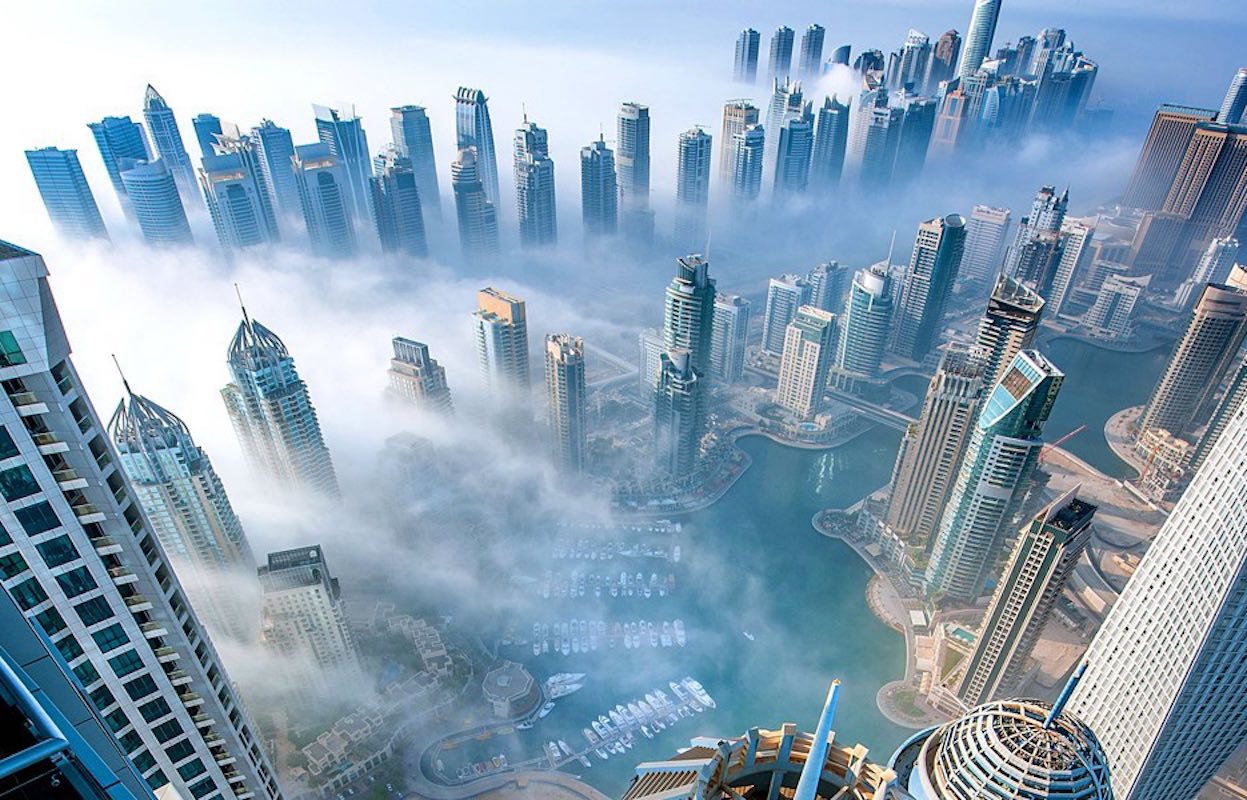 Luxury Apartments in Dubai
There are many high-end neighborhoods that offer Dubai apartments for sale, each of which is popular with a specific group of people based on their preferences. If you want luxury and beach-style living, Palm Jumeirah is the place to be. Modern developments such as Atlantis The Royal, One Palm, Palme Couture, and The Palm Tower provide a luxurious lifestyle.
If you prefer bustling communities over peaceful secluded areas, then neighborhoods such as Damac Hills and Townsquare are wonderful choices. Al Mamzar and International City are quite popular, albeit not very modern, in terms of affordability. In summary, the greatest region is the one that best meets your requirements for affordable as well as luxury apartments for sale in Dubai.