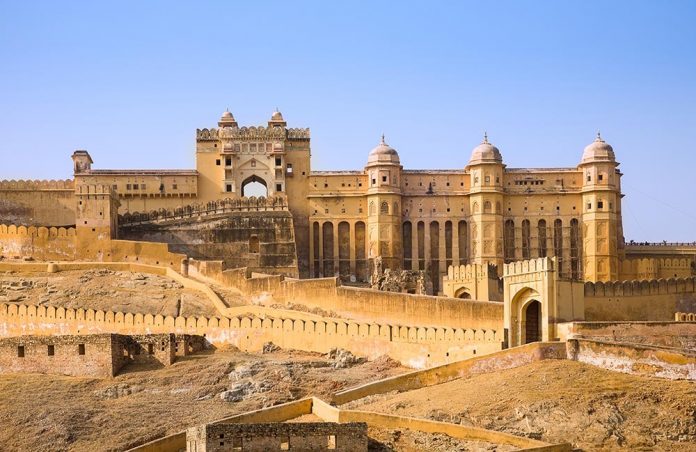 The pink city and the capital of state Rajasthan, a fusion of primeval and modern culture is known for attracting tourists from every nook and corner of the globe. Developed by the Rajput kingdom in the 17th century, the royal state of Rajasthan is colored in pink which is a symbol of Hospitality. Maharaj Ram Singh purposely painted the civic in pink to make the sight marvelous. The place is a house of many ancient forts, royal places, museums, temples, exotic hotels, resorts, and majestic buildings. Its a mixture of both vintage and modernism. The crowed alloy city is one of the three vertexes of the golden triangle Agra, Delhi, and Jaipur.
In other words, Jaipur has so much to explore. A trip of Rajasthan is incomplete without including Jaipur in it.
Places to visit in Jaipur
Amber Palace
UNESCO World Heritage site, Amber Palace is the center attraction of pink city. Amber Palace also known as Amer is placed at a distance of about 11 Kilometers from Jaipur. The palace alighted on precipitous hills is a beautiful mixture of Mughal and Hindu artwork and style. Raja Ram Singh and Raja Jai Singh one after another constructed the palace to protect their kingdom from invaders and enemy attacks. It's a vigorous structure made with white marble, red sandstone, precious stones, mirrors, multiple art designs. And the breath-taking view of Maota Lake adds stars in the beauty of the palace.
City Palace
Built by Maharana Sawai Jai Singh II, the City Palace is still the home of the last royal family who lives in a private section of the palace. The grand City Palace is adorned with Mughal and Rajput architecture, decorated with beautiful artistic paintings on the walls. It is divided into two palace Mubarak Mahal and Maharani's palace.
There is a museum in the palace that displays a huge collection of weapons, old currencies, ornaments, royal attires, Kashmiri shawls, prints and embroideries likes Banarasi, Sanganeri, Rajasthani, and Kashmiri. In one line, if you are an art lover then you should not miss the place.
The tour of City Palace could be the best memory of your life.
Jantar Mantar
Another UNESCO World Heritage site, Jantar Mantar, built by Maharana Sawai Jai Singh II, is the collection of nineteen astronomical instruments. Which predicts time and movements of celestial bodies like sun, moon and other planets with help of various instruments like Samrat Yantra, Jayaprakash Yantra, and the Misra Yantra. Thus, Jantar Mantar is a popular tourist destination for astronomy lovers.
Hawa Mahal
Standing at the intersection main road of Jaipur and also known as Badi Chaupad was constructed by Maharaja Sawai Pratap Singh in the year 1799. It is a pyramidal structure made of pink sandstone. The entire place was built for royal ladies so they could see the festivities on the street without being seen. It has 953 Jharokhas i.e. tiny windows from which windy air passed and kept the place cool even in the month of summer. Mahal palace is based on five floors each has a uniquely decorated chamber. There is a fountain at the start. The top of the palace offers a brilliant view of the City Palace.
Nahargarh Fort
Nahargarh Fort, an impregnable structure, located on top of a hill, known for its extended wall, adorned with delicate carvings and stonework, Nahargarh Fort is one of the many countless palaces and beautiful historic buildings that tells the rich history of the pink city. Another adduction of the Fort is the Nahargarh Biological Park, which is a home of many wild animals. It's a great place to stroll and enjoy.
Pink City
Secured by the UNESCO World Heritage site, Pink City proudly represents Jaipur in its own way. There is a wall that marks the boundary of the Pink City. It is six meters high and three meters thick, painted in pink, encompassed with a number of structures the wall is the great attraction point for visitors.
Pink City Bazaar
Love of every shopaholic Pink City Bazaar is full of useful and beautiful things. It is made of four main bazaars–Johari Bazaar, Bapu Bazaar, Nehru Bazaar, Kishanpole Bazaar, and Tripolia Bazaar. You can find everything here from hairpin to diamonds. It is one great stop for shopping.
These are only some places that I have mentioned but Jaipur is full of tourist destination like Jal Mahal, Albert Hall Museum, GaltaJi, Birla Temple, Abhaneri, Chokhi Dhani, Gaitore, Sisodiya Rani Bagh, Jaigarh Fort, Govind Ji Temple, Rambagh Palace, World Trade Park, etc. And there is a lot more in the city. It is great not only in terms of places but in food, shopping, and hospitality.
If you are passionate about architecture and ancient art then Jaipur is where you need to be on your next vacation. You can make it greater by hiring us as your tour partner. We will make sure you probe the whole city, create memories and enjoy as you have never before. So do hire us.
Services included in the tour package
‌Vehicles
‌Sightseeing
‌Hotel Booking
‌Pick up and drop either from your hotel or residence
‌Toll tax
‌Driver
‌Parking fees
Services excluded in the tour package
‌Entrance fee for the visit of the monument
‌Three meals
‌Boat and other entertaining rides
‌Hotel accommodations
Conclusion
For you, they will plan a fantastic trip to the city and we will make sure you spent a great time and make lots of memories. If you're planning jaipur visit you must check out the jaipur two day tour – Book It Now!