Ranthambore National park is situated in Northern India near Jaipur city surrounded by Aravali ranges. It is a 280 km area covered with dense forest rich in both flora and fauna and having more than 70 tigers till 2020 is one of the most popular destinations for Best Tiger Safari in India.
Why Ranthambore National Park is Best for Tiger safari in India:
Whenever any vacationer or adventure lover plan a Tiger Safari, their unmentioned expectation is
To spot the tiger
To have a comfortable stay
To meet smiling, courteous and experienced staff, guides and driver
To have a good commuting vehicle
When all other tiger reserve offers the same perks why to choose Ranthambore National Park only?
To answer this I would like to share my experience of Best Tiger safari in India at Ranthambore park with LIH Tours and Travels.
To Enjoy the best tiger safari In India We chose LIH as our agents, and they propose us to visit Ranthambore National park and enjoy the live encounter with the royal beast. In my urge to know more about the favourite Park among adventure lovers and tiger admirer I did my own research with the help of Google, the guide the tour operators and native and were able to collect some amusing facts about the park, that made it so modish.
The 280 km area covered as the park is situated in northern India surrounded by Aravali ranges in the and of Rajput or kings, Rajasthan. The wild reserve near to famous Ranthambore Fort was earlier a sanctuary trying to preserve the royal beast in the most natural habitats , but a conscious effort to save the species to rule the jungle gained momentum only after 1977 and that is how Today's Ranthambore national park preserving more than 70 tigers came into existence in 1980.
Location:
The Park is located on the way between Jaipur and Kota, which are again the most popular cities of India and almost every foreign tourists visiting the country, make sure to visit these two recognized heritage cities.
The park is 140 km southeast to Jaipur, 110 Km northeast to Kota and 394 km south to New Delhi.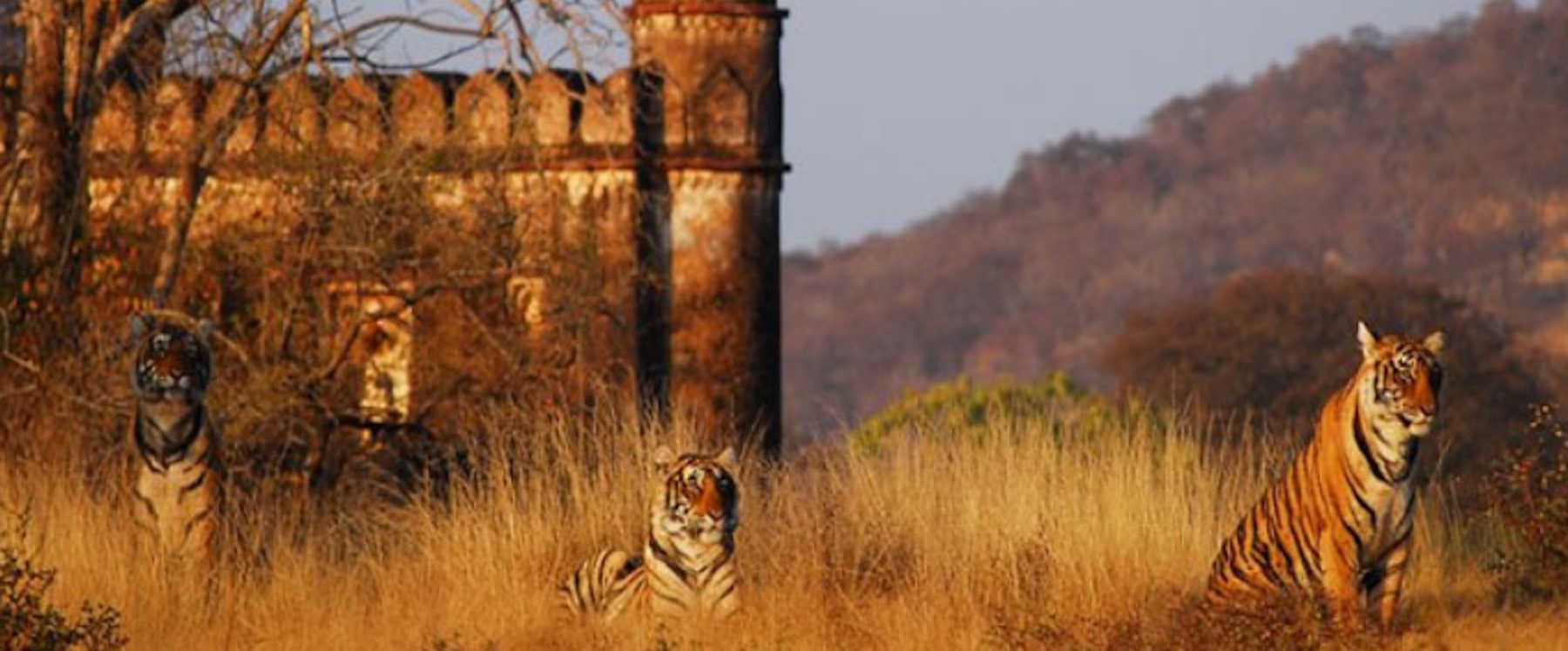 Interior of the Park:
Banas river in the North and Chambal river in the South is what makes the interior of this forest mesmerizing. The massive illustrious Ranthambore Fort inside the forest is as alluring as it might be 100 years ago. The ambience of the forest is such that even if you are not interested in spotting tigers, you can enjoy every nook of the park and be overwhelmed with serene and natural beauty.
The perfect weather throughout the year:
In eastern Rajasthan, summers are usually hot and dry and winters remain chilled and sunny, the monsoon experience moderate, the park is dry in the month of April to June (summers) and is the best time to spot tigers in the jungle, whereas November and December(winters) is also the most appropriate season to spot tigers.it is just mornings are chilled in the reserve and can be difficult to step out of bed so early. During monsoon, The lush green vegetation makes it the best tiger safari in India and to have an awesome time with family and your loved one.
Possibility to spot the tiger is very high:
With around 70 tigers In 280 km radius .which makes the possibility to spot the tiger within every 4 km ride. There is a very high possibility to spot the tiger in this tiger reserve.
The different time slot according to guest: tiger safari in Ranthambore is professionally organized and have different time tables for a different month.
The time table for safari is :
| | | |
| --- | --- | --- |
| Month | Morning trip | Evening trip |
| 1st Feb- 31st March | 6.30A.am – 10.a.m | 2.30 P.m-6.00 p.m |
| 1sf April- 15th May | 6.00A.am – 9.30.a.m | 3.00 P.m-6.30 p.m |
| 15th May – 30th June | 6.00A.am – 9.30.a.m | 3.30 P.m-7.00 p.m |
| 1 Oct to 31st October | 6.30A.am – 10.a.m | 2.30 P.m-6.00 p.m |
| 1st Nov – 31st January | 7.00 A.M – 10.30 AM | 2.00 P.m- 5.30 P.m |
Best commuting vehicles:
The park has well maintained 20 seaters canters and 6 seater Jeep which are not only comfortable but also safe during a jungle expedition.
Cheap safari ride:
The safari ride is as cheap as Rs 900/- to Rs 1400/- per person, depending upon the vehicle that is been used.
Wide range of Flora and Fauna:
The park enjoys a wide range of wildlife along with scenic beauty. It attracts lots of people from different parts of the world, especially from the USA, UK, Australia, Middle East, New Zealand. Apart from spotting the Tigers, you can also enjoy the view of the amazing fauna during your visit. The other wildlife you can spot is Tigers, Leopards, Striped hyenas, Deer, Nilgai, Jackals, Blackbucks, Foxes, Porcupines, Mongoose, crocodiles, turtles, Cobra, Python, Rat, snakes.
Interesting Buffer Zone:
The Park has 10 zones that are open for the public to explore. Out of all the zones, Zone 1 -zone 5, have the high possibility to spot a tiger in the beautiful landscape with the fort. The most popular zones among travellers are 2,3,4,5,6, to explore during your wildlife safari in Ranthambore. Zone 3 is my suggestion for you.
Easy connecting flights, train, bus:
Many luxurious trains running in this state do halt at this place. As this place is near to Jaipur, Kota which has international Airport it becomes quite easy for the tourist to come directly to this place by renting a cab from these cities.
Luxurious and comfortable stay
Being one of the most popular destinations for holidays, The reserve is surrounded by luxurious hotels and resorts which are of 5-star quality and will surely enhance your experience to Ranthambore. Vanya Villas, Oberoi is most popular for their luxurious tents and ravishing food.
Some of the other popular resort for stay are
Ranthambore tiger resort( Rs 3000)
white mushroom jungle caves(Rs 5500)
The Ranthambore camp retreat( Rs 11500)
Hotel Juna Mahal( Rs 14000)
The night safari in Ranthambore must have been awesome but not possible now.
It was earlier initiated by the Park official but with the intervention of wild activist has been declined. The evening safari timing is now extended to 7.30 P.M during summers.
So now I conclude why Ranthambore national park is best for tiger safari in India because, this natural habitat for numerous wildlife also give some exotic views of water bodies, mountains, fort, and the services of par excellence at the best prices with professional management and assistance, making it also the safest one.