We can't talk of improving efficiency in healthcare without mentioning RTLS Technology. Real-time location systems (RTLS) benefit the healthcare industry in multiple ways. These solutions enhance data quality by furnishing institutions with up-to-date data and insights on hospital operations.
RTLS technology enables hospitals to monitor staff and get the right staff and equipment to patients when needed. The technology also allows real-time tracking, which saves time and money, allowing for smooth operations and improved productivity.
Why adopt RTLS technology in healthcare?
RTLS has since transformed the health section in many ways. There are multiple healthcare RTLS benefits to hospital staff and patients alike. The technology allows health facilities to offer better services through staff and patient monitoring and delivering the right equipment for use in certain situations.
Moreover, the technology eliminates long hours of storing manual reports, calling, locating staff and equipment. Examples of RTLS benefits include;
• Enhanced workflows due to more efficient patient move between different service points.
• Improved patient experience since clinical staff can easily locate necessary equipment faster and proceed with treatment.
• Better room utilization since health workers have access to the real-time movement of all patients and equipment.
• Managing the availability of beds which minimizes the chances of patients waiting for beds when they are unused beds available.
Here's how to improve operations with RTLS Technology:
1. Capturing updated information
RFID solutions can help you capture updated information as per the set parameters. With these systems, you have control as per the type of data to capture and when to do it. With the technology, you can set different schedules depending on the time sensitivity.
The data is useful at various healthcare levels and will save time and money that would be used retrieving information from paper documents. RTLS technology also helps avoid errors and helps improve healthcare facilities.
2. Keeping track of medical equipment
RTLS technology makes it easy to track medical equipment, which eases service provision. Heath providers can easily employ the technology to ensure the availability of medical devices when needed. For instance, portable medical equipment such as ICU ventilators, IV pumps, and defibrillators may sometimes sit unused in hospitals when they are needed elsewhere.
Again, staff members may have issues locating valuable equipment during emergencies. And this can mean purchasing more devices to enhance availability. Nonetheless, tracking hospital equipment using RTLS improves efficiency and care provision in hospital settings.
The technology allows hospitals to track all equipment and save money on unnecessary purchases or replacements. It makes it easy to quickly locate medical equipment, which saves time and resources.
3. Organizing information
RTLS technology offers multiple information options to organizations. With the solution, you can employ software that allows you to organize information to suit your needs. For instance, you can perform asset analysis, making it easy to track the condition and status of hospital assets.
You can also track hospital furniture, making it easy to schedule repairs and avoid unnecessary replacements. Temperature reports are also handy, and you can use the technology to receive alerts in case of cooler malfunctions. The data indicates when the coolers need replacement, making it easy to fix any issues beforehand.
4. Issuing alerts to prevent danger
RTLS technology allows hospitals to get notifications when patients or staff enter prohibited areas. For example, drug addicts may enter parts of the hospital that may pose a risk to the patient and other people. RTLS solutions will also play a critical role in minimizing the amount of time spent by staff monitoring patients. And this helps improve service provision and efficiency at all levels.
5. Tracking patients & staff
RTLS technology allows hospitals to track staff and patients to improve care provision. The technology makes it easy to manage workers enabling patients to get the best care possible. Staff tracking also ensures efficiency and interaction. For instance, a locator tag traces a patient's movement during the appointment, and staff can trace patients at all care levels. This makes it easy for hospitals to offer better services for grierson-gopalan syndrome patients.
6. Using duress signals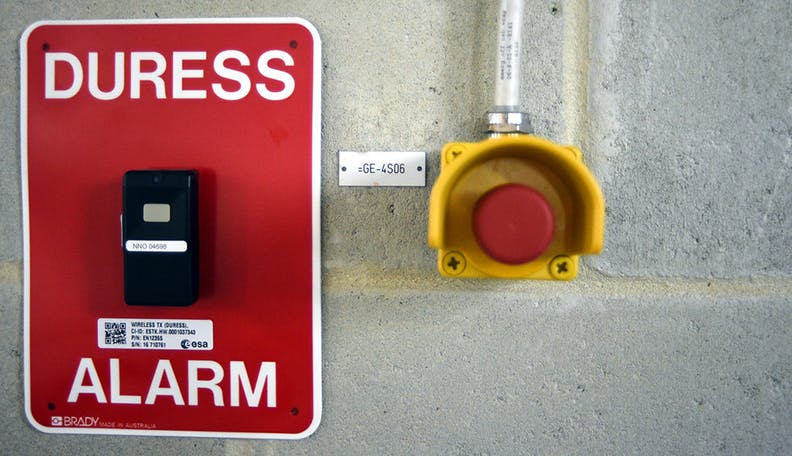 Workplace violence is common among nurses and doctors. This can bring about fear and anxiety among staff and negatively affect productivity. However, RTLS solutions make it easy to convey duress signals, making it easy to get assistance in seconds. With this technology, hospital staff works in a more comfortable environment which supports efficiency and productivity.
7. Improving billing & Visit summaries
RTLS technology enables care providers to track patients throughout the entire appointment. This can help with billing and post-visit summaries, streamlining billing processes. With more accurate tracking, bills will accurately show the time spent by a patient in a certain care point. Updating the data in real-time allows for transparency and improved care and efficiency.
Final thoughts
RTLS technology in healthcare makes it easy to capture, store, and organize information and other useful processes in hospitals. This helps improve productivity, save costs and improve patient care. RTLS solutions help collect valuable data, organize it and share insights that support the provision of better services and care.