Everybody loves a good saving on a potentially high budget. That's usually the main point of DIY projects. Aside from savings on actual costs such as labor or specialist hires, you get to learn new skills or improve on existing ones.
You also get the chance to make a project truly yours, increasing the sentimental value of whatever you are working on. DIY projects have been the windows of many new startups and company niches. People figure out a side gig by simply doing what they love and expanding their market.
Not every DIY project is bound to succeed. Some fail due to a lack of enough funds, while others fail due to a lack of proper expertise. The key reason for failure is poor planning, especially on budgets. If you haven't invested heavily in your project and this is more of a passion, you may have more latitude to fail and start again. However, if you can only afford the luxury of doing the project once, failure might not be an option.
When it comes to costing mistakes, there are certain measures that you can take to ensure that you are within the right budget. Here are a few ways to avoid costly mistakes and reduce your chances of ending up with a bad DIY project.
1. Don't Budget Along the Way
Just because it is a DIY project doesn't mean that there should not be a project and budget management plan in place. In the case of specialized and sometimes general DIY projects, you may need to hire or buy equipment. Time also effectively translates to cost. Any extra time spent with equipment that isn't yours or staff you need to hire leads to extra expenses.
Work out everything you need to for the project before actually starting. That way, you know what you need when you need it, and how much it will cost. It becomes much easier to plan your costs out by the hour or by the day with a project plan. Check out GoSkills project management templates such as the one below.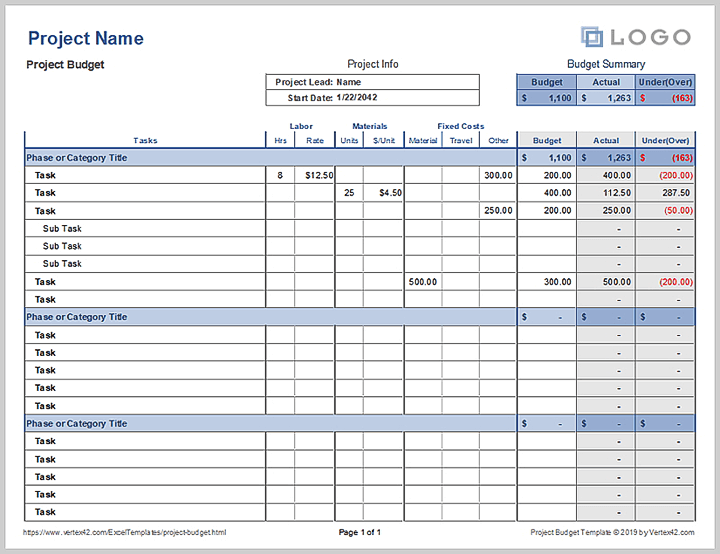 If the template above looks familiar, you might be a finance, project management, or statistics student. If you've been thinking, " who can I trust to do my statistics homework?" there are online experts trained to do this kind of thing.
2. Check Out Prices of Different Materials
One area that heavily impacts the cost of DIY projects is the type and quality of materials used. A common tendency for DIYers is to use the same material specifications that they see on Pinterest, YouTube, and other DIY sites. A huge variety of materials exists, whether for construction or renovation. This could be the one area where you make massive cost savings.
Before closing a purchase, it is important to check out local hardware stores and Home-Depots, or sites such as Amazon and E-bay to see what varieties of materials exist. You will be pleasantly surprised to know that most items that could be used for DIY projects have different alternatives that may be much cheaper. This is factoring in shipping and logistics as well.
3. Consider the Alternative of Buying 'Ready-Made'
DIY enthusiasm always leads to folks wanting to do everything themselves, sort of reinventing the wheel in the process. If the project is meant to be an exercise of skill or skills improvement, creating every little piece of the puzzle yourself may be warranted. This could also be the case if this is your craft and you are carving a particular niche in creating certain things from the ground up.
However, if you barely have enough time to spare and lack the expertise to create every item of the project, you may want to prefer to buy ready-made. The long-term effect might be savings in terms of time, even though you may be forced to pay more upfront for the desired item.
4. Consider Splitting the Project into Portions
This is great advice, especially for first-time DIYers. In breaking down the project into a master plan, see which parts can be done independently and won't affect the rest of the output. Completing one part of the project and being certain of the expenses and quality produced provides the confidence to proceed to more difficult parts of the project.
5. Consult an Expert If Needed
There's little need to be self-assured if you have never done a project before, especially with substantial money involved. For complex or costly projects, it is always better to get some expert input, even if just briefly. Sure, you may spend a few extra dollars, but the hour or two of professional insights may save you from costlier mistakes.
DIY Is a Great Way to Save Money and Build Your Skills
With DIY, you don't have to pay someone extra for something that you could do yourself. Improving your skills in this area could potentially build up a new business. The DIY opportunities are endless, but every project has to be done with smarts, especially with money involved.