Every country cares about dressing their teams the best. We won't indulge in the region's team's wardrobes but we decided to show you how being chic is in an Olympic level.
Here we bring what the formal outfit is by country and brand worn by each country team at the Olympics.
Team USA:
Ralph Lauren , who else would design theUSA  team fashion wear. With white shorts, button-down shirts, striped belts and signature Polo logo the looks are true to the designer's classic trend including the large USA print on the back in the requisite red, white and blue.
Swimmers Ryan Lochte, Haley Anderson and wrestler Jordan Burroughs wore the outfits on the Today Show.
TODAY anchors model the official Opening Ceremony outfit that Team USA members will wear at the Rio Olympics.
Team Canada:
Canada's uniforms are created by twins Dan and Dean Caten of the famed DSquared2 brand and produced by Hudson's Bay, a legendary Canadian department store.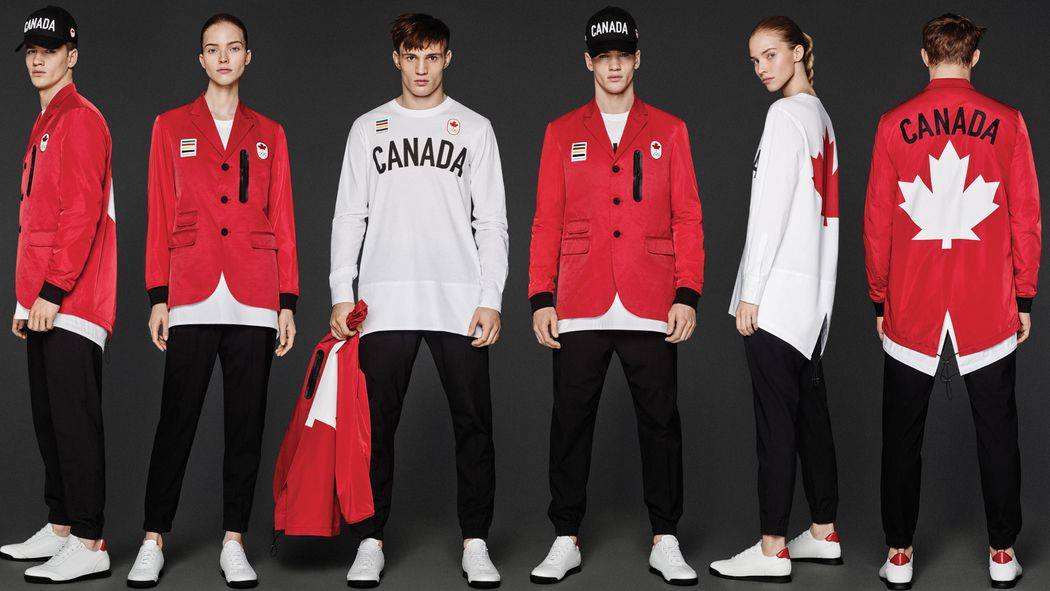 The designer duo is known for their impeccable tailoring that is evident in the athletic blazers with bonded zip pockets on the front. They've created fashionwear signed by their maple leaf logos.
The collection mixed the traditional red and white colors with black and grey tones for a chic color palette for both athletes and fans watching from home. The minimalist approach works, bringing fashion forward focus to the basics.
Team France:
French brand Lacoste was founded by the tennis legend Rene Lacoste which makes its impeccable sports pedigree a natural fit for the Olympics Rio 2016 uniform design.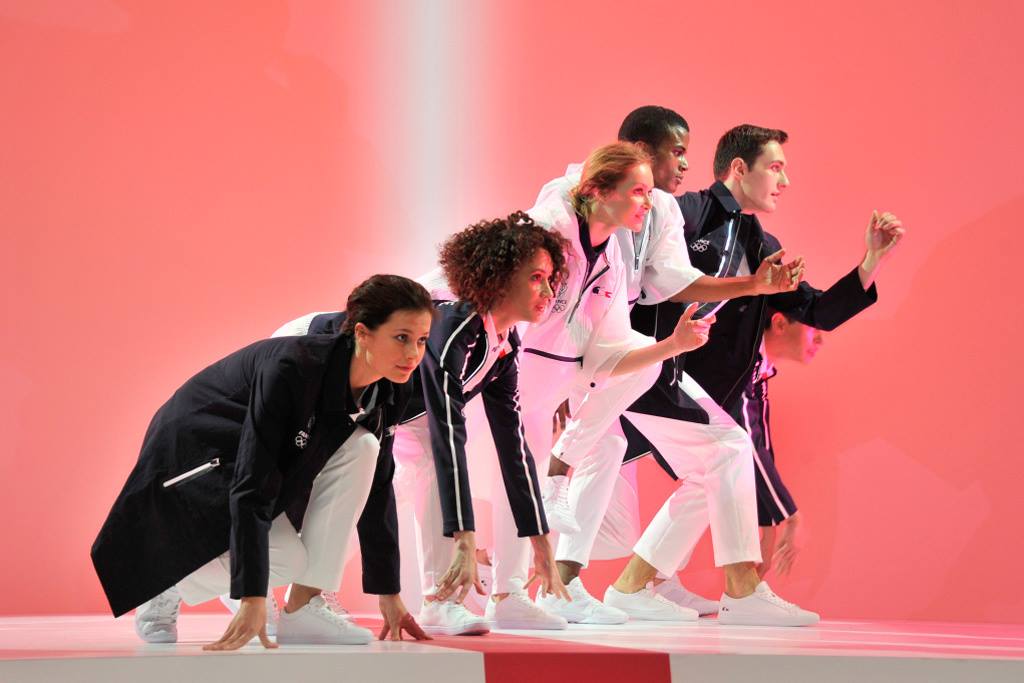 The athletes will be wearing white rain resistant ponchos with hoods and zipped pockets on the front, deep blue trench coats and white pants with an ankle cut-off.
The signature crocodile emblem stitched in red, white and blue is part of the subtle detailing. For a country synonymous with haute couture, many expected to see a more rejuvenated sense of style.
Team Australia:
Team Australia enters Olympic history books with Sportscraft for clothing and Toms shoes.  their Sports craft-designed pinstriped uniforms pay homage to the 1924 Olympics with the retro-fitted suits and scarfs, the team spirit is definitely proactively futuristic.
Team United Kingdom: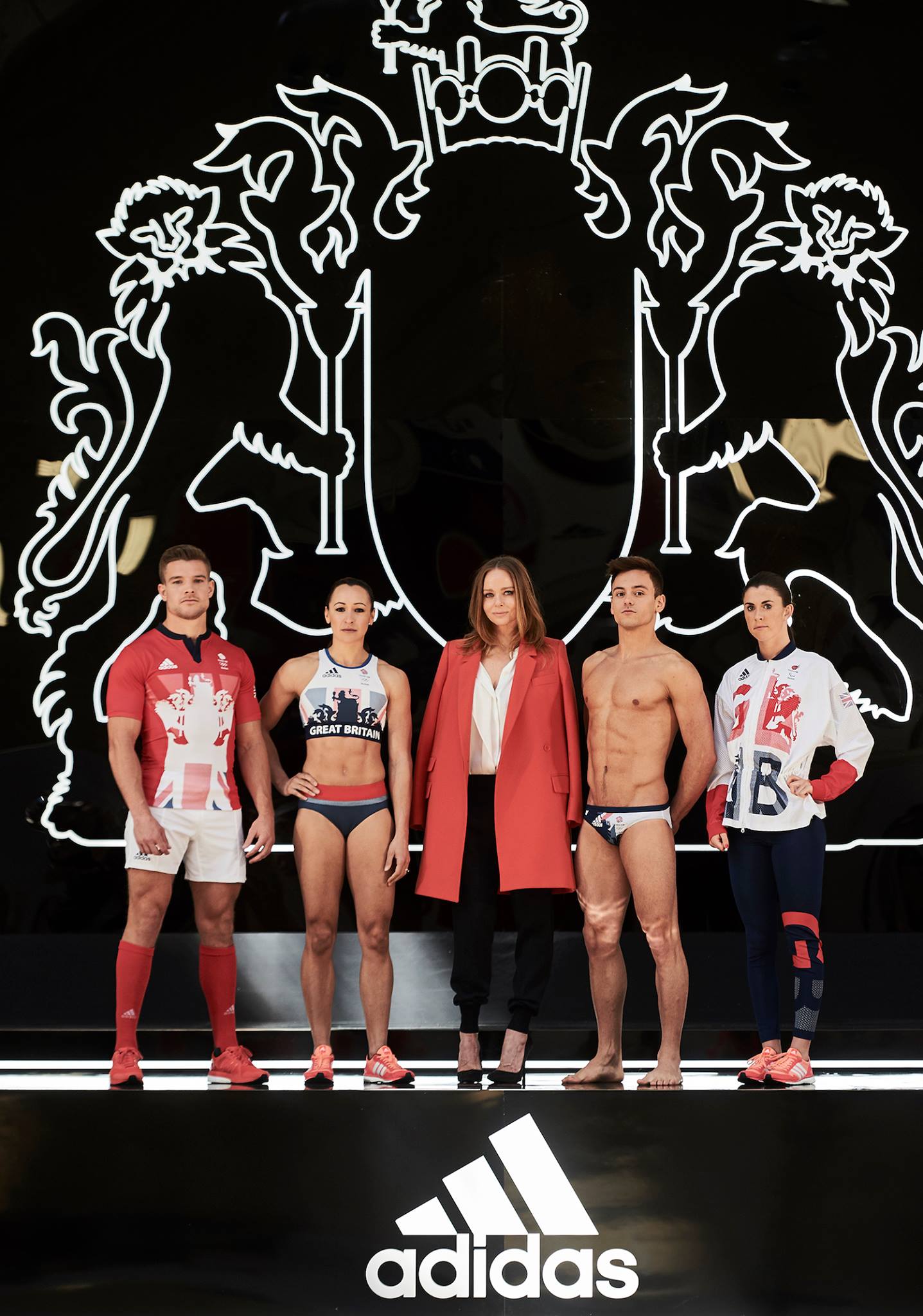 Stella McCartney in collaboration with Adidas have proved to be a chic winning style strategy for the UK Olympic Committee. The fashion savvy kits make strong use of the new coat of arms and the traditional Union Jack colors: navy blue leggings, white sweaters, red accents throughout formal and discipline-specific uniforms.
McCartney went full force on national branding by including a large GB (Great Britain) embroidered, printed and otherwise plastered all over.
Team Italy:
Who else than Armani would design the fashion capital of the world outfits!
It's actually the hottest couture on men and women. It's italian ladies and gentlemen. They deserve to be Chic Olympic.
Team Cuba:
Interestingly enough, it was Christian Louboutin who designed the Cuban team. Louboutin has a fashion line besides his shoes for men and women.
Team Sweden:
Luckily, the Swedish team outfits weren't designed by IKEA! These days, it seems you can open any wardrobe anywhere in the world and find at least one H&M piece. The Swedish fast fashion retailer outfitted the Olympic and Paralympic teams in bright gold yellow and sleek deep blue uniforms citing the iconic flag color scheme.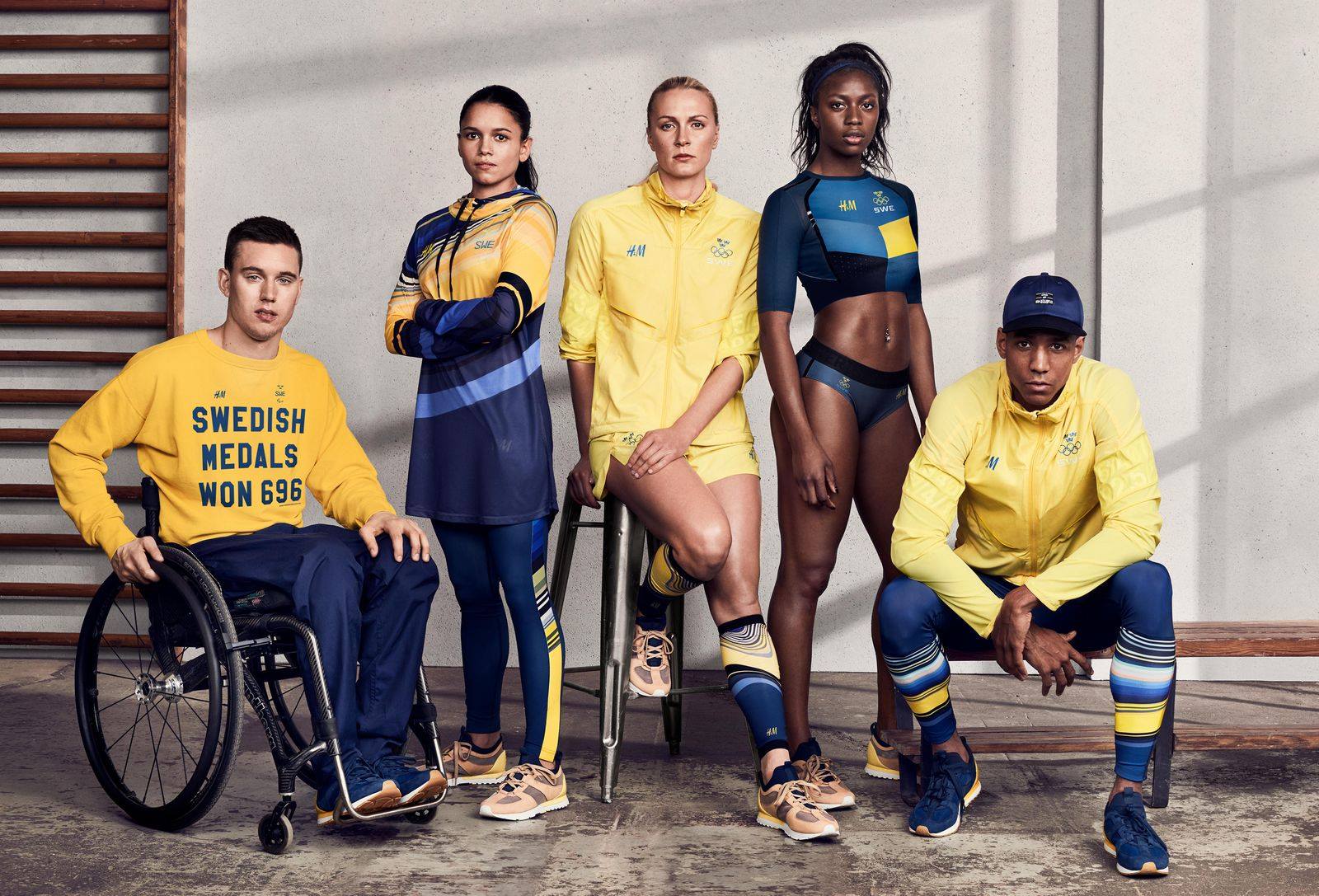 The striking apparel is expected to draw fan consumers to H&M stores worldwide. Team Sweden will be proudly walking in uniforms largely created with sustainably-produced recyclable fabrics: leggings, windbreakers, sweaters and tees.
While it does not say "Sweden" on them, the statement is assuredly patriotic and boldly beautiful. Olympics should champion eco-sustainability, no doubt!
Team South Korea:
With navy blazers, stark white trousers and the striped socks to accent the deep blue boat shoes, Team South Korea is ready to join the Americans country club poolside. While these designs don't break new ground aesthetically, they've made headlines for the Zika repellent within the fabrics to prevent any possibility of the virus affecting the athletes.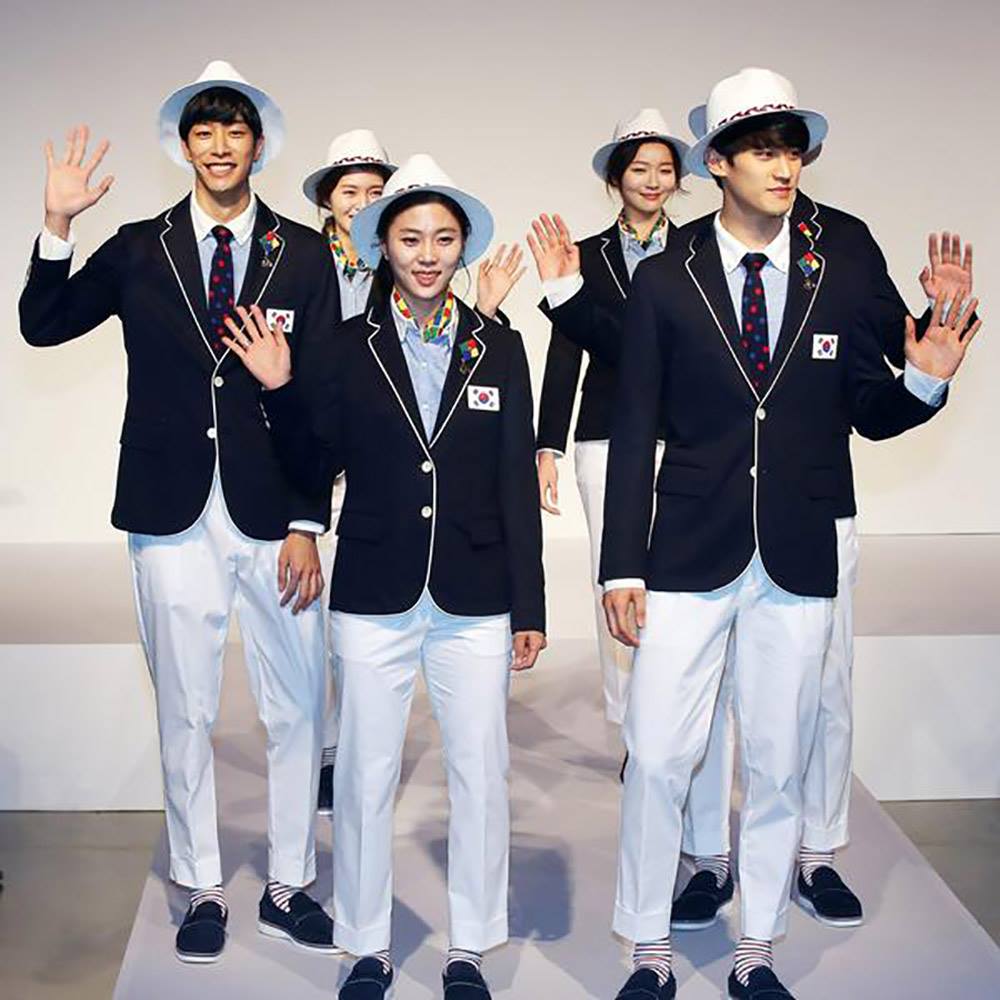 It seems everyone is afraid of Zika, so expect other countries to follow these Anti-Zika measures.