With this launch, the technology giant signals its intent to give golfers the ultimate smartwatch experience on and off the course.
Dan Brizell, Samsung Head of Sales for UK & Ireland says
"We are pleased to be partnering with Second Chance who are an experienced European sports technology distributor, especially within the golf industry where they possess great insight, relationships and partnerships. We look forward working closely together and forging new relationships and pathways for both business in the many months and years to come."
Second Chance Ltd is a leading European sports technology distributor. Specialising in golf, cycling and connected sports technology. From contract and margin negotiations, to warehouse logistics and multilingual customer service, through to product sales and marketing channels. Second Chance connect brands to leading retailers, schools and institutions in Europe, the Middle East and Africa.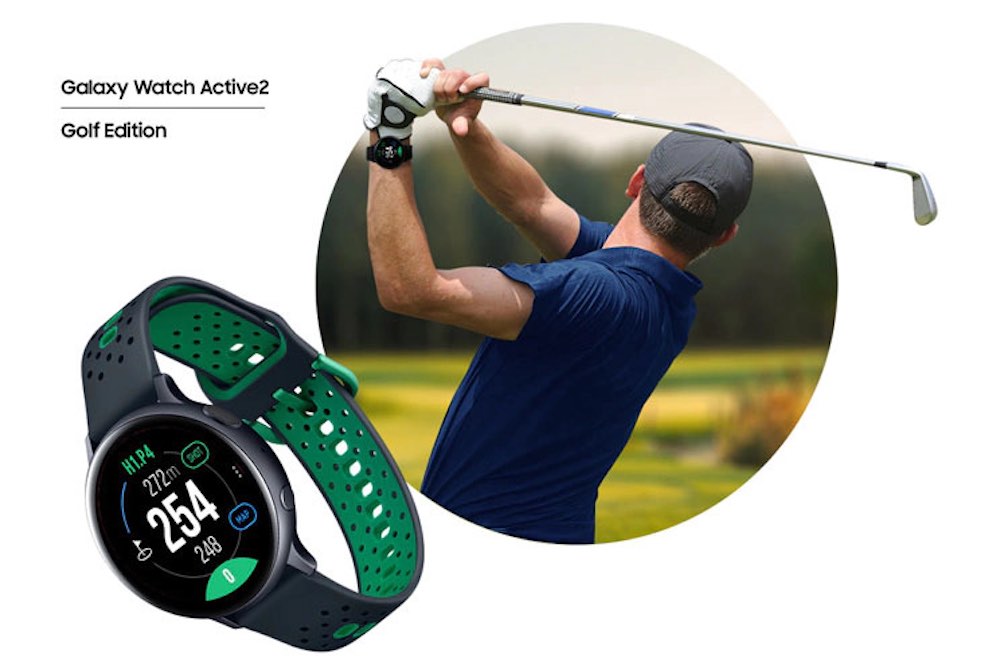 Patrick Daniels, Managing Director of Second Chance, says
"This is exciting news for both Samsung and Second Chance. We are delighted to be working so closely with the world's leading technology brand that possesses products which are packed with genuinely useful smart features, opening up the benefit of fresh technology in the golfing industry."
The award-winning family run business started in 1987 distributing some of the world's leading sports and technology brands including PGA TOUR, GOLFBUDDY, ZEPP & PuttOUT.
The new additions to the Samsung Galaxy smartwatch range offer all the capabilities and functions of the existing Galaxy Watch and Galaxy Watch Active2 with the addition of the Smart Caddie App which comes pre-installed and with a lifetime premium subscription worth £76. The app provides real-time information to help users elevate their performance on the course.
Some of the new golfing add-ons include:
Vivid course map – automatically recognises more than 40,000 golf courses and holes worldwide. Allowing users to see detailed, full-colour aerial shots.
Accurate course information – delivers distances, gradation of the slope and views of the green.
Dual Arc – provides the distance from the player's location to the front, centre and back of the green in a variety of measurements.
Shot tracking – golfers can automatically log shot positions.
Digital Scorecard – Easy and convenient score tracking. Organised by stroke and putt.
Galaxy Watch Golf Edition
The golf course can be a tough place, which is why the Galaxy Watch Golf Edition is ready for anything. Samsung Galaxy Watch Golf Edition is water-resistant and its Super AMOLED display is so bright users can easily read it even on the sunniest or cloudiest days. The Black Sport Strap keeps the watch secure for accurate performance tracking, while the touch screen and rotating bezel make it easy to access calls, emails, and other notifications to keep connected. And with a long-lasting battery, there's enough power to track all shots, so users can focus on the game.
Galaxy Watch Golf Active2 Golf Edition
The purposefully designed Galaxy Watch Active2 Golf Edition comes in a lightweight, sporty, aluminium body, with an exclusively developed watch face and two size and colour options — 44mm with an Aqua Black strap, and 40mm with Pink Gold strap. Both straps are made with Fluoroelastomer (FKM) material and feature a breathable design, ensuring a comfortable fit that will optimise performance.
The Galaxy Watch Active2 features a digital bezel to make it even more convenient to navigate while maximising the screen size. Directly on the beautifully curved Super AMOLED screen, the rotating touch bezel turns both clockwise and counter-clockwise to advance screens so users can easily select their favourite apps. Plus, the upgraded One UI offers a simple, clear and natural user experience for navigation.
Availability
Galaxy Watch Golf Edition will be available in Silver (46mm).
Galaxy Watch Active2 Golf Edition will be available in two shades and sizes, Aqua Black (44mm) and Pink Gold (40mm).
Both products are available now from www.samsung.com/uk/galaxy-golf-edition, Amazon UK and selected retailers.