There are many people who don't know about SKMEI brand. However, this Chinese brand offers is famous for its cheap watches which it sells all across the world. SKMEI is a Chineseword meaning: "wish you live a beautiful and joyful life." This company was found in 2010, and Guangdong is the location where its headquarters is present. Its production occurs in Guangzhou city, where its factory deals with five production lines. This company has few workers; still, it has managed to reach different corners of the world and spread its sales.
This brand is not only limited to China but has successfully reached the shores of northern America. What made skmei successful is variety. A variety of skmei watches available in the market attract a number of buyers. Skmei brand offers kids watches, dual time watch, digital sport watches, solar watches, LED watches, and many more. These watches are inspired by expensive and fashionable watches. This brand carries watches with advances features like diving watches; heart rate watches as well as art desk clocks.
This brand also offers you watch in different styles. It makes sure the watches you buy are as per the latest trend. For instance, one watch of skmei is styled in stealth aircraft mood and offered in several colours. Another excellent option for you is blue dial quartz provided with genuine leather straps as well as the crystal face. If you are looking for something unique, then skmei offers you Umeishi automatic watches. This watch is made of stainless steel as well as sapphire crystal. It offers the Japanese Miyota movement. And the best thing about this brand is that it offers such stylish watches at meager rates.
One of the best things about the Skmei brand is that it is a combo of style and affordability. Skmei watches function well, like other expensive watches in the market, and thus, they are worth your time.
Let's discuss great model offered by SKMEI:
SKMEI 1181 ultrathin classic dress watches for man-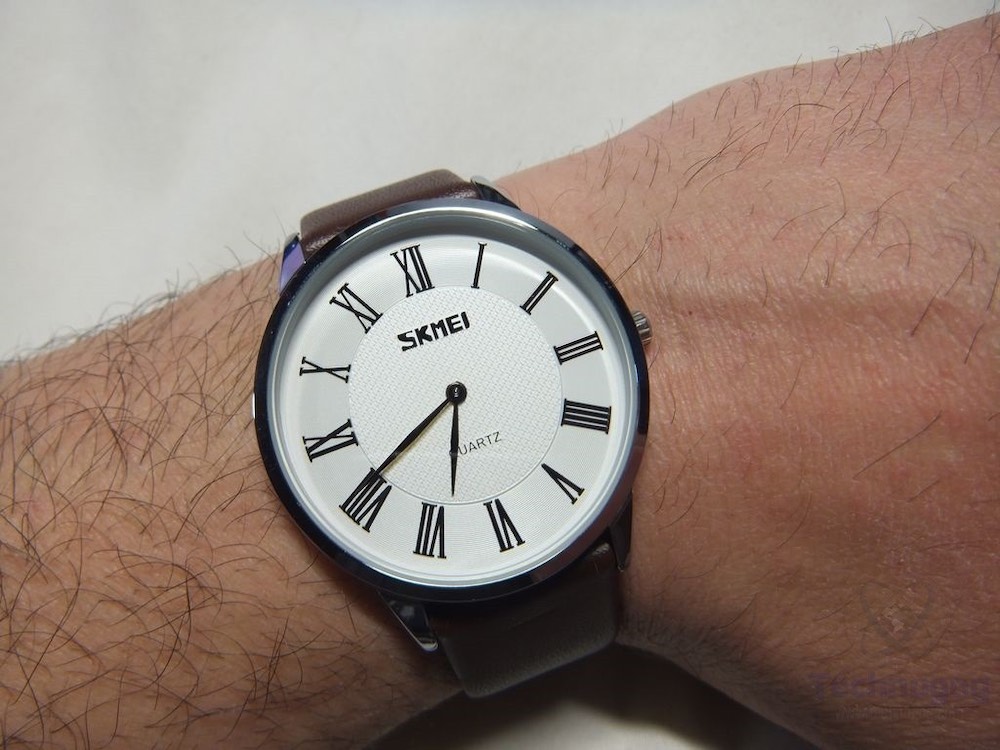 This watch is a mixture of sleek style and timeless design. The watchband of the watch is made from brown leather and paired with gold as well as the white face. There are no dials added for day or date; it has time only. It's simple design makes it easy to read time at one glance. It has thickness of 6mm. The design of this SKMEI watch is sleek, making it fit under your shirt sleeves easily. Its watchband can fit wrist having a diameter ranging from 165mm to 205mm. This watch is waterproof, so you can even wear it and take a shower.
People who have used this watched have stated that it felt and looked like some expensive piece. It feels comfortable in the wrist and function rightly.
SKMEI 9058 classic business Roman numeral for men-
Another beautiful piece SKMEI offers is this watch, having patterned-boldface. Its Roman numerals are large and golden and highlighted against the off-white face. There is provided with an added date dial. A comfortable and patterned brown leather band holds the face of the watch in place. Its design looks classic and comes in number of color choices.
There are many versions with the brown leather band coming with different watch faces as well as accent colours. Buyers are also offered a black leather band in choice. This watch is also impermeable to 30 M. you may find the measurements is slightly off by few millimetres.
SKMEI 1336 men's digital sports watch-
This is a digital sports watch which has become famous recently. This model comes with a number of features and at a low price. It also has distance and compass function, making it best for bikers, hikers as well as runners. It has a feature that tracks the burnt calories, and it also has a calendar.
This watch is easy to use and has an OLED display. Also, it has a sedentary reminder that reminds user to keep moving ahead. This model is water-resistant up to 50M. Users love this model because it is a waterproof light weighted and comes with several features. However, this watch cannot sync with the Smartphone of the user.
SKMEI Smart Watch for Android Phones/ iPhones-
This is a smart watch offered by SKMEI and can sync with smart phones offering notification of incoming calls. This model also has several features. As it is a multi-sports watch, it provides calorie burn data and for riding, running, basketball, table tennis, and more. It monitors heart rate and offers accurate information.  Also, it has a sleep monitor feature, which ensures that you get the rest needed for good health.  It comes with a long-lasting and rechargeable battery. Like another model, this model is also waterproof to 30m. Users who have used it are amazed by its features and durability.
SKMEI women Smart watches
Female smart watches are available in mainly- pink, red, purple, lilac, and black colour.Women can choose their favourite colour. This smart watch displays the calorie tracking, step tracking, and distance tracking information. Something that makes it stand out is its period tracking feature. It will track women to follow their period and ovulation time. This feature is best for women who want to get pregnant or want to live a healthier life. Also, it offers sleep monitor as well as sedentary reminder feature. One charge last for about 3 days. It has a rainproof and has a sleek design.
SKMEI Women Rainproof Watch-
It is a fashionable, modest as well as affordable analogue watch. Watch face is surrounded by resin bank as well as alloy plating. This piece is offered in different band colour as well as face option. It has sleek as well as waterproof design.
So, this was SKMEI watches reviews. We hope that this article has answered your question, " Is Skmei a good watch brand? ". You can find an ideal SKMEI watch which fits your needs. Price is affordable so you need not to go and spend on expensive watches when you are getting watches of high quality by SKMEI.