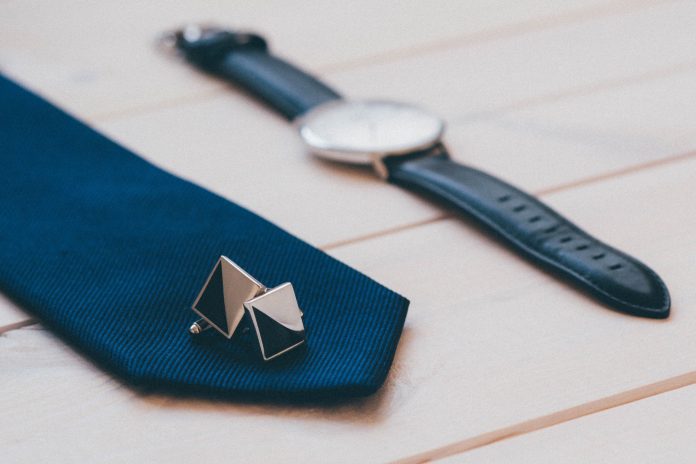 Jewelry for men is a touchy subject. Some men will wear nothing more than a wedding ring or a class ring, while others are comfortable loading up the bling. With all of the jewelry choices for men, it is easy to get overwhelmed.
Going Beyond the Symbolic
Of course, women have significantly more choices when it comes to jewelry choices, but men's jewelry isn't something to neglect. Men can wear anything from necklaces, bracelets, earrings, and cufflinks. They can also wear rings that are fashionable rather than symbolic. And, men have fine choices in watches, too.
Some men seem to have a knack for putting together and wearing several pieces of jewelry, while others haven't a clue how to wear anything more than a symbolic ring or watch. But, accessorizing with jewelry shouldn't be something that only women do. Men can put together professional, athletic, casual, or comfortable looks that combine jewelry without looking like they are trying too hard.
This definitive guide is designed to help all men wear jewelry properly. Just like the options for women, men's jewelry comes in styles that can accent any look, from a day at the office, a night on the town, or an afternoon at the ballpark. There really is something for everyone.
How to Wear Men's Jewelry Properly
The key to men wearing jewelry is for men to wear men's jewelry. If you were to see a piece of men's jewelry next to a piece of women's jewelry, there are significant differences in the size, shape, and embellishments on it.
Wear Men's Jewelry
For example, women's bracelets often have charms, while men's bracelets do not. Women's necklaces have subtle chains, while men's necklaces have substantial chains. Even if women's jewelry pieces have substantial pieces, they look distinctly female. So, when men are looking to wear jewelry appropriately, they should look for pieces that have a masculine edge to them.
Match Metals and Styles
Another tip for men to wear their jewelry appropriately is to match metals. This doesn't mean that every piece of jewelry a man wears needs to match his wedding band. It means that if men are wearing fashionable pieces, they should coordinate.
A bright gold necklace would look silly with a matte silver bracelet. It would also look silly for a man to wear a shark-tooth, leather-strap necklace with dressy pearl cufflinks. Men should look put-together, not like they got dressed in the dark.
How to Wear Men's Rings
Men who do not wear jewelry as fashion will often wear a ring for symbolic purposes. The wedding band, class ring, or championship ring is one piece of jewelry that men wear all of the time without any worry about appearance. Some men even wear a wedding band and an "accomplishment" ring, but not usually on the same hand.
To look professional and masculine, men can wear more than the typical wedding band. Men who are not married can wear rings, especially one with a simple style. Wearing a ring with multiple metals and plenty of glitz isn't always appropriate in the workplace.
However, men who are looking for a stylish way to wear rings can try stacking them. Men who do this tend to have an interest in fashion and are willing to take a chance on style. Wearing more than one ring on one finger or on one hand or even put on mens diamond rings is not something that every man can pull off and it is certainly more of a night-on-the-town look.
How to Wear a Watch
Because watches are utilitarian, men often feel comfortable wearing one in professional and casual situations. Some men have one watch that they wear until it wears out and some men have several watches because they like the variety. There are three different types of watches that men choose to wear:
No matter what type of watch a man wears, there are two rules he should follow. The first is to wear the watch on the wrist of the non-dominant hand; so if he is left-handed, he should wear his watch on the right wrist. The second rule is that the watch should fit, not roll around the wrist like a big, loose bracelet.
Everyday watches are casual in design and are often made of classic metals and paired with leather or stainless steel. They tend to be simple in style and are in silver, black, or gunmetal colors. These look great with casual clothing, but are not usually necessary to wear to the gym.
Smartwatches can be everyday watches, as some look like casual watches. If you are only wearing it to record workouts, then only wear it to the gym. Otherwise, if you are wearing it in a variety of situations, they try pairing the watch with different styles of bands like dressy metals or casual leathers.
The dressy watch is a high-end watch in gold or silver. These are good to wear to the office or to weddings or other ceremonial events. These do not look appropriate with casual clothing.
How to Wear Earrings
Men have been wearing earrings for ages, but they recently became accepted as fashionable in the last few decades. However accepted they are in casual situations, men do not usually wear them to professional offices or corporate environments.
If you are interested in wearing earrings, the best looking men's earrings are small studs. These are the least obvious, especially if they are in subtle colors. Today's man usually wears earrings in both ears, especially if the earrings are big bold diamonds or other amazing gems. Some men also like to wear hoops, but not big dangling ones like women wear. Men who wear hoops will wear snug fitting ones.
Some men also like to wear earrings that stretch the lobes. This is not a look to take lightly as the lobes may not return to normal size if they are overstretched.
How to Wear Men's Necklaces
Men's necklaces can be incredibly sexy, but they can also look gaudy and outdated. The best look for men is to wear a casual tee and well-fitting jeans with a simple chain of gold, silver, or leather. Another great look is the classic cable chain made of stainless steel. Some men can pull off an edgy charm like a shark tooth, dogtag, or Star of David. But, the styling of the charms need to complement the outfit.
How to Wear Men's Bracelets
Because they can be covered by cuffs, men's bracelets are good ways for men to experiment with jewelry. Men's bracelets are usually simple chains or beaded pieces that are masculine and understated. Men usually do not stack their bracelets, like women do. Instead, men wear just one and they often wear it on the opposite wrist as they wear their watches.
Men can wear bracelets with any style, from professional suits to casual athleticwear. A tiger-eye beaded bracelet looks great with a casual outfit, while a metal box bracelet can add a little flair to a suit. When men pick one bracelet to wear with an outfit, it is easy to get the look just right.
How to Wear Tie Clips
Men who wear suits regularly often wear tie clips. While they aren't necessarily considered jewelry, they are. These are horizontal bars that keep ties from moving around the shirt. They make suits look put together and they keep men from having to worry about their ties blowing in the wind or landing in their food.
Tie clips do come in more than just simple metals. They can be embellished with logos, animal patterns, or initials. Some even have gemstones and extra bling. The fancy tie clips should be reserved for appropriate events like weddings, concerts, and nights out on the town.
How to Wear Lapel Pins
The most commonly worn lapel pins are those worn by politicians. But, the everyday citizen doesn't usually walk around with a patriot flag pin on his lapel. Some men enjoy wearing bold and bejeweled lapel pins, but other men wouldn't be caught dead in this type of jewelry. Because it is nearly front and center, men who dress conservatively can be reluctant to wear any type of fashionable lapel pins.
Some men do choose to wear lapel pins as a way to support a cause or a team. Otherwise, a simple pin in a favorite shape or design can add a bit of flair to an outfit that needs it. The pin should not fight with other accessories like ties, tie clips, or earrings.
How to Wear Cufflinks
The last piece that men often wear is the handy cufflink. This is jewelry that does the job of keeping cuffs together. It is also one piece of jewelry where men can go wild and show off their personalities, as the cufflinks are usually hidden below the cuffs of the suit coat. There is nothing wrong with wearing any type of cufflinks, as long as they are not competing with other pieces of jewelry. It is a good idea to avoid any cufflinks that are offensive.