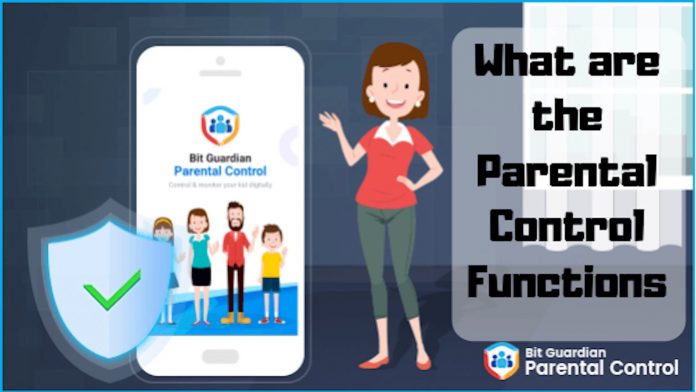 Parental control software is a blessing for parents, raising technologically advanced kids. It is a savior in the digital age which parents can use without any hesitation. Want to know why?
What Is Parental Control Software?
Unlike many apps and software in the market, parental control is one such app that parents simply adore.  And why won't they?
Parental control software is a combination of tools to secure kids from digital dangers, at the same time, combat mobile addiction.
Parental control, also known as restrictions, manages inappropriate apps and contents on kids' device. Besides restricting content, these apps offer innovative techniques to control undesirable screen time of kids.
Parents can implement these controls on the mobile phone or tablet. And, the app does not interfere with the functioning of the phone unless authorized by the parent.
Parental software also works as a kid safety app. The advanced GPS-enabled features empower parents to monitor kids from a distance and get a timely notification in case they are caught in a difficult situation.
The features of the app do not end here.  Allow us to discuss the essential components of a parental control app that makes the app more efficient and productive for your child.
Desirable Features in The Best Parental Control App
Any child monitoring software should be able to offer the following necessary features:
i.App Blocker- Have you worked out all the apps that your kid uses? Category of apps your kid is interested in? Well, if you haven't, then go ahead and complete this task to block any unnecessary apps on their phone.
Most parental monitoring software should offer this fundamental feature, which it turns out to be very useful to deal with kid's social media or gaming addiction.
ii.Time Schedule – One particular concern most parents have today is the over-exposure to blue screen. Besides getting addicted to smartphones, screen time schedulers prevent any health issues caused by smartphones. Health issues do not show up overnight; they come in the form of long-term issues like poor eye-sight, constant headaches, postural problems, etc.
iii.Install Blocker- The best way to cut the nip in the bud is to block the app store. Yes, you understood it right- blocking the Google Play store to restrict the installation of inappropriate apps. This works pretty well when this feature is implemented at the beginning, which means the moment you hand over a new device to your child. After that, any new app they download will require parent's permission.
iv.GPS Location finder- Technology has blessed parents with an innovative technique that allows tracking kid's whereabouts in real-time, verify their entry and exit from a particular location (Geofencing) and track kids over speeding habits.
v.Kiosk Mode- Kiosk is the remote control of your kids' phone. If you want your child to access limited- educational and essential apps- then kiosk mode is what you need. It initiates a new launcher in your kids' phone and restricts the app menu to only critical ones.
vi.Call Blocker- As parents, we completely understand the horror of receiving calls from strangers or bullies on the kid's phone. There have been several cases of harassment that was initiated in online chat rooms and later continued on phone calls. While kids cannot do much about such callers, as parents, you can take charge and block all incoming or outgoing calls.
vii.Anti-Theft- Misplacing the phone or losing the phone to a thief can be very annoying. But things get even more critical when the data in the phone, get in the wrong hands because you can never be sure what photos or files your kids had saved in the phone.  Anti-theft features not only help in locating the device but at the same time initiates a remote factory reset to protect the private data.
viii.Panic Mode- Let's assume your kid participates in many sports events and cultural programs because of which he/she travels very often. In such a situation, if your kids gets in trouble, they will need a way to reach you immediately.
Panic mode is the lifesaver in emergencies. Just by one click of the button, your kids can reach you and ask for help.
Why use the Bit Guardian Parental Control Software?
Besides the fact that the Bit Guardian's child safety app hosts all the features mentioned above, the app is very user-friendly and barely needs any technical assistance.
Right from setting up the app to functioning the parental controls, all processes are self-explanatory. You need no prior skills to operate the app.
Bit Guardian is a comprehensive Android app with the right set of features for child safety. The simplicity of the app is the reason behind its popularity.  Many users have also lauded the robust reporting functionality.
You cannot knock out the idea of parental monitoring apps until you use it! So, hurry and get the best parental control software in the market.